July 1, 2018
Transitions are claiming the day at Western! Rob sent this email to the system:
From: Rob Wiggins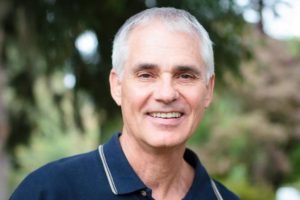 Sent: Thursday, June 28, 2018 5:34 PM
Subject: Transition Now Complete
Dear faculty and staff – I am very pleased to say the transition in Academic Affairs is complete. Chuck steps into the Academic Dean role now with great energy and passion. I am delighted that Western has such a quality individual in academic leadership.
It has been a wonderful season of service for me at Western – longer that I anticipated when I began serving Loren Fischer as a grad fellow in 1977 or supporting Bob Garfield in Admissions and Records in 1979, or returning full-time to student services in 1987. My children have grown up only knowing their father works at Western – a place that he loves. Thank you for your friendship and partnership. I transition now to part-time, teaching a few classes this coming year and being a resource to Chuck if needed. You remain in my heart and prayers.
With affection and gratitude,
Rob
It was strange to get an email from Chuck with the title "Vice President for Academics and Dean of the Faculty" at the bottom.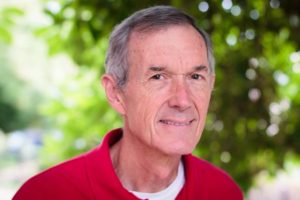 Carl is out of his office and Josh is moving into it this week. Hannah will be replaced by Bryan Warren as counseling prof. We have put enormous energy into the first stage of the change of the counseling curriculum for NorCal, transitioning from an MFT to a MAC nomenclature. The administrative team has seen enormous reshuffling in responsibilities. With large teaching and advising involvement along with significant administrative responsibilities as Center Chair and longest tenured employee I am pedaling hard!
I was at the Calvary Global Network pastors and leaders conference last week, doing a plenary, a theology panel and two packed workshops with constant conversations. Love it! That is part of my unofficial representative of Western in various tribes of evangelicalism.
Sherry picked me up at the airport immediately as I arrived at PDX from the CGN conference so we could scurry to Enumclaw for Cory and Megan's Thursday evening wedding rehearsal. We made it with 8 minutes to spare! Then she and I spent the day together on Friday before the wedding on Saturday. It was beautiful – except that the rain would not stop. So at the last minute we moved all the tables and brought the chairs under the tent and reconfigured everything. It went off without a hitch!
May 18, 2018
We did the Portland graduation with a huge class walking across the stage. So many amazing stories! I could hardly contain my joyful laughter. Some of the memories are in my Facebook account where I post lots of daily experience and pictures. With the recent disclosures about misuse of Facebook data, I wonder about it. But it is still a great way to share my life with friends of friends. But the things I put there and here are not the soul level things that I love to share. I miss both the give and receive of that level of sharing because of limits on the face to face conversations.
Sherry and I head to Tucson today to spend time with her siblings. That will be marvelous – but hot, something Sherry does not like at all. We plan to drive up to Phoenix to go to Trinity Church and have lunch with Mark Driscoll. First time I have been with him in over a year. I am eager to see what is happening in his new life after the disintegration of Mars Hill.
I got a comment on my blog from a lady who like my teachings – the fun thing is that she is not a Christian. I hope there will be more conversations out of that.
April 15, 2018
The school year is coming to a close and an era is ending at Western. We will have 150 years of experience walking out of the door with retirements.
Patricia Pritchard 45 years
Carl Laney 40 years
Rob Wiggins 33 years
Bob Krupp 31 years
Terry Burns 10 years
That is an enormous amount of change – all good – but a LOT of it. In addition, Hannah Acquaye, our counseling professor from Ghana, will be leaving because of visa issues and Jeff Louie in San Jose will head back into the pastoral world at Pennisula Bible Church. Julia Mayo, assistant dean, is out for 4 months maternity leave, another big hole – and a very good one!
Chuck Conniry, from Fox, will come in as our Academic VP/Dean. Great guy, but doesn't know us. Josh Matthews is already here replacing Carl. Matthew Thiessen is already here, replacing Bob Krupp.
As Chuck moves in, a lot of stuff is sliding down onto other desks, including mine. It is hard to imagine what my work load will look like. I often joke that at 71 I am pondering cutting back at Western, perhaps even as far back as a full time job. Doesn't look remotely possible.
I flew to Alaska Tuesday night, taught our cohort with Dan Jarrell all day Wednesday, flew to San Jose on Thursday, taught my cohort there Friday and then flew home. I'll be in Spokane on Wednesday doing the chapel at Moody Spokane – ironically with them closing the Bible school there at the end of the year.
There are some really long term things too. My soul remembers writing the words 30 years ago. I touch them often. The elder role at Grace is more than 20 years now. And of course Sherry and I are past 50 years now.
December 3, 2017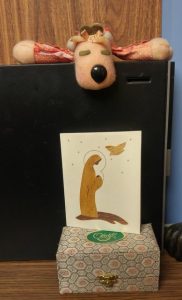 There are many things in my office and all of them have stories behind them – well not the telephone and the computers to be sure. As Advent comes around there are several seasonal items that come out. I have always appreciated manger scenes and annunciation images. A favorite is this card with wood cemented onto the paper in most artistic ways. It is right for the card to be on top of the Chinese bells under the care of the sleeping puppy. He is a bit worn, but still very present, faithful, caring, and loving.
Donating blood is something I have done since 1972. Sherry needed a unit of blood for her surgery on her broken femur. Because she is RH negative, there is no blood in the Philippine blood banks. We had to find our own. It gave me a deep appreciation for the specialness of blood. These days I do double reds – now called power reds – where they take two units of cells and put the fluids back in my veins which doesn't leave me as tired. I had to take a year off with cancer and another for my Uganda trip. So I wanted to get this one in before I head to Uganda in January.
The dermatologist gave me a close look last week. After looking at every square centimeter of my skin, she froze off a couple of pre-cancerous spots in my hair and pronounced me clean. I came home, did a ritual washing, and showed myself to the priest. She kissed me and smiled.
November 25, 2017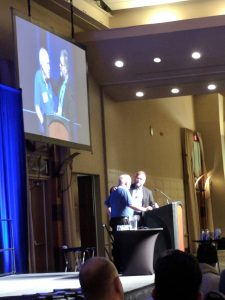 Evangelical Theological Society is always a very fun time for me. This was typical: four great plenary addresses, several excellent papers, one terrible paper, meeting many old friends and some new ones. This one had a unique aspect. I was given a distinguished service award for 30 years of working with study groups and chairing the Program Units committee along with two terms on the Executive Committee. Together this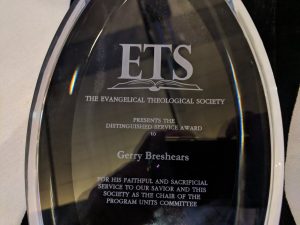 means I have been at every November Executive Committee meeting since 1991. That all came to an end this year . It only took ten years to get someone to accept the chair responsibilities. Mike Thigpen, the executive director and a great friend, called me up, interviewed me and gave me a very nice plaque. Most of the people at the banquet had no idea what I had done but I know the background work I have done with the society to help it become what it is today. It felt good to hand off.
The big news at Western is that Rob Wiggins announced his retirement as dean. That will leave a huge hole in part because of his competence and in part because we have no inside candidate to take over. The hole is worse in that Julia Mayo, Rob's super competent Administrative Assistant, is pregnant so will be on maternity leave when Rob steps down. Not having her there in the transition will complicate things a lot.Part of my time at ETS was spent asking friends to keep their eyes open someone who might be the right person.  With Rob leaving, my goal of trying to cut back to full time at Western in the coming academic year really does not look good!
I will celebrate my 71st birthday in Uganda, joining Steve and Celestia Tracy on an intense teaching trip with 15 denominational leaders from all over central Africa. One down side to this is that I will miss Mission Connexion, where I lead the prayer and spiritual warfare track. I suppose it is fitting that I will be on my way to the mission trip as the meetings start.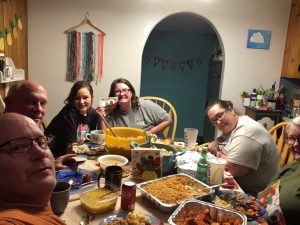 We spent Thanksgiving with David, Sam, Joy and Marianne, Sam's mother. Nicole exercised her opportunity to get a guaranteed elk tag as a youth hunter. She and Max were looking at empty land surrounded by elk, it seems. Smart elk! Stay on private land and away from the hunting zone. They will all be here tonight. Nicole will come with the band for Hermiston's state finals football game. The others will spend the night and head on to Cannon Beach to decorate the Conference Center under Cyndee's leadership. It will be beautiful!
October 28, 2017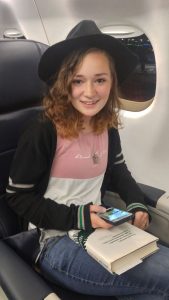 Joy made the trip to San Jose with me last weekend so we had a great Grandpa/Granddaughter adventure.  We flew down after class on Thursday. I got an upgrade to premium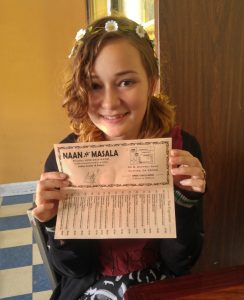 class which was a bit frustrating since I was flying with her. So I purchased an upgrade for her so we could be together, only to have my ticket upgraded to first class! So Joy got to be a first class lady, which was very fitting for sure. I taught my class on Friday morning and she joined our lunch which was her first time ever to eat Indian food. She really liked it as it turns out.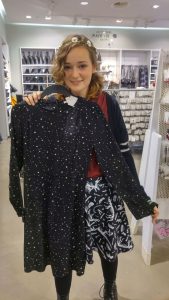 Friday night was shopping at Santana Row, an upscale place on the west side of San Jose. We wandered through sidewalk restaurants, one with a live band playing an Israeli dance tune is a Tequila bar! She bought a pencil at one store and I reminded her that she was an indulgent grandpa. But she wasn't finding any thing that gripped her until we saw the star dress at H & M. Immediately her eyes lit up and soon it was hers.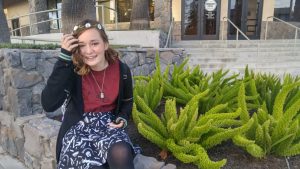 Saturday was spent at the ReGENERATION forum with The Bible Project guys as headliners I saw her creativity outside the coffee shop at the church when she described the plants as dinosaur tails. All in all it was a great adventure. Now Nicole and I want to find a time to do another adventure. Donn and family are in Italy where they will celebrate Lizzie's 10th birthday.
I am a speaker at an apologetics conference today and learning a lot from the other speakers. We will go to the Pregnancy Resource Center gala tonight. Sherry is the star there as a volunteer at the Gresham center.
My goal as I turn 71 is to cut back at Western, going down to a full time job. It does not look likely at this point!
October 16, 2017
Alaska was very fun if very full. Teaching the Leadership cohort class, one of four I work with, is a huge joy. These are top leaders with lots of church experience who are doing excellent work so getting a chance to put a thumbprint on them is amazing. Then I went over to Wasilla Bible Church to do some teaching of their leaders there. They are preparing for a season in Ephesians so I took their leaders through the book in four groups, most in a three hour session. The staff had another three hours devoted to spiritual warfare. Great to see the quality staff as the forty year pastor is in an intentional transition to the new pastor who has been on staff for nearly a decade.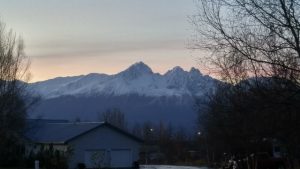 The views in Alaska are stunning as I discovered as I came out the front door on Saturday morning. The delicate sky painting does not come through, sadly.
A very fun thing was Jake's lunch for me on Saturday. The meat balls with potatoes were moose meat, he said. I was glad for that and wondered how it would taste. As I took my first bite, he told me there was a good chance it was road kill! I laughed as he told me of getting called to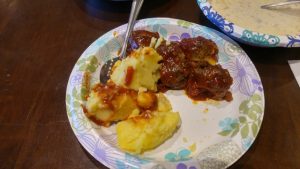 pick up a moose that had been hit by a car, an all too common thing in Alaska.
I wasn't happy to discover that I had signed up for the 12:30 AM flight home. Doing an all nighter isn't my way of doing things as missing a night of sleep is always hard on me. But there is was. As I squirmed in my seat, I pondered what it will be like going to Uganda with Steve Tracy in January with two 24 plus hour flights in 10 days with virtually no sleep
October 7, 2017
It was very fun to do the first post-wedding session with Erik and Haley Burnell. They are into their apartment in Poland and Haley is getting into life in a very foreign country. Having the support of Renata and Amelia as well as the church is a big help. She is working hard to get Polish but there are challenges when your language is very limited and most people don't have English.
We have two ladies staying with us this week as they do the Threshold classes at Western. One is from New Hampshire and the other from Illinois. I had lunch today with another from Georgia. I'll be with them for the orientation session tomorrow afternoon. My charge is to mess with their brains 🙂
I am involved with a miracle that I can't discuss here. It culminates tomorrow. I wish I could invite my friend to be a part of the celebration.
We will go to the ARMS banquet tonight, celebrating their 20th year. So glad for the support they give people, both victims and perpetrators. I sat with a woman recently who had to call the police because her husband attacked their teen age son, a pattern he had been following a long time despite ARMS and professional counseling. So sad to see their lives blown up by persistent sin.
October 3, 2017
The Philippians 2:14-18 sermon ended up being fun to preach. What is at first super obvious – stop grumbling and arguing" ended up being very impactful as I dug into the hyperlinks back into the OT to show the emotive power of the words. Appealing to the emotions of the Eagle Creek fire was helpful. I was able to resist the temptation to drag Trump's fight with the NFL players and how he pushed them into being seen as disrespecting the American flag by many. Is this sort of polarization intentional, Middle America against the progressive elite? David Brooks has had a couple of very powerful columns on this.
A Western couple I have gotten to know well ended up in my office to do some deep prayer work. She had picked up some junk in her head and decided to take my invitation to deal with it after she recognized it could be demon empowered messed up identity. It turned out very powerful but also spiritual exhausting for me after a long day/week. I wasn't good company for our guests that evening.
The Las Vegas shootings are going to change our world, I think. I am just not sure how yet. There is a new realization of evil in the headlines. It makes no sense, of course.
There were two memorials. Shasta Kramer, 43, was an amazing woman of God, long time Cru worker. The service was full of remembrance of her deep love for Jesus and goofy personality that touched so many until cancer finally took her to Jesus. Then last Sunday we celebrated Carmen Davis, an extraordinary psychologist I worked with professionally. It was the first completely non-religious memorial I have been to. There were memories spoken, one in poetry, another in song but only laughter. No shared grief, no reference of any kind to God or god. I am still pondering the lack of tears.
I pray for what God is doing around the world.
September 23, 2017
We drove through the gorge today to see the impact of the Eagle Creek fire for ourselves. It was hard to see the huge amounts of burned forest, especially trees so freshly burned they don't know they are dead yet. There are many areas beside the freeway where the crews have cleared burned trees so they won't fall on the road so wooded areas are now bare and black. There is still a lot of smoke and we saw fire in burning in one canyon. Several favorite areas are destroyed including Oneonta Tunnel. Happily, friendship road above Bonneville appears to be untouched. Multnomah Falls is OK thanks to heroic work by fire fighters, but the fire came really close.
I have had a lot of time with hurting pastors including a couple here around our dinner table. We also had Joel and Daniel Burnell along with Daniel's cousin. The young men leave for Poland on Tuesday. I am looking forward to touching base with Erik and Haley as they get settled there.
Mark Sayers is in town and I got to hang out with him a bit at a Bridgetown sharing best practices staff sharing session. Didn't get to do personal time – he is on a dead run for his days here.
Recording On Line courses is a drag at best, but it's all the harder when I don't really know what I am doing, which is the reality with our new "Taking the Gospel to Diverse Cultures." I can do the course pretty well live since discussion goes into high gear. But there's no discussion in the On Line recordings. And the content of cross cultural communication isn't my specialiy by a long shot. So I do team stuff, but coordinating team is also a challenge. I am very glad that "grace" keeps echoing in my head!!
September 19, 2017
The summer has been packed with events and the fall will be no different. David and I went to Men's Round Up for our fourth time as father/son. He and Sam met there and then they worked there before going to Hermiston so it's full of memories for him. I do workshops which are both packed and fun. This time I did "can you trust your Bible" and "Lessons from Daniel for living in a post-Christian world." The down side was sleeping the a yurt with some gifted snorers!
September started my two year commitment to the San Jose Leaders cohort, so I'll be flying down every month to do an all day Friday teaching with 12 folk in the room. It's interesting having Dan Kimball there. He already has a doctorate and is an adjunct faculty for Western – but he wants to profit from the leaders' interactions around Bible for a year and then theology for the second year. I have two cohorts here in Portland and another in Alaska so I get to touch some amazing people – mostly men, but four women as well.
Sherry and I have had good family times with Nicole's honor band trip to Europe and the family gathering to send her off and meet her on return, then Sherry's Mom's memorial and the reunion there, then our Labor Day trip to Kansas City to hang with Donn and family. Now with the fire and I-84 closing, it may be a while before we get out to Hermiston. But Joy will join me in San Jose next month for the ReGeneration Forum.
Classes are going and I am teaching a lot of them along with recording for the On Line campus. Doing the Taking the Gospel to Diverse Cultures is a challenge since I don't really know much about cross cultural communication. The live class goes well with lots of discussion. But how do I translate that to an On Line environment??
May 27, 2017
Sherry is at the coast doing Mother-Daughter thing, playing games with Cyndee on Memorial Day weekend. I spent much of the day today working on marriages, starting to work on a messy one with both partners out of divorces so there are former spouses – which I talked with today – and kids and housing and all that blended stuff. Messy! I am also working toward restoration with two marriages blasted by infidelity. One is a total miracle, the other struggling. The last marriage is Erik Burnell and Haley Ledbetter. The unusual thing about theirs is that Erik is in Poland and Haley in Nashville. I do their premarital from Portland. I have done premarital where I Skype and the couple are together, but this is the first where all of us are on Skype. The wedding will be in Nashville. I'll there right after I get back from Alaska after participating in the cohort there and then spending some extra days snooping around with Sherry and Cyndee.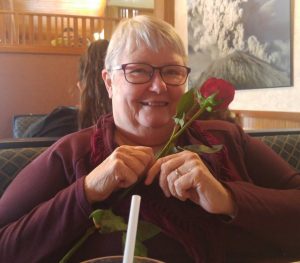 Sherry wanted to get a German Pancake for Mother's Day so we went to the Gresham Elmer's after church. But when she got there there were other options that looked even better. We had a great time and it ended with them giving her a rose which made a wonderful topper to the day. The pictures of Mt. St. Helen's in the background remind me of how much things can change and how quickly! Nicole has her driver's license now. She will be in Europe for much of July with the Oregon honor band. It seems seems like the little girl in the pictures of when she was 3 or in 3rd grade are just moments ago.
I was presenting at the Socratic Club at Oregon State on Tuesday. While I was walking from the parking lot to the hall, talking to the student who was guiding me through the maze of OSU buildings, I over looked the detail of a small curb and went down hard. I was amazed to find that I had automatically done a kind of tuck and roll and didn't even scrape as I hit the pavement. But later I realized that my elbow banged hard and I had broken a rib. So now I am doing a lot of pain reliever! Fortunately I did the chapel at Corban without incident! It was great to see some friends but sad to miss another.
I will be part of the planning retreat for The Bible Project in a week. Amazing impact that is having world wide. Being on the schedule for the Calvary Chapel Pastor's Conference is getting me a lot of exposure. Lots of new followers on Twitter even though I don't tweet very often. I am working hard to figure out what to say to them. I don't want to waste the "Gospel and the Culture" plenary session in ordinary stuff.
March 22, 2017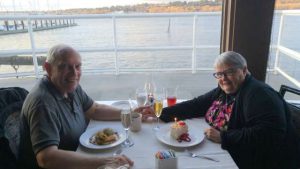 One of my students texted this to me today: "Hi Gerry. I am pretty sure that today marks the day that you have had a pretty wife for essentially an eternity. Keep it up!" Sherry and I both laughed a lot about that. It has been an amazing nearly half century for us. Of course we celebrated at Salty's on the Columbia, our traditional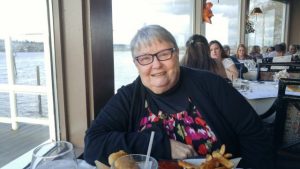 spot. The evening was beautiful. I am so glad for Sherry's love and faithfulness through a lot. She is still recovering from the stress of her Mom's death an the things around that. We won't know when the memorial will be until Liz's mother in law dies which is imminent. Then the whole family will gather in Arkansas for a party in Lavon's honor.
I spent the middle of last week in Anchorage, joining Dan Jarrell live in teaching our cohort class there. I join the other three meetings via Skype. Alaska was beautiful, sunny and clear and cold – though they were celebrating the warming: it was only zero at night. The weekend was in Yakima doing what we called a Gospel Confidence seminar at Westside. It amazed me to see 200 people come for the Friday night, Sunday morning conference. I preached on Sunday and then drove home to hug Sherry for the first time in 2 1/2 weeks. A happy reunion!
March 14, 2017
Sherry's Mom collapsing on Monday the 6th was a surprise. She was doing pretty well but then the call came. Done too much and lost energy badly enough that she was hospitalized. But Tuesday morning brought a tearful call from Sherry – her Mom was severe pneumonia, was on a ventilator, comatose, and in trouble. We got Sherry on a Wednesday morning flight to Tucson where she discovered that it was worse yet. There was staph in her blood (sepsis) and her kidneys were pretty much shut down. Her chance of survival was very low.
It messed up Donn's plan to bring Lizzie and Michael to see their grandmother on the week of the 13th with Sherry joining the party.  Donn decided to drive to Tucson to say goodbye. We offered to fly him down, but the drive seemed best. He arrived Friday noon, spent time alone with Lavon, and then time with Liz and Tom and then with John and Shirley before leaving Saturday to drive home. He had to be at work Monday. Florence, Tom's mother, has lived with them for a long time and had been sliding down for a couple of years which made the whole thing much more emotional for Liz.
One of Lavon's fears was dying alone, so they set up round the clock presence and times with all three present. John's night job and Liz's final days of working at the hospital made that more challenging and exhausting. Sherry's Wednesday night time was especially hard as she'd not slept much at all and then had the long sit after the stress of travel and discovery. On top of that it became clear that she was not only Pastor Sherry, but team lead Sherry. Challenging roles!
Decisions had to be made. Fortunately all knew Lavon did not want extraordinary intervention. So they pulled the ventilator on Saturday which had no impact on her condition. On Sunday they moved her out of the hospital to the on-site hospice center. That her feeding tube would be removed was a shocking surprise but made sense on thought.
Tuesday evening a week ago had all three present for a good while. Liz's back pain was overwhelming so John took her home. While they were gone, Lavon's slow breathing gurgled briefly and she was gone. That was the first time for Sherry to be present at the moment of death. She and I talked and then called Cyndee to give her the sad news.
Since then the many details to take care of were eased by a rapid procurement of the death certificate. Now it's notifications and terminations along with cleaning out the apartment. Fortunately there is no family conflict and the finalization of Lavon's affairs is going smoothly.
There will be a memorial in Arkansas, but only after Florence dies, something that is near since she is now on hospice and failing quickly. The memorial will be a family gathering which is a very rare thing. I don't think all our children have ever been with Liz and John.
I am doing my thing including a lot of administrative stuff with our curriculum change. I decided to go to Hermiston to see Nicole play oboe and English horn in the high school production of Fiddler on the Roof. Wasn't time for that, but it should be. Family is important. As I write I am on my way to Anchorage to teach a cohort class there. I was glad to get the call that Sherry will be home Friday night but a bit sad that I will be doing a weekend apologetics conference in Yakima.
February 19, 2017
For some reason I have been thinking of changes in the decade from age 60 to 70. A year ago I was deeply engaged in writing Death by Love. I really hate writing but God called me to do it. The task ended up being four books, all of which are now out of print ended as part of the collapse of Mars Hill Church. But Mark and I have redone Doctrine and it's coming out as a daily devotional from his web site and Facebook page, getting tens of thousands of reads. It seems likely it will be published as a 365 day devotional book – but more writing work required for that – and I still hate writing! A decade ago Sherry and I were preparing for our return to the Philippines coupled with a trip to Taiwan to teach with friends. That morphed into an extended time in the Philippines which included a hike in the Taal Volcano that put Sherry perilously close to heat stroke followed by a brief disappointing stop over in Taiwan and all the changes involved with that. I have been back to the Philippines for two very fulfilling times since but disappointingly will not be there this May since my teaching duties at Western require my presence here in May. Sherry has retired (twice!), had both knees and her aortic heart valve replaced and I have had cancer and surgery. We are both certified fixed after my visit to the surgeon and dermatologist this week. Feels strange to be post cancer. We are no longer living on Mt. Tabor, the house I really love, but near Glendoveer Golf Course in a house I really like. It feels like I should be retiring but I am more deeply involved in various ministries than ever. Probably my favorite is The Bible Project. Being a Bible geek, I LOVE seeing it take off and promoting biblical literacy world wide.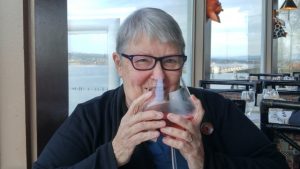 But some things never change. I still love my Pretty Wife and we have a lot of fun together. This was at my birthday dinner at Salty's. I order some wine because of the name of it: Love Drunk. She detests wine and it gives her a headache to boot, but she wanted to try it. She detested it but got to laughing at the experience. Such is our life together.
January 13, 2017
The winter weather has hit us hard. Western will be closed for 5 of the first 6 days of school! Grace cancelled services last week (ice) and most likely will tomorrow (much snow in the parking lot). I held my cohort class anyway yesterday and had 19 of 22 on campus. The other three joined electronically. I will preach at Village Baptist tonight and tomorrow. They were able to get their lot plowed.
Our Christmas with Donn, Susan, Lizzie, and Michael was a blast. We went as a family to see "Sing." It was great to be in a movie theater filled with families. I did have to stop Michael as he was headed for the aisle. He snuggled up happily. I marvel at having very good relations with all three of my children, their spouses, in-laws and such. It's not all that common.
One new step was traveling down to Spring Branch Church of the Brethren where I grew up. Lizzie went with Sherry and me to check out the Breshears family grave yard where Sherry and I will be "gathered to our fathers" I think. Sherry has no "home" connections and none of our children live in Portland. In fact they may join us there! I introduced Lizzie to her great grandparents, her great great grandparents, and her great great great grandparents. It is a little strange if realistic to plan burial.
I will turn 70 this month which feels a lot strange. Turning 60 was way different. Just a number. But 70 is a big land mark with social security and all but also in my perceptions. Not really sure why. Seems I should be old and retired and such, but I am even more deeply involved at Western and Grace. My friend celebrated 60 with me. The common question is what will you do? The answer is go to a men's breakfast at Grace and probable do dinner with Sherry. Still pondering all this.
December 18, 2016
It has been a wintry time. I was in Anchorage to help teach the cohort class there, working with Dan Jarrell. It was cold – highest temperature was 18, low was 8, but clear. I had a 12:45 am departure to icy Portland. I watched the weather closely and was glad to see the freezing rain would end at 11:00 pm. But when the Uber driver got me home, our street was pure ice and the driveway was a skating rink. Since I had a big box of Alaska meat, mostly salmon, it was impossible to get across. So I took my suitcase across the lawn while the driver was able to bring the fish box up the drive. Rather than going away quickly, it hung on for 2 days. I drove into seminary mid-morning and had no real problem except getting from the van to the door of Bueermann. That was a life threatening journey. The thaw came, but relief was short lived with another episode on Wednesday afternoon, leading to the worst traffic snarl in Portland's history. School buses full of children were stranded and half hour commutes took 5 hours if they were possible at all. It's Sunday and our street is still snow packed. They say warm rain tomorrow, but it could be freezing rain in the morning. I am ready for spring!
Preaching at Grace is a joy if also hard work. But our display computer fried last week and the fill in laptop wasn't up to the job. First service went fine but the power point never started second service and I had to do a display oriented sermon with oral only. There was a lot of going to scriptures behind Jesus as Emanuel. People did not have Bibles and weren't able to follow well. I would have abandoned the page flipping, but if they were able to restart the PP I wanted to use it. Also people have fill in the blanks outlines and they expect words! It was very frustrating to see people getting lost. So I agree with the tech team that we would just not use the PP if it did it again in third service. It started well, but crashed part way in. I switched to oral mode only to have the PP come back. It was sitting there so I back tracked and picked it up. I like using technology but it is very stressful when it is not transparent. I preach again in two weeks. Wonder what will happen.
Sherry was in Cannon Beach with Cyndee. They have fun doing games, shopping, and such. Then they drove back today. Cyndee with stay with LeAnn and Lori Lawson which brings back many memories.
A highlight of the season is our Christmas Cactus, a SF gift from a friend. It is flowering beautifully. It has spawned two daughter plants, one here and one with Cyndee. They are doing well. Unfortunately I can't get the picture to upload to the website. But I can put it on Facebook.
It's paper grading time with the end of semester and then we head to Kansas City on Thursday.
November 22, 2016
The hacking in my website seems to be over. Ed Aw has worked with me to get a lot more security in place after he completely dismantled the old site and restored things. It freaked me out to think that bad guys were working mischief from my site. Now I get a security report of who tries to get into it. Those attempts from from all over the world! It's all robot stuff I expect.
Tom and Denise Mendonca are key people at Grace. He works in children's ministry including our VBS so Sherry works closely with him. Denise had heart valve replacement surgery about the same time as Sherry but they put in a never wear out artificial valve where Sherry got a shorter lived bovine valve. A couple of weeks ago she contracted a severe infection. Because of stuff from the artificial they were unable to do some tests to diagnose the infection so they put her on major antibiotics. She improved steadily and went home from the hospital. But a week ago she had a major brain bleed, went back to the hospital and then to hospice care. She was was welcomed into the presence her Savior last night with Tom by her side. Death, especially sudden death, is so hard. It is even worse when family is far away. I am glad we can celebrate at a memorial services for good people but still, death is our enemy.
Evangelical Theological Society was in San Antonio this year. The weather was warm so strolling on the river walk was good. I'll blog on that when I get my notes with me.
Sherry will cook a Thanksgiving dinner for the first time in quite a while. Normally we would go to Hermiston to be with David, Sam, Nicole and Joy. But David has to work and the rest are going to Sam's sister's home. Sherry Atkins (the other half of the Sherry twins) will be here. Thanksgiving is a family day and I will really miss being with family. Cyndee was able to get Saturday off, so I'll go to Cannon Beach to hang with her.
August 10, 2016
I am spending the week at Clydehurst Christian Ranch, speaking for the family camp and enjoying the mile high valley north of Yellowstone. The response from the campers ranges from "this is the best ever" to "this is WAY over my head." Older age folk are the primary second speakers 🙂  Sherry and Cyndee are with me — only they are in Yellowstone today and tomorrow looking for bears and such wild life. we have seen deer and turkeys here in front of our cabin. No bears or moose this time.
I did Ryan and Amber's wedding on Thursday. We had the ceremony in Laurelhurst Park which went surprisingly well. It was pretty hot, but the shade of a large oak and a breeze made it quite nice. Ryan bawled through much of the ceremony and Amber was frequently in tears as their love come to completion after a three year courtship. As I was preparing for the ceremony I wandered by the lake remembering times of praying and playing there as I explored the meaning of Sabbath with a friend. August 10 is a very special date to remember.
We are having the carpet removed from our family room and replaced with Pergo, a flooring that looks a lot like wood. That will go into the kitchen too. The living and bed rooms are natural wood floor so no more carpeting on the main floor of the house. Nice getting that all done while we are here, but we'll have to move everything back, set up all the electronics and such after a long drive back from Clydehurst with an overnight in Spokane.
August 5, 2016
I had the last meeting of my 2014 cohort group, a total of 15 pastors I have met with for two years, going through the Bible sequence and then the theology sequence, a total of 24 semester hours. They are all in full time vocational ministry, most in churches, strong leaders and super godly folk. Next month I will start with three new groups, 2 here in Portland and one in Anchorage. Guy Gray from Riverwest will be at the front of the room with one and Dan Jarrell at the front of the Anchorage one. I'll be in front for the other. Amazing privilege to work with such a strong group.
Ralph Alexander continues to improve after his near death experience with a disastrous change of medications for his Parkinson's and a 9 day hospitalization. I went to visit with him and found him very frail but in good spirits and responding pretty well to the conversation. We prayed at the end and he prayed for two or three minutes audibly and coherently. That was not true a month ago.
We are off to Clydehurst Christian Ranch for a week. I'll be speaking and Sherry and Cyndee going with. They will enjoy spending a couple of days in Yellowstone in the middle of the week. I love playing with Bible along with the group of guests and then wandering in the wilderness. We'll have lunch with David on the way over.
July 28, 2016
My blog went through a major hack it seems. All sorts of strange things were happening so I called in Ed Aw, former student and current friend who looked deep and figured out that spammers were using it somehow. He ended up dumping the whole site, reinstalling WordPress and reloading the content of the blog. He installed a major security thing called Word Fence which should stop the spammers — we'll see. The theme I'd been using is no longer available so that's updated — and seems strange not to look the same as it has for years. There are odd characters in the posts now and I have comments turned off for a bit until things calm down. Seems odd that my very small site would be the target of things.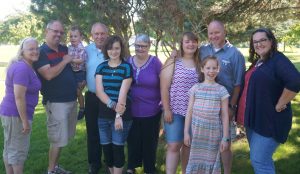 The family gathering was a great success. Having all but Susan present in Hermiston for a day and a half was so fun and so short. We started with hanging out at David's house, went to dinner in Joy's favorite restaurant which Michael didn't appreciate (well he wasn't appreciating much of anything other than grandpa at that season), then back to hammock and back yard. Saturday took us to Kennewick to bounce at the Get Air trampoline place with lunch after. Then there were pictures in the park followed by picnic supper. Looking back there were no super special events but a lot of play, talk, prayer, and connecting. Maybe we'll do it again!
July 15, 2016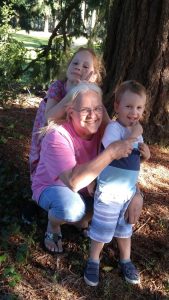 Donn, Lizzie and Micheal have arrived from Kansas City and Cyndee from Cannon Beach. We'll head over to Hermiston today to hang with David, Sam, Nicole and Joy for the weekend. I think it is going to be too much fun!
July 9, 2016
I preach on the Geresene Demonic tomorrow at Grace. Outlines go in Thursday morning and it was full. Well, to be honest all mine are! Then hell breaks loose. First there is the shooting of Alton Sterling in Baton Rouge and then of Philando Castile in Falcon Heights. I had listened to Eric Knox's sermon "Black Lives Matter vs. All Lives Matter here and it touched me deeply so the #blacklivesmatter gave lots to ponder. Sherry and I took Brian McCormack to Evan and Sandy Wickham's house for pie and conversations. As we left Brian received a "Lord have mercy" text from his co-pastor and we heard the first news of the ambushed Dallas police officers. So now I must add a reflection on the power of evil this week. Which images do I use to stir memory without going too much into the graphic details? What's the theme? I think it will be toward the prayer vigils leading to a reminder that we represent the kingdom of God doing shalom in the world where Satan is doing his vandalizing destruction.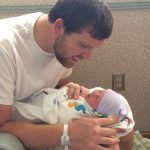 We visit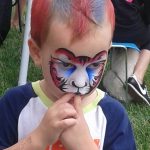 ed a couple who call us Dad and Mom (long story!) as they were going to birth if their little boy, their third child. He refused to come out so we were not present for birth which occurred yesterday, Micheal's birthday. So now we have two grandson's sharing a birthday.
Yesterday was the penultimate day of my third cohort. Great discussions but a tinge of sadness because there's only one more of the gatherings. We will start two groups in Portland and another in Alaska in the fall so it will be busy.
Our breshears.net email stopped working. Sherry and I tried all sorts of things unsuccessfully. I emailed my friend from whom I buy the domain hosting. After a couple of interchanges he found they'd tightened security and changed the domain name among other things. No wonder it stopped working. Would have been nice to know in advance. Now if I can get it working on my phone which refuses to connect for some reason. Overseas travel is touching memory as I reflect on the Philippines, Beirut, Uganda and Taiwan. Glad the typhoon didn't hit hard.
July 2, 2016
It's been a long time since I journaled I see. Philippines for a month, Reality SF, Acton, and ministry stuff gets a lot of time. I did the blog on the Philippines, but there's no way to convey the deep connection I have with that place. God definitely called me to Western, but my heart is very much with the Philippines. The various places and groups of pastors served to show me that Jesus has a lot going on there.
The touching news here is that Ralph Alexander is in the hospital in very serious condition. He contracted rapid onset Parkinson's and went down pretty quickly. They did a med change and it had very negative effects. He lost his ability to swallow and got aspirational pneumonia and all the stuff that goes with lack of nutrition and hydration. They put in a peg tube but it's very touch and go.
Sherry and I are both doing good health. No signs of the cancer in the check ups which doesn't disappoint me. Summer is very nice in Portland. Lots of teaching and such. It is the happy birthday which makes me touch the words and smile sadly. I came in from doing yard work and Rich Mullins "My Deliverer" was playing. The Jesus record has many connections especially "Hard to Get."
I preach Mark 4:35-41 at Grace on Sunday, the stilling of the storm. When I did the story in our Matthew series, I had no idea what the disciples should have done. Now I think I know.
Faith is
believing that whatever God says can be absolutely trusted
courage to tell Jesus what I am believing and feeling
loyalty to Jesus, humbly serving Him and the least of these
built as we tell ourselves Jesus stories
Correcting the disciples' response
| | |
| --- | --- |
| Not | But |
| You are Rabbi | You are Jesus the Messiah, the Son of God |
| You don't care | I don't feel your care now |
| We are going to die | This mega storm terrifies me |
Now I get to try it on the people!
April 28, 2016
It's Thursday and Sunday's coming! Only three days left before I leave for the Philippines. It seems far away with all the things to be done with finishing grades and graduation activities dominating life. There's the normal helping people stuff with students and others. Sherry has contracted a very sore throat which is not strep the Kaiser Clinic said, but is still very sore. Not being able to kiss is not what either of us wanted in these last days.
I preached at Greater Portland Bible church on Sunday. It used to be one of the larger churches in town, but then got into a downward spiral and lost many of its people and influence. The new pastor is righting the ship, but it is a hard work to get a church past its past. After service I went to Cannon Beach to hang out with Cyndee. We had a good lunch looking at the ocean and then beach walk on a marvelous afternoon. So glad she is daughter.
We've been working with Donn to get him out here along with Elizabeth and Michael. It has been far too long since family has been together. After some workings, we've settled on July 14-19. It will be super fun to have all three children (well — not sure "children" quite describes them!) and four grandchildren together.
April 23, 2016
A lot has happened but much of it "normal" stuff or the soul bending things I can't talk about here. One highlight was helping David and Sam buy their new home in Hermiston. We were with them at Easter, praying through the house which will be a ministry center as it is just across the street from the high school. Already Nicole and Joy are inviting friends to come over for lunch or after school. What a fun time to celebrate with them.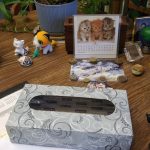 In getting ready for my Philippine trip, the travel clinic advised getting a pneumococcal shot which brought quite a reaction with a sore arm, low fever, and feeling really puny. On top of that I had my spring allergy attack so I was literally dripping all day long, resulting me emptying the tissue box on my desk. I never knew so much could drip out of a nose!
We are interviewing our worship leader this week. Andrea grew up in Oregon, served at Easthill after she married Matt, a life long Gresham resident and then went to a large church in Indiana. She seems to be the perfect candidate for the next season at Grace. We wondered if there would be a reaction to a woman leading worship. Our position is what I call male elder complementarian, which says women are encouraged to fill any office or ministry open to other non-elders. We have never had worship leader as an elder spot, so by policy there would be no problem. But having her lead in this very public role could touch nerves. We know that words like "pastor" or "ordain" do. Amazing how strongly people hold to these as male terms without any biblical basis and in a culture where both are used for ministry staff non-elder folk. But neither apply to her. So far it's been fine. I sure hope it continues through the weekend.
March 13, 2016
Daylight savings time is here. Amazing how many people talk of losing an hour of sleep rather than losing an hour of evening activity or the like. I was at a book signing for Good Faith the new book from David Kinneman and Gabe Meyers. It's an attempt to respond to a society that sees Christianity as irrelevant and extreme. I'd already read a good part of the book so the presentation was pretty much all repeat. But it was a chance to connect with friends. Rick McKinley's health continues to decline as his inherited spinal disease has its impact. On that note, Dave Wenzel's back blew out again and he had surgery for a herniated disk a week ago. The doctor asked about his activities. When Dave mentioned his marathons and such, the doctor snorted and announced the end to those. We'll see. He is doing very well in his counseling practice and still keeping an occasional hand in at Western.
David and Sam will close on their house next week, I am very glad to say. We helped them get into it, which I am also very glad for. We had a great weekend with Donn, Susan, Elizabeth (8) and Michael (2 1/2) and Mimi, our German exchange granddaughter. I flew on Friday and came back Sunday while Sherry stayed through Tuesday before going to Tucson to see her mom, sister, brother and their spouses. Sherry speaks the same emotional language as her mom so she's a calming presence in the tenseness.
The Sherrys continue to recover well. Sherry A is five weeks post hip replacement. Being with us has made things a lot easier for her. Not sure what she would have done otherwise. Care center, I suppose. Tough being an abandoned woman whose family does not live anywhere near. My Sherry continues to get energy back as she does cardiac rehab and live life. She watches her energy pretty carefully so as not to over do it. Her computer packed it in yesterday. No idea why. Now she has to contact Acer to see about warranty.
I had an appointment with the surgeon for a two month follow up which I was looking forward to. We got to the office only to discover that it was cancelled. Turns out that when I cancelled a physical therapy appointment this one also got cancelled somehow. Pretty frustrating. So now I will see him on April 4. I deal with a lot of pain in my shoulder, probably from the nerve as he warned me. But it should have gone if his two month prediction was correct.
Many of the things that fill my soul cannot be talked about here, sadly. It's been nine years.
February 8, 2016
Today is Chinese New Year's Day which brings back all sorts of memories of our times in Taiwan. The first blessing banner on my door was a Christmas gift from the manager of the Baptist Bookstore in Taichung. When I opened her gift, I must have had a blank look because my friends started laughing. "You don't know what that is," she said in good humored amazement at me ignorance. I happily admitted that it was so and she explained: Folk go the the Temple, but a blessing banner to put over their door so the gods will bless them. When they become Jesus followers, they don't do that any longer. So Christians started doing Christian blessing banners. But instead being aimed at prosperity and such, they were godly prayers. My last blessing banner is from 2007, our last time in Taiwan. It is a prayer for family and also a memory of friend.
On Thursday I played the memorial video from Gillian's memorial service and remembered the failed fight for her life. So sad to see the devastation from her losing her grip on life.
Sherry's birthday on the 3rd was her 66th so she retired on my social security account. She/we will get about half of my monthly allotment until I turn 70 next year. Pretty amazing that Uncle Sam wants to give us money but not stop the increase of our accounts because neither of us are retired on our own accounts. The loophole will close soon, but we get it now.
January 31, 2016
One should not go as hard as I have in the weeks after the Jan. 7 surgery! Wouldn't have booked these had I known of the surgery of course. The Perspectives classes in Spokane were great but it meant late nights and no extra sleep. Wednesday's teaching at Westside school was amazing but meant being up and going for the whole day after flying back from Spokane. Thursday breakfast with Steve Tracy was wonderful but meant leaving at 6:45. I did have a good phone call with Social Security. Sherry will be getting half my benefit by retiring on my account until I turn 70 next year. The "normal appointments" day was much easier and Friday's curriculum day was productive but didn't get any of my back work done. Saturday was sermon prep punctuated by a long nap but that lead to Sunday's three sermons at Grace. The emotionally intense sermons left me exhausted so I slept most of the afternoon and a long night. Finally some deep rest! Mondays I start teaching at 7:30 and end at 10:00 pm, a total of 6 hours plus the day of appointments. I did schedule in a nap which was very good. Tuesday was the chapel at Medical Teams International. Love them! I left home Wednesday at 4 to go to Denver for the World Venture Renewal Conference. Love them! But it meant getting home at midnight so an exhausting day. Thursday was just full day of appointments and classes and early to bed. Friday was teaching at the CBNW shepherding event on same sex ministry. Again, a lot of fun followed by early bed. Saturday meant drive to Hermiston to see the house we are helping David and Sam buy. That was very good to see and celebrate with food together. Then home and early to bed. That's the end! February is much lighter since most of it was scheduled post surgery.
December 28, 2015
The reality of the cancer diagnosis has caused a lot of reflection. The oncologist's "low risk stage three" and "there's nothing to do now" other than the lymph node removal which is just precautionary has made for a lot of explaining. The words "cancer" and "chemo" are married closely I find. And then there are all the questions for which there are no answers. Sherry and I went in on Tuesday and Wednesday's providence and prayer class was a time to talk theologically. The class ended with Todd praying powerfully for me. He is well known for being "emotionally unavailable" but his prayer ended with tears running down his cheeks. I took the occasion to bless him. It was a most powerful moment. I felt a little sorry for the prospective student who joined for the last hour. She was pretty overwhelmed and told Michal, our enrollment counselor and my friend, so. Later I was in Armstrong. When Michal heard me, she made a bee line to me and held me and cried for a long time. These are blessings that are so powerful.
Cyndee joined us as we went to David and Sam's place Sunday through Tuesday this week. Nicole is 15 and Joy 13 but silly games still are the order of the day! We went to see Star Wars on Monday, three days after the opening. Donn when for the first showing so we were slow! Nicole and the Hermiston Marching Band are going to perform in the Holiday Bowl and parade and at Sea World which is a huge adventure. Cyndee and Joy have discovered Zentangles which is very fun.
I preached at Grace on Isaiah 9:6 which turned out to be a tough sermon. The significance of the four names is hard: are they affirmations about God as "Isaiah = YHWH saves" or are they affirmations about the child. After a LOT of work I came to the conclusion that they are both. So I played a bit of game and warned the congregation I was going to geek out on them but would ring a bell when I was done. The "what's in a name" ponderings were way less than what I wanted, but that's what it gets. I preach again this Sunday on Ephesians 1 so Jay can enjoy his family vacation. It will be my first time to preach my Calminian view of the passage. I draw heavily from Max Turner in the New Bible Commentary and Ben Witherington in his Ephesians commentary. It will be another challenging sermon!
November 19, 2015
I am in the Atlanta airport headed back to Portland. Evangelical Theological Society has been a great place for me to hang out, serve, meet old friends and new people. This year was more of the same except that I have added Oikonomia Network committee to the beginning of the ETS days. So I flew on Sunday and spent 6 hours Monday in the ON meeting followed by 3 hours in the ETS executive committee meeting. Every day was filled with deep talks with friends, interviews with new folk, some excellent papers, and lots of quick catch up conversations.
I have been trying to retire from my chair of the Program Units Committee for several years. Last year I had a good guy on line to take over but two weeks before the meetings, he told me he couldn't do it. Well, we did a repeat this year! And the candidate was an even better one. So I am on for another year or perhaps two before this year's guy will be able to do it. The crazy thing is that the major reason is that everyone likes me doing the job. They know and trust me and are very happy. Maybe I need to mess something up really much! The EC guys were laughing at me joking that I really didn't want to retire because of the free supper I get when I meet with them along with the free room John Johnson and I share. It is nice that two of us share the room which saves Western a bunch of money. Since John is half time at Western and retiring from pastorate at Village, his income will drop significantly next summer.
I was working with Luke and Natalie in their first post-wedding session. It was really good and intensely deep. I was helping them deal with the vulnerability issues that come up in a soul mate marriage. I tried to remember a most powerful song I valued so much and could not find it anywhere. It is about the one who struggles so hard, but never meant to get away. Thought it was a Twila song, but I can't find it. Frustrating. The little boy keeps looking for the little girl. These are such deep memories.
Sherry is at the end of her restriction period so she will be able to drive again to pick me up tonight. Her car has a broken water pump and is in the shop. Hope we get it back so she can go to her hair appointment on Monday. I head up to Seattle tomorrow to do a teaching session at a student's church and then the all day class Saturday. Then we can go to church together on Sunday.
The saddest thing is that John Bishop, one of my guys confessed sin and is on a six month sabbatical from pastoring his church. He's super evangelistic, but also unbalanced in his life. So alcohol abuse and some wrong stuff with his assistant came out. Not good. We talked but there's a lot more to do. Another pastor's son has gone off the rails badly. I referred him/them to a counselor and will also pastor him. Rick McKinley and I have been texting, hurting together over too much of this sort of thing. Faithfulness to wife and doing the hard work of keeping trust is so very important. Sherry and I were at a meeting with Jamie and Donna Winship who suggests the best opening question is "what are you most afraid of?" So we talked all the way home about that. Glad there is no fear of either of us dropping the ball in substance abuse or inappropriate romantic stuff. Deep trust is a huge gift.
November 6, 2015
Sherry continues to heal nicely though it is a long trek. She's four weeks into her six week restricted activity season. Cyndee has been here for three weeks which has been so good. But Sherry has gotten her into food channel, spending a good bit of time watching "Chopped" and such between excursions out of the house. She got a fruit dryer/jerky maker which has blessed our house. She will head back to CBCC on Sunday.
I preached on 1 Thess. 3 last Sunday. It is quite a passage, thinking of those whose faith is ruined by trials, the Tempter and living in a pagan world. But exploring the dimensions of faith, love, blameless and holy was encouraging. Ending with Paul's exhortations in chapter 5 going into communion was powerful for me. I spent a year each pondering several of them with a friend and that still resonates deeply.
I spent much of Monday dreaming with the Bible Project team. The book summaries are going quickly with Tim doing the writing with input from me and Jon leading the animation and stirring creativity everywhere. We looked a couple of years into the future and it looks very good if a bit foggy as we look ahead. Very fun to be involved.
Saturday will be teaching at the Western site in Bellevue followed by Sunday morning at Village on women in leadership and Sunday evening at Bridgetown on theology of work.
October 26, 2015
I had a great time in KCMO other than Sherry not being with me. But the weekend was go all the time and even exhausted Donn, so she would not have been able to keep up in her pre-surgery energy levels. We'll see how post surgery goes. We can see more in some dimensions, but the "sternal restrictions" are significant and she hurts if she presses them. Getting walking in is the task of the day. Cardiac rehab is coming.
Elizabeth and Susan were with Donn at the airport which was a wonderful surprise. After some lunch, we picked Michael up from his day care and went to the mid-west balloon where the main attraction was the kiddie rides, Elizabeth on the giant slide (not a good experience) and the tilt-a-whirl (danced all the way through!) and Michael in the cars and both on the Dragon Wagon. I've posted some of the videos on Facebook. Saturday morning was at the Pumpkin Patch, an annual affair. While I thoroughly enjoyed the time with family and playing with Michael and Elizabeth and getting to know Mimi (my new exchange granddaughter from Germany), I found that the place was quite unengaging for me which was a bit sad. The afternoon was soccer as was Sunday morning. Elizabeth plays hard and enjoys it a lot but I spent more time chasing Michael — He's quick! I was supervising him and consciously passed on the opportunity to film Elizabeth — and that was the time she took the ball all the way down field and scored. The Chief's game was really good and the time with Donn was the kind of conversation I want. But he started running a low fever and we missed the traditional trip to Jack's Stack for BBQ. Susan's chili was a good substitute. A highlight of the weekend was Elizabeth happy birthday part 1 which Sherry and Cyndee joined by Skype. We gave her "Where the Sidewalk Ends" and Cyndee gave her a four book set from the Magic Tree House. She really enjoys reading so they were hits. After the Chief's game she and I took turns reading poems to each other.
We look forward to similar time with David, Sam, Nicole, and Joy probably at Thanksgiving. I am so glad for family that enjoys being together. I am so glad for family that enjoys being together. I wish there could be more memories posted on the wall.
October 22, 2015
The surgery process was a lot easier than we expected. We expected four days in the hospital but she was out in three. She pretty much stopped pain meds after two days and still is not using any more than she does normally for her arthritis. She spent 6 hours in the ER with a major acid reflux attack. After stopping one of the meds that contributes to that she has had no others. Her normal check up yesterday gave her a good report. My stress levels were high on that Friday as I saw when I would jump out of my skin every time my phone rang. But all the reports were great.
I am currently in Bellevue. Randy, Rob and I met with Jeff Vandersteldt and Ben Conneley, the national Soma Communities training director to forge a partnership and probably a church planting track for our MA/M.Div. programs. I stayed over to teach spiritual warfare to the planters. I'll head back home this evening. Early tomorrow morning I'll leave for Kansas City for our annual trip which Sherry will not be able to go on, unfortunately. I'll attend two major sporting events on Sunday: the less exciting one will be the Chiefs game. The super exciting one will be Elizabeth's soccer game. We will also celebrate her 8th birthday a week early.
I led a conference for pastoral work in the equal marriage world. Ray Young, an attorney and pastor, did the plenary and then we had three breakouts. I did one on teaching and attitudes. We had one on pastoring same sex attracted folk, led by Jason Thompson leader of Portland Fellowship, and another on pastoring transgender folk, led by KathyGrace who was female, male (beard and all), and back to female by the power of Jesus. It was great.
October 9, 2015
In about an hour we will start Sherry's aortic valve replacement procedure. It's full open heart surgery which should help her energy levels a lot. But the process is super difficult: split her sternum, connect the heart lung machine, stop her heart, go into the heart through the aorta, remove the valve, put in a plastic/bovine valve, disconnect the heart lung machine, restart the heart, wire the sternum together and back to a full day of gradual recovery. 4 or 5 days later she'll come home for 2 weeks of 24/7 care and 6 weeks before she can drive and such. Meanwhile I will be teaching class all day and then doing Luke and Natalie's wedding. Best thing I can do since she will not be aware of much of anything and hospital waiting rooms are not good places for me. Sherry Atkins will take her cell phone into the meeting with the doctor and I'll be there by speaker phone. I'll go over after the wedding and see her. BTW, Natalie is John and Saundra Tidswell's daughter. Their was the first wedding I did more than three decades ago.
The preparing process has stressed both of us a lot. I am glad the time is here and more than a bit curious to see how the day will go for me.
September 28, 2015
Sherry and I both went into Kaiser today. I have had a black spot on the side of my forehead for a long time and Dr. Ben wanted it looked at by a dermatologist. So Dr. Martin came, looked and was pretty unimpressed. Sherry was glad she went ahead and removed it in just a couple of minutes. Now I have a small crater in the side of my head and am blackless! She also looked at pretty much all of the upper half of my body and found nothing else. They are doing a biopsy of course. Results in a week or so.
Sherry did an CAT scan to check her heart valve that's not working properly. Likely there's surgery in her forseeable future. I just hope they don't cut the crazy out of her heart so she stops loving me! She heads off to spend a few days with her Mom and family in Tucson on Wednesday. I head to Bellevue to teach all day Saturday and pick her up as I come back into town. Then I preach at Grace three times on Sunday. Packed weekend!
We went to see the eclipse Sunday night. It is pretty marvelous. I am very glad we are past the blood moons now. Hopefully that nonsense will go away. Typhoon season is on and they are storming across the Pacific. Brings back many memories.
September 23, 2015
The Hawaii trip turned into a bit of a nightmare with my cellulitis eruption. As I was snorkeling in the beauty of Molokini Crater, I began to shiver and couldn't stop. I got back on the boat and sat in the full tropic sun, shivering so hard I could not hold a cup of coffee. That went of for 45 minutes or so accompanied by extreme fatigue. It took 2.5 hours to get back to the harbor and another three hours to get to see the doctor at the Kaiser clinic. She asked about the redness on my ankle which hadn't been there earlier and I knew it was cellulitis again. Fever of 103.5 and blood pressure down to 103 over 46 showed how sick I was. So we had to add three expensive days to our Maui trip to get intravenous IV treatments. Not good! The redeye back to Portland was long but very good to get into my own bed. Now a month later I am over it with more doctor visits to see if there's something to do to stop what has happened three times in 15 months — though only one serious.
Of course loosing two weeks in my packed schedule did not help my overload! I am slowly getting caught up as things expire.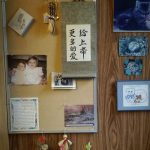 With Dave Wenzel leaving, Kay Bruce changing offices and Laurie Bloomquist moving in, offices are getting renewed. But my office/home of more than three decades remains the same. The items on my bulletin board swap out as things change, but even that has a lot of old memories involved. I like continuity and some changes.
July 27, 2015
Today was Dave Wenzel's "change of command" day. He termed it his discharge day, his last class and his last day as professor of counseling at Western. His office is already cleaned out and the crew is totally reworking it for Kay Bruce. So I remembered his coming, used the class roster from that first year to remember the impact he has had on so many. I had Laurie Bloomquist join by phone since she will take his salary slot and some of his responsibilities. But after 21 years, it is hard not to have Dave next door. I celebrate the change, but I don't like the change. I do like that this one finished well and we did the handing off. Wish I could do that with others that are still hanging.
Sherry leaves for Tucson to see her Mom early tomorrow so I will be batching – except that we have a daughter of a friend and her two drive buddies bunking with us for a couple of nights as they explore Portland on the way to Grand Canyon University. Glad we can do hospitality, even if it's really basic!
July 24, 2015
We went to see Julia and Peter and (especially) Greta last Saturday. I did their wedding and Greta is the result. She's six months old and just totally cute. It was great to catch up with them and hear of Peter's work as an attorney in medical malpractice. Recent cases involved a anesthesiologist who was touching women during surgical procedures. An incredible violation of trust with the patients but also the medical team in the room. Hard to deal with such things.
On Sunday I preached on David's census, the last chapter of 2 Samuel. It's an odd story to finish the book with. Questions all over the place: why is God angry? Why does He incite David to the census and then punish it so hard? Was it God or Satan (2 Chron. 21) that incited? The first set of questions gets answered with "text is silent. We need to be OK with that and focus on what it DOES say." The last is that "satan" means adversary, not the Devil which has "the satan" in the Hebrew. It was a very dense sermon. I was surprised to hear that some new comers liked it because I went to "we don't know" before I focused on the outcome: learn to be quick to confess and repent, throwing yourself on the mercy of God rather than humans. But the end of His anger does not mean it is satisfied. That requires sacrifice. Of course it all points to the place where Jesus will be crucified for THE sacrifice. HARD sermon.
We got together with Dan Chalmers and Jimmy Bisenius and families at Dan's house for BBQ and discussions of high level Christian business in Philippines and Africa. It was a great time with amazing people. Then my early Monday flight to Sacramento for the next to the last class.
It was strange to see Dave Wenzel cleaning out his office. After 21 years as professor of counseling, he is simplifying to running River Ridge counseling in Sandy and supervising all sorts of people around the area. The last of his stuff went out today. I got to exchange hugs and memories with Hollis as she came to pick him up for a date night in the city. Dave and I sat down and he asked me to come do a "finish" ritual in his last class session on Monday. Such ceremonies are vitally important. But I don't like ends to good things, and even more if they end unfinished. Our friendship will continue, but it will not be nearly as regular or as informal as it has been while he was next door.
July 11 2015
Darrell Bock was here teaching Jesus in Bible and History. After I got him to his hotel, I went to the hospital to pray with Jeremy and Monique Birt. Jeremy is a student. Monique lost her amniotic fluid at 30 weeks. She lived at Providence for almost a month before they had to deliver Elisha Jeffrey after developing a fever. The doctor said that in his 30 years of practice he has only had one other birth more traumatic then theirs. Elisha's arm was broken in the process. When I got home I joined the neighborhood fireworks party. It was a blast — but a legal blast :). I was fascinated with the number of Jesus conversations I ended up in. They all know I am a pastor so they want to ask talk about Him.
I took Da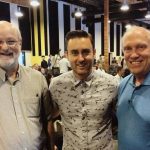 rrell to Westside for the noon service since he'd been out to teach Luke Acts to them in December. It was great to hear Dominic begin his series on Questions, knowing that I get to be part of their team for sermon prep. It was a super hot week so we ended up moving him from Bueermann first floor to boardroom to Imago to boardroom to Bueermann first floor. Like Jesus he was a man who had no place to lay his head!
I taught in Sacramento on Monday, my third of five trips. The class is only 12 so we can talk very personally which is great. The flights have been problematic — my phone decided it liked 18A so it stayed behind on flight #2. This time I left the papers I had commented on in the seat pocket. And that after looking around pretty carefully! The route the plane takes means I don't get to see Shasta or Crater Lake but I did get to see Hornbrook and remember birthday times. Seeing all the smoke from the fires is a bit overwhelming.
Jeff Louie has been teaching OT on alternate Saturday's in San Jose and doesn't like it. So he worked a deal with Rob and Randy to do some other things, leaving me to find an adjunct. It's turned out to be much harder than I expected. We are less than 2 months away and I don't have anyone who is both qualified and available. That is just one of the things I am investing lots of time and energy in.
2 Sam. 24 is the topic for next Sunday's sermon. It's a MOST challenging passage with a ton of unanswered questions behind the text. Why is the LORD angry? Is it the anger that moves Him to incite David's census? What about the parallel in Chronicles where it is Satan who incites? Why such a huge outpouring of wrath? The point of the passage is confession, repentance, loyalty to the LORD and the reality of His mercy. And it all points to Messiah. But there are many loose ends!
June 23, 2015
It's been a LONG time. The super busyness of end of term followed by 5 weeks in Asia and then four weeks of dead run after I got back finishes this week.
The two weeks after Philippines had two intensives, an all day cohort class and a class in Sacramento. Then I spent a week in Grand Rapids attending Acton University and doing Oikonomia Network meetings. There were about 20 northwest pastors there so I got to spend a lot of time with them.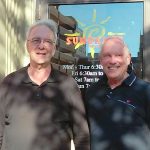 The coolest thing was connecting with John Smith. I grew up with him, made lots of music with him, viola and cello, banged heads with him at a softball game. His concussion shows I have the harder head but I lost two teeth in the crash. He went on to be a professional cellist, playing and playing in Israel for three years before moving to Grand Rapids. We'd not seen each other in 40 years. He contacted Ann somehow and told her that Mom had given his wife, Nancy, a violin my grandfather had made. He wanted to return it. So we connected over breakfast and caught up. Turns out Nancy passed away from cancer three years ago.
Monday was not my best day ever. I got up early to fly to Sacramento to teach. When I got off the plane, but my phone decide to leap out of my pocket and stay there. It is still enjoying SAC heat. Then I discovered that my return flight was booked for another Monday. Glad the friendly lady at Alaska switched the reservation without charge 🙂  I turned in the rental car and discovered that the fuel pump clicked off before the tank was full. Glad the Budget guy looked at me receipt and didn't charge me extra. Then the plane hit a bird on the way in and it was delayed for an hour while they checked it out (good thing). So I self medicated my sorrows by writing the exam for my students on the flight home.
April 5, 2015
He is risen indeed! We had a super Good Friday service with Billy and Ali doing unplugged songs and Jay preaching powerfully from Psalm 14 on the need for forgiveness. I am really looking forward to today's Easter service and the trip to Cannon Beach to hang with Cyndee after.
The last session in Seattle ended up spending the whole time on the question of homosexuality and related issues — with a couple of major distractions as we went into other questions. The Doxa Church worship team were practicing for Sunday and played the song "How Deep The Father's Love" and I commented that the Father pouring His wrath out on the Son wasn't biblical. That got quite a response since several were preaching on Good Friday, the next day! So I made my case that it's better the Father and the Son partnering together, both agonizing, to perform the substitutionary sacrifice to appease the wrath of the Father and the Son. The traditional misses both the agony of the Father who sacrifices His Son and the wrath of the Lamb.
Most of the Saturday was invested in the Western class schedule for 2015-2016, a most complicated thing since I am now responsible for the on line courses as well as the on campus courses. I did get over to talk with Maureen and Michele, the renters for our Tabor house. Michele is getting married at the end of the month and moving out. So Maureen with be there with two male roommates. I talked about rent increase since we kept it about 2/3 of market price to support them as missionaries. The two guys are just neat Christian men working normally. So we probably will support Maureen for the difference.
Wish Sherry were here to celebrate with me!
April 1, 2015
It was funny to talk to the editor of our Western magazine and hear that my article required almost no tweaking at all. My pain was her gain! Now I have been asked to write a shorter article for the Oregon Family Council blog of Christian involvement in government. More pain, I guess. . . .
Sherry left yesterday for Arkansas to help her Mom prepare for her move to Tucson. They are working steadily in sorting things. Sherry and her Mom connect well and Sherry is enjoying some authentic Arkansas food, perhaps for the last time. Quite a process to bring 25 years of living in a place to a close.
I get to work with The Bible Project (here) which is simply amazing. We did the script for Sacrifice and Atonement together and then I worked with Tim on Romans and 1 Corinthians. The powerful way these videos present Bible truth is a joy to watch.
Getting to work with top level pastors and people thrills me. We had Jason and Nikki Albelo, pastors of Easthill Church, over for dinner on Thursday. Quite a challenge to be pastors of a church of thousands. More fun to share stories of God's working. Jeff Bethke is one of my students who come to class monthly from Maui. He did the Why I Hate Religion, But Love Jesus video here has almost 30 million views.
Off to Seattle tomorrow to do my last class session there
March 23, 2015
Sherry and I had a great 47th anniversary. I posted some pictures on FB from our courtship and wedding times. Then church, Brunch at Salty's on the Columbia, relax at home with conversations with family and some good time for us. Good way for us old folk to memorize the years.
I am having more conversations with people from Mars Hill — which does not exist any longer — who are trying to get things worked out with the replants. That is encouraging to see the role I can continue to play in the group of pastors and leaders.
I have been watching our old rotting deck go away and the new one being built. The new one just doesn't look right. I am intrigued at how stable I am in such things. Nothing should change!
Today I was involved in three different awful situations — from a wife of pastor who just moved here to take a church job only to discover an extended affair with her close friend, to a married alums who are struggling with ethics around infertility and In Vitro, to a couple who want to get married but have a past that makes me hugely suspicious with my questions being met with emotionally manipulative language. Reading a not good PhD dissertation was attractive by comparison.
The low point of recent days was writing an article for Western on theology of work. I just don't like writing unless the muse catches me. Even then it is really hard work. I would much rather work with pastors and people.
So tomorrow I will spend most of the day "scheming" around next year's offerings at Western.
March 17, 2015
I am working on travel arrangements. Right after graduation, we'll head to Hong Kong to speak at the Justice Conference Asia and then on to the Philippines for the month of May: Manila, Cebu, and Iloilo. Our first time in central Philippines. Then after classes at Western, we'll head to Hawaii to teach there with a wrap around vacation. Cyndee will join us for a very fun time!
Sunday was at Lifepoint church in Vancouver, preaching on 1 Thess. 4:13-18 for the first time. The focus on what to do in the context of death was powerful. I ran some people out of the auditorium with the story of Kara Tibbetts. Didn't mean to, but it is very real stuff. Teaching is so much fun. And scheming about the future of Western is absorbing as well as fruitful. The pastoral work is challenging. I pray the Lord give wisdom in where to invest my ministry heart.
March 14, 2015
The days go so quickly because I am just swamped. The higher levels of responsibility at Western mean I get to scheme at high level stuff, shaping the core of the seminary, which I really like. But it means a lot of investment. The teaching is wonderful and I do a lot of it, formally and informally. The pastoring is amazing because I see the reality of the Gospel at work in transformation. And I want good time for family, which does not get what I want. And there is friendship park time, so essential, in memory.
I did a ride along with one of my students who is a veteran Portland police officer. I have refused to do them before because I don't need any more tugs on my ministry heart. But Tom does amazing pastoral work with a badge and a gun. The evening ended with an angry 21 year old father being sent out of a shelter in a local church. His girlfriend and their 7 week old baby were welcome to stay, but decided to go with him. As she gathered their stuff, Tom stood in the cold with the young man talking about life, anger management (write notes to her rather than shouting) and caring. Tom asked the young man if he believed in God. "Yes, I was baptized and believe in Jesus," he answered. Tom spoke wisely to his faith. Then they walked off into the cold to meet a grandmother at a local super market. We prayed for them as they crossed the street in front of the police car.
Ty Neal is one of my cohort students who flies in from Las Vegas every month. This time he brought Angie to celebrate their 20th anniversary. They went into the gorge and Ty stopped to pick daffodils, her favorite flower to celebrate. While we spent Friday in class, Sherry took Angie for a spa day and lunch at a local French restaurant. We remembered our 20th. I was teaching at Ecola and Sherry was working in Portland. So Cyndee and Debbie worked to make it extra special with 10 balloons delivered to each of us. So fun! Now we prepare for our 47th anniversary.
Renewal is everywhere: Our rotten deck went away and the foundation of the new one is in place. Our leaking bathroom is redone with tiles and a shower head which lights up to show the temperature of the water!
February 18, 2015
Happy New Year! It is year of the sheep. The Chinese blessing banners on my door (Christian ones, not Temple ones) should be changed but alas I am not able to get them from my friend so instead of new blessing they represent permanent connection and prayers. I was listening Michael Card on Pandora the yesterday and heard "Know You in the Now" from Present Reality and remembered listening to it sitting in the car having just finished an ice cream cone with commitment to make that more true and then going to mosquito park for prayer and finding Him. Amazing times.
Last Sunday's sermon from 1 Sam. 7-8 was quite a challenge, but it went well. I spoke of Israel demanding a king ignoring God's warning it would not work well unless he was a man of God. I compared that to Kitzhaber as our "king" in Oregon and called people to quit their glee or gossipy moral outrage and pray that he will hear the grace of Jesus in this disastrous time.
These three weeks are super packed with teaching stuff. I am looking forward to the end of February and the "normal" load for a while. I will do a three day spiritual warfare class for Convergence through Saturday.
Sherry is getting some energy back. The stress test really bonked her.
February 7, 2105
Life in — life out. It was a study in contrasts today. After spending time working on next week's sermon (1 Sam. 7-8), I went down to Palio's Coffee shop in Ladd's Addition to join a group for Luke popping the proverbial question to Natalie in the center of the circle. Surprisingly 🙂 she said yes. Then their Mom's came out, followed by their Dad's and then the rest of us. Luke set it up perfectly. Natalie was overwhelmed with joy. We circled up and heard the story of her morning — full of delightful deception. Then I prayed for them. Luke, who had been so composed all morning, totally lost it and was bawling as I prayed God's blessing so they could bless many. Life in.
Then the rain started again and I drove quickly out to Kaiser Westside to meet Claudia Werber. Her father lay in ICU where they had just removed his ventilator tube. He perked up as the sedation, necessary for tolerating the ventilator, wore off. He conversed in small whispers with his family and physicians in shifts. I did the pastor thing with her Mom, her sister and boyfriend, but mostly with Claudia, alum, Jesus worker and long time friend who refers to me as her spiritual Dad. As I write this I realize it's true. I don't share my soul stuff with her. That happens only in a very different kind of once but not again relationship. I left to be with Sherry and her sister who is visiting. In the early night Claudia called to say that her Dad had passed away. Life out.
February 4, 2015
Sherry's birthday did not go at all as planned. She got up to do some normal house stuff and as she was folding laundry she experienced strong chest pains. She took some nitroglycerin and they eased, but then returned. So she ate some toast and again they eased. She called and texted me but I had left my phone in the office and missed it. Fortunately I had my email open on my laptop as I was in my meeting and saw her email to call as soon as possible. That brought a strong emotional reaction of course, and I ran upstairs, called, heard her report and abandoned the meeting. She called Kaiser and followed their advice and went to to emergency where they did an EKG, a chest xray and a blood test to look for heart attack enzymes. I was in the lobby on a theology phone call with 6 students. One of them turned out to be in a nearby Starbucks and brought me coffee! The students were concerned and prayed. I joined Sherry in the room waiting for results which were negative. The internist who came decided to admit her and do deeper tests including a stress test Wednesday morning. That is not fun at all, but it showed that her heart is fine. Apparently is was a gastric reflux. She texted me asking me to "break me out of here!" which I was glad to do. She was super glad to be in her chair, shower in her bathroom and sleep in her bed.
I pondered that we are a few minutes away from a very fine hospital, a few more minutes from a world class hospital (OHSU) while much of the world has no access to any real medical facilities.
After I finished the services at Redeemers, I stopped to get some granola bars. I looked for the shortest line as I checked out (of course!) only to realize there was a crooked little old lady ahead. I found myself being irritated at this slow down as she shuffled her twisted body ahead, leaning on her walker. As I examined my own depravity, she asked the checker about the price of something. The checker said fifty cents each and the lady was sorting through her bills and coins. Then the checker took two bell peppers out of the lady's bag and I realized she didn't have money for her meager groceries. So I quickly covered the cost of the peppers. I still marvel at my irritation at the minor slowdown she initially presented.
January 30, 2015
I am in Roseburg on the last of my three weeks of heavy travel and such. The time at World Venture's Renewal Conference was really fun. I got to see a lot of people I've known for a long time, including Andy Sphorer and Bob Robertson who I went to seminary with. There were others like Dwight and Becky Johnson who I met when Sherry and I were with them on their field. Catching up brings lots of memories, both joy and loss. The plenary on spiritual warfare was good, but ran into technical glitches because I gave them the wrong power point, with is really strange. A big part is that I am just pushing so hard that I'm not checking at the level I normally would.
Roseburg is good because there's a long history and I love seeing a church doing well. Steve Walker is doing a book which I will get a chance to comment on. Staying in the Windmill is another long time memory. I remember days in the pool and staying next door with friends as well as trips to Wildlife Safari.
Being 68 is a laugh line. Corey Rose from Eugene commented that I look really good for 80! Retirement is a common question, but not anything like an imminent reality. I love what I do even if there's too much of it. The frustration is that it seems impossible to get help for tasks even when I ask. Not sure what happens. Part of it is that I exude competence and people don't believe that I need help. But it is more than that. Gotta be my lack of trust or something.
January 22, 2015
I am in Seattle doing my first class, Evangelism and Apologetics, at our new teaching site. We meet in what used to be Mars Hill Bellevue, the site Mark used to preach from. It's now Doxa Church led by Jeff Vandersteldt of Soma Communities, which was a former partner organization in Acts 29, Jeff working closely with Mark. There are SO many "formers" here. The joke I heard several times was "the artist formerly known as Mars Hill." But the atmosphere is not cutting toward Mars Hill or dreary, but rejoicing at the life that is springing up in the wake of the demise of MHCC.
January has been extraordinarily busy after the relax time over Christmas break with getting a new semester going, preaching every weekend along with a lot of travel: Phoenix for the Oikonomia Network Faculty Retreat (7-10), Mission Connexion (17), Perspectives in Yakima (19), Western San Jose (20), Seattle teaching (21-23), Redeemer's Roseburg (23-24), Renewal Conference Denver (28-29) and Redeemer's Roseburg (30-31). As of this point there is no travel out of the area in February.
I am doing Communicating Christ in Culture, a brand new class this term. I have never even taken it, much less taught it. So I am very open in telling the students we are learning together. So far they are very positive as we talk about cultural values and dimensions of culture based on Bible examples and personal experience. But it is a stretch for me.
The other big pressure point is overseeing the Bible/Theology departments in San Jose and Sacramento. I don't have personal contacts there and I can't walk down the hall and chat so the oversight is more challenging. Finding qualified adjuncts is very difficult as I don't know the pastors well there. Makes me appreciate the connections I have here.
My pastoral side is kept full with all sorts of things.  I long for the day when people won't abuse and divorce and live in sin, etc. But I'm very glad for opportunities to minister grace.
One happy note is that I have started pre-marital with Luke and Natalie. That's super special because she is the daughter of the first couple I married more than 30 years ago. John and Saundra Tidswell are at Grace after a season of teaching in Indonesia with World Venture. It's been a delight to mentor Natalie and now to see them develop that most intimate of relationships.
December 28, 2014
We continued the family emphasis as Cyndee joined us in the trek to Hermiston to spend Christmas with David, Sam, Nicole and Joy. We left Christmas Eve day and had "lunch" with David at 4 — the Safeway was super busy and he worked until after the store closed at 7:00. We went to our motel and I was introduced to the intricacies of Farkle! Christmas day began with Sam's great breakfast casserole at the other Breshears' house. We opened some presents and then Skyped with Donn, Susan, Lizzy and Michael. Lizzie was enchanted with her new science book and told all sorts of mysteries! Games took over as we played Apples to Apples, had ham dinner and then concluded with a raucous Pit game. Nicole and Joy joined us for breakfast and some shopping and Cyndee's first game of Deer in the Headlights before we headed back to Portland.
Jesse and Bethany, Emily (3) and Judah (almost 2) Schlender are joining our home for Christmas break as they are here from Boise for the Cru Conference. It is really fun to start my day with small children. We did some child care while Jesse and Bethany both had to be at meetings. They are in the hotel through New Year's Day and may rejoin us after the Conference is over as roads back to Boise are going to be really sketchy.
I will be teaching a new class on intercultural communication. It is going to be quite the challenge because I really don't know what I am doing. Though I have quite a lot of experience in working successfully across cultural boundaries here and internationally, I never took such a class so don't know how to teach it. So it will be an experimental class where the students and I learn together. Since I am a control freak and want the students to get their money's worth, I am more than a bit nervous about things.
December 21, 2014
Life is moving at a much slower pace. Cyndee arrived to begin the family celebration time. We have been mostly hanging out, but making pumpkin pie to finish our Sunday feasting was fun to watch. I was able to fill the yard debris container to avoid that most awful of all Portland sins. Wednesday we'll go to Hermiston to hang with David, Sam, Nicole and Joy. We'll Skype Donn, Susan, Lizzie and Michael from there. That's as close as family together can be in this time of spread-out-ness. I had a crisis with a missing iPad. It just disappeared from all the usual spots. After more than 24 hours of searching, I finally found the very safe place: Somehow my iPad decided the place to be was in the drawer where I keep my noise cancelling ear phones. My new ones are Sherry's Christmas present to me in consideration of the time I spend on airplanes these days.
Christmas music on Pandora through my phone with bluetooth earbuds along with watching Mike Rich's The Nativity Story is the state of Sunday evenings these days.
December 18, 2014
The press to finish classes and get grades done is over, I am glad to say. The rush this term was complicated with facilitating some difficult reconciliation work. For example last weekend, I did my cohort class all day Friday, spent Saturday getting stuff put together for a most challenging sermon (below), working with one reconciliation with bed after 11, up at 4 to do my final sermon tweaks and into my head, preaching three times, rushing home for a half hour nap, driving to Salem to work with another reconciliation, getting home around 7 for the normal finish the weekend and collapsing into bed before the full day of meetings and grading on Monday. These sorts of challenging things multiply. I wish I could connect my soul. I am very glad the grading challenge is done and I can move to enjoying family time.
My sermon on Mary's magnificat was really challenging. I read the passage: "He has scattered those who are proud in their inmost thoughts. He has brought down rulers from their thrones but has lifted up the humble. He has filled the hungry with good things but has sent the rich away empty." and realized this is talking about God bypassing me and virtually everyone at Grace! How do I say that without blowing people off? I think I finally hit the balance by asking people to join me in some personal pondering and then asking "what side of the Great Reversal am I on?" and encouraging generosity of money and time. Still very taxing to preach.
Joy ended up going to the ER for a big blast of antibiotics. but fortunately she was never in much pain.After conversation with the dentist in Seaside, they held off on dental work until they got home. She now has temporary teeth with permanent caps coming in six months or so. It was a great relief to see her playing her new digery-doo in Cyndee's living room on Saturday following the Friday night fall!
We were at Steve and Celestia Tracy's home for an open house for A Perfect Injustice, the ministry their daughter and son-in-law do in Uganda. It was great to talk with Abby. We'd not connected since we had lunch with her and David in Kampala. Their ministry grows with lots of challenges associated with working with street kids.We've known Steve and Celestia since 1980 when we both came to Western.
December 6, 2014
I did the Matt. 5:31-32 sermons at Door of Hope. Fascinating to see a church full of young Portlanders, eager for the Word, looking for good music and wanting to live for Jesus. I did the Bible teaching — which is hard — and Josh did the pastoral follow up. He was able to speak to the impact of divorces on his own life and the redeeming power of Jesus. Heavy sermon, but the Sermon on the Mount is like that. I spent the afternoon working with two single again people from Grace who needed to talk about some things so I was facilitator for that conversation — in the middle of the three sermons! I did get a nap afterward, thankfully.
A woman whose deacon husband of 20 years decided suddenly that he should be a she came to talk with me this week. Super hard to have him go from husband to hater with all the betrayal involved. What made it even harder was that the pastor fully supported the change. He has gotten tons of support in the community for having courage to be who he is. Amazing that in America someone can make that decision in a moment and get the drugs to begin the change all for $135, no questions asked.
We had our Grace staff and elder Christmas Thursday. I know it is technology at work when I start a conference call with on line theology students as I drive away from the seminary, talk down the freeway, pull into my garage so Sherry can get in and continue the intense conversation about Christology as I drive out to Gresham and finish sitting in front of the Bucher home!
We are at Cannon Beach to speak at the annual Salem Community retreat. I've been the speaker for 25 years or more. David, Sam, Nicole and Joy are here helping Cyndee decorate this week so we hung out with them. After I retired to our room, I got a text that Joy had fallen as she got into the shower and broke off her two front teeth. I went to their room and shared the difficult experience. Fortunately, no particular pain. Sam took her to the ER, leaving after 10. Sherry was Wii-ing with Cyndee so I was in the room alone, feeling the trauma of her loss.
November 29, 2014
The Mars Hill conversation became the blog which went kinda viral! It quickly used up the bandwidth of my blog so Dave Lomas accused me of killing the internet! The comments ranged from very appreciative to quite caustic. No real surprise since this whole issue is so volatile. I have been working with several in the transitions to independent campuses. Most satisfying is Jeff Vandersteldt taking lead at the Bellevue campus. I have high hopes for my friend and student. He's already done major turn around at two large churches including Hybels' youth ministry.
ETS was in San Diego this year. It went really well with excellent papers and very productive work with the Program Units Committee with I continue to chair despite repeated attempts to retire! I remembered the days back in Scott Memorial Baptist Church with my friend when John Wimber showed up for my paper presentation. We had a three hour conversation and began a friendship with Sam Storms which endures to this day. It was very good to see Sam elected to the presidential track. Craig Blaising asked him publicly if he could in good conscience endorse the society's doctrinal statement "The Bible alone, and the Bible in its entirety, is the Word of God written and is therefore inerrant in the autographs." Since Sam is a continuationist, the MacArthurites might question him on this, I guess, and Craig wanted it on the record.
We went to Hermiston to be a part of Nicole and Joy's baptisms which was so very good. Seeing David baptize them while Sam read their testimonies and then hearing John Hurty's strong affirmation of the work David is doing with their youth group made this father and grand father's heart very happy!
Thanksgiving was just Sherry and me — first time in memory that we've not had any other family with us other than the year we were in Taiwan for Thanksgiving, which has its own special memories. We went to see "The Theory of Everything" and then Sherry made a feast for us to share. We talked with Donn as they drove home from Lamoni and their annual gathering. David was in Bend with a special Eagle Crest vacation with friends. Cyndee had to work but we shared texts.
The hard news was that Crossway has terminated the contracts on the books. Quite a loss to read that they will dispose of stock and then destroy the remaining inventory. I wanted to share my soul. Because of the climate, it had to come from their attorney which made it even harder. I let it sit for a couple of days and returned the email from the attorney, copying Justin Taylor, the VP for books and a friend, noting the emotional impact. Justin responded with a very personal apology. Still it is a loss to have those disappear after having major impact.
I am doing several pastoral things including Preaching at Door of Hope on Sunday, helping people wrestling with major spiritual issues, a church working for reconciliation with a former pastor, and a woman whose husband of 20 years and a deacon in their church decided he was really a she and abandoning their marriage — with the vocal approval of their lead pastor! Weird world.
November 7, 2014
We had a super weekend in Kansas City — once the disastrous start was over. We got settled for our flight to Chicago only to have the pilot tell us he had bad news: our departure would be 1:30 pm rather than 8:44 am because of awful weather in Chicago. We deplaned and the line to change things was super long. As I waited, both Sherry and I were also waiting to talk to an agent. We both got in about the same time. Her best offer would be an overnighter arriving about 10 am, but my agent found a Delta flight that got us in just 2 1/2 hours after our original arrival time. So we were able to be there for Lizzie's waking up to be surprised by the birthday decorations in her room, the spontaneous dance recital she and Michael performed, her time at dance school (way less interesting), before her birthday party at Pump It Up. There are videos on my Facebook page. We also spent some time with Steven, my cousin, and of course Donn and I saw the Chiefs beat up on the Jets before going to Jack's Stack for BBQ. Sherry flew on to Arkansas to visit with her Mom so I am wifeless until Tuesday.
It has been a really big week at Western with the CACREP accreditation team visit and their word that they will recommend us for the much needed accreditation for our counseling program. The team came to our spiritual assessment class and enthusiastically entered into the discussions.  Then Patrick Schreiner passed his oral defense of his dissertation. I spent time today with two people who have demonic attacks going in their lives. So frustrating that they couldn't find people to talk with about this sort of thing but so good to see the relief they can have when it's addressed biblically.
I did a Skype presentation on lessons from the Mars Hill implosion for three large churches who gathered for a day of instruction and encouragement. All three are strong healthy churches with Western alums as lead pastors and a number of alums on staff which makes me happy. They want to stay that way.
October 30, 2014
I am stunned at the disintegration of Mars Hill Church. From a strong multi-site church of 15,000 to nothing by the end of the year. This all happened in about six months from when Act 29 delisted them to Mark's resignation and the announcement that there would be no Mars Hill Church less than a month later. There will be some independent churches — replants really — coming out of it. A toxic context of blogosphere was a major factor, but the key was the charges from former and current elders who argued Mark had to deal with some character stuff and change the resulting culture of MHCC. When that didn't happen, it all went down. Someday there will be a study of what happened, but I am guessing it will never be done. There are too many key people who aren't going to tell their story in the midst of the pain and loss.
I have had two calls coming from families dealing with a transgender/transsexual member and the pain and confusion this brings. It is going to happen a lot more, I am convinced, in a culture where gender is seen as a choice to be made most anytime in life. Ironically, sexuality is being proclaimed as inherent and unchangeable. Seems there would be more consistency.
Three of us flew to Sacramento early Saturday morning where we were joined by two language profs from San Jose and three from Sacramento for a summit on teaching languages at Western. It was marvelous to see the team form and come to unity around what we will be doing. But it still seems strange to do a day at the office when the office is 900 miles away!
Preaching at Foothills Stayton was the end of my preaching marathon. I don't preach again until the end of November. Tomorrow Sherry and I will head to Kansas City for Lizzie's 7th birthday and my annual football game with Donn. Folk asked me who the Chiefs were playing and I'd tell them I have no idea. Finally John Johnson looked it up: NY Jets. My response: "is that good or bad?" Ignorance in action!
October 23, 2014
Last night was super short — only 4 hours of sleep. Sherry attacked me viciously at 2 am out of her great cloud of sleepy unknowing and that was the end of sleep for me. I finish my preaching marathon this weekend and had a Power Point to redo after the church sent me their template — but only on Wednesday afternoon. So I worked on that and got it done before heading off to Westnomah. The rain has been pretty heavy as fall has definitely arrived so I am very glad for our garage. Another sign of fall is that the heater in my office gets going on full blast and blows of my yodedot nephesh ohav. It always goes back to its place. The final sign is that theology exams are in, reminding me that graduate students have a lot of trouble following instructions no matter how often they are repeated or written.
Randy Alcorn's new book on happiness is delayed so he postponed his Western class a year, leaving me a hole. So I talked with a friend and will now ask John Frame to come and do his Christian Mind class in the 2 1/2 days following the evangelism apologetics class Dan Kimball and I will do. It's all at then beginning of June, 2015. Join us!
Jeff Bethke, who became famous for his Why I Hate Religion but Love Jesus video went viral (6 million views in three days, over 28 million views as of today) a couple of years ago will be joining my 2014 cohort. One more highly influential Christian leader without any biblical education. So he found out about the cohort and begged to get in late.
One outcome of the Grace sermon on homosexuality is the emails with awful stories asking for my help to walk through. A family member is beginning the transsexual journey and a husband of 20 years, a leader in his church, who is now identifying as "she," arguing that God made a mistake making him a man and getting him into the marriage.
Maybe it's time for some sleep.
October 16, 2014
This week is threshold week with our On Line MA/BTS students here for their first week of classes which they do in residence. Then the others are on line until the final week. Of course they can do more on campus, but with students from Cambodia and Singapore, that's not likely. We have two staying with us again, Aaron from Little Rock and Marcus from Orlando. I realized Sunday as I was bringing them to our home that we have never had a black person spend the night with us. So he blessed our home!
I preached three times on the biblical teaching on homosexuality at Grace on Sunday before going to Western to teach the folk there. It was an exhausting sermon. Very intense since the weight to get it right in tone as well as content is so crucial. I think it went well and the feedback was very positive — at least what I heard. I always wonder if there's more. One that meant a lot is a woman who just came to Christ after a very negative experience with Christianity and a run on the wild side. She was very positive in her comments.
The Mars Hill thing is taking a lot of energy. Driscoll's resignation caught everyone by surprise. it does clear the air and leave room for some major changes in culture, but it also leaves a huge void. So hard, but it could be a major place of grace working.
Cyndee is in town this week dog sitting for a friend so she and Sherry have done a lot of playing. She and I had a great time at Old Spaghetti Factory last night with good conversation around that.
October 2, 2014
The semester is under way here at Western. Lots of start up stuff since I keep inheriting new responsibilities. Rob is a great dean and he sees my administrative ability and deep knowledge of academic stuff as an asset to tap! One project is getting coherence in our language offerings across the campuses. So three of us will fly to Sacramento at the end of the month and join the NorCal teachers to iron out specifics. It will be fun to have everyone in the room and think about excellence in language teaching.
The Mars Hill mess continues as the 8 on the board of elders consider the charges brought by the 21 former elders/pastors and those from the 9 internal elders/pastors. I end up talking to a lot of different people to process stuff and to give some suggestions. It will be good to see that process come to an end and the very difficult problem of rebuilding a devastated church begin. So much pain and confusion.
Hong Kong is calling! Looks like Sherry and I will be at the Justice Conference Asia at the end of April 2015 before we spend the month in the Philippines. That country still has a deep hold in my life even though God called me to Western when I thought my life would be lived there. Sure wish I could be there next week.
Loveology is also calling. We will do the event at George Fox from 7 to midnight. Still amazed that many young people will choose to come to two deep Bible teachings along with powerful worship and the Q & A I will participate in.
September 22, 2014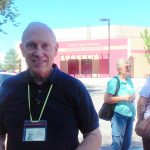 My part of the reunion is over. The flight down was routine, though switching airlines at LAX can be tricky. I went totally wrong twice before I found the shuttle bus– well two shuttle busses to get me to the right spot. I arrived in ABQ right at 6 and was at the resort by 7, only an hour late, leaving me three hours for the meet and greet ($40 is a lot to pay for a patio with minimum snacks and a cash bar). I quickly started meeting people, starting with Tony Scarton, class president and class favorite. Bill Humphries' father was the ranger who found smokey the bear. Ray Gere still laughs and sings. And so it went both with people I wanted to catch up with and some I didn't remember at all. Roberta Branagan was one I was looking for. She was principal violin and I principal viola in the Albuquerque Youth Symphony and did many things together. She has been playing professionally for 50 seasons, along with 22 years teaching in the correctional system. There were several from Alameda Community Chapel, including some I didn't remember being a part of our group. A highlight was that Jay Powelson married Jerolyn Reich, the pastor's daughter. I'd been bummed — though not surprised — that Stanley Reich, my reprobate friend, died in 2002. So I got the story on the family from him. She was not there because she too suffers from emphysema, the curse all the Reich kids had. She ended up coming to the school tour this morning so she could greet us. It was great to see her. The surprise of the evening was when I saw Hazel Garcia. She and I had been boy/girl friend though that ended well before Sherry and I met. We has a most magical trip to Santa Fe for "The Barber of Seville" a miraculous performance after their venue burned with all the costumes and stagings and with 24 hours notice they went with their back up production hastily arranged in a high school gym. They received a standing ovation as they walked out for their accomplishment. The entire evening was like that. Hazel's first marriage was very abusive and her second husband died just a few years ago.
Death haunts the class: 86 of our approximately 550 are gone. Beyond Stan Reich, we lost Ken Ogden, our student body president and Mr. everything, Scotty Bennett and Margie Lopez, two top cheerleaders, Eloy Pacheco, the class clown and who's who selection, Santa Fe Brown, a most artistic woman, and John Moser, a lead in most every play and musical. These were all friends I had hoped to catch up with.
Albuquerque will always have a special place in my heart. Whether it's seeing Presbyterian hospital, where I was born,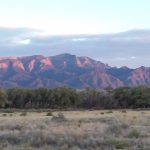 Sandia Peak which orients my world and draws me upward, the Jemez River canyon where I went this afternoon with all its natural beauty and spiritual heritage represented by the old mission and older pueblos, or the rustic of Rio Grande Blvd, where Jesus met me after my 4 1/2 year rejection of Christianity, with Los Pablanos ranch where I worked for three summers and deep friends with whom I shaped life through Junior High on into University years. Oh, yeah — and this is where Sherry and I met, were married and launched a marvelous life together.
September 19, 2014
I am sitting in the Portland airport, waiting for a rebooked flight to Albuquerque for my 50th high school reunion. The original flight connecting through San Francisco was killed by low clouds so I am on a flight through LAX. The bummer is that I will arrive at the airport at 6, the time the reunion event begins. At best, I'll miss half of tonight's gathering. Tomorrow is a visit to the school and more time to reconnect with people I have not seen in 50 years. I considered seriously skipping the whole trip, but it would have been abandoning quite a bit of money and the potential of connection. I am curious what ever happened to a lot of those folk. the reunion website is informative, but not personal.
The week has been dominated by another outbreak of cellulitis, my third. 2008 was awful. May in Uganda was so mild by comparison that I dismissed it as a possibility for my sore ankle. This time I spiked a  fever in Cannon Beach, doing supper with Cyndee. I was shivering hard despite wearing a sweat shirt and being in a very warm restaurant. I was afraid it was malaria, though I'd taken the meds religiously while we were in Uganda. I left early, frustratingly, and then slept for 14 hours. In the shower I found the sore ankle and knew immediately what it was. An injection of antibiotics and 2 weeks of capsules connect to lots of foot upness and extra naps.
The Mars Hill thing continues to take a lot of energy. So glad I am only peripherally involved. Lots of lessons in leadership as team and letting our dark side be open to God's grace along with the evils of gossip and damage of anger from every side.
September 10, 2014
The weekend at Men's Round Up at Tadmor was super. David and I did it together. It was his first time back since he was released. He wondered if it would be weird, but it was actually good. He did the hard work to clear up relationships with the ones who gave him the hard news. They both knew David was not the right guy for that job. Two others have not been the right guy since then.
David and I had super times as father son. We don't get a lot of times with just the two of us, so we relished it. I remembered the two times I did Tadmor with Peter. I miss those good times a lot. They added workshops to go along with shooting range, lake, Frisbee golf and all sorts of man things. So I did one on Christian Living in an Equal Marriage environment twice on Friday and one on Discovering God's Will twice on Saturday and once on Sunday. The materials are on the "Round Up Resources" page along with recordings of similar presentations. The response was very positive. I love working with guys and an open Bible!
Western is underway. I have all my regular classes on Mondays so every other week I am pretty much straight through from 8 am to 10 pm. On the other weeks, the 8 am to noon class doesn't happen. There is the new cohort which meets on second Fridays. And there is all the other stuff with academic administration system wide, and a lot of student stuff as well as being pastor of pastors in the region. We'll go to Sacramento for a meeting of all the language profs on the last Saturday of October. That will be really fun.
Sherry is pretty much past the effects of her hammer toe surgery so she and Cyndee went to wildlife parks in Bandon and Roseburg as well as Crater Lake, a total of a week together. It was about all Sherry could do but after a couple of days of vegging, she's back to normal energy.
September 1, 2014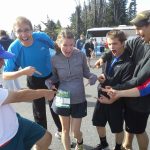 The Hood to Coast event was a lot of fun especially with Julia being 25 weeks pregnant. She did the three legs without any difficulty at all which was great. It is a bit comforting that Rachel Wenzel is a doctor but she was in the other van. My role beyond dri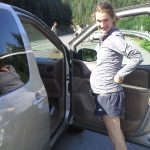 ving my van is to coordinate team stuff, making sure they are out of bed in the wee hours between legs 2 and 3. The down side was the horrible traffic between legs 22 and 24. An injured runner and a lost runner had the transfer point closed for a couple of hours and everything turned into a parking lot. Kendra got into the exchange and stood in the cold for an hour before someone from the other van got to her. The stood for another half hour before the van got there and then for another hour before we arrived to take the next set of legs. I got into a funk and wanted to call off the final set of legs. Traffic like this takes all the fun out. Fortunately, it was only normal traffic from there on. The whole team made the ceremonial run into the finish line and we had pizza and then I drove the van back to Portland, getting home about midnight Saturday. Then I left at 5 am Sunday to get to Grace Auburn to preach on Isaiah 6. I think the sermon went well in part because i stopped at a rest stop for a quick nap both going and coming.
Faculty "retreat" was at Canby Grove on Monday. I drove our two new guys, Patrick Schreiner and Ryan Lister, down and back. So glad they are here. As retreats go, it was good. The business was on target mostly and the conversations around meals was good. Sherry joined me for supper. We spent time with a potential Portland faculty guy and his wife. Long story I can't relate here. I am eager for them to join us.
Jim DeYoung is in his last contracted year, his 40th year at Western. I am watching him make the two year change into retirement, a status he does not want. But his interests are in Damascus City politics, not in teaching basic Greek. Patrick has as many enrolled in his Thursday night Greek class as Jan has in his Monday Hebrew class which speaks to the anticipation of his being here.
I had two simply amazing changes as I helped two different people silence voices of fear, shame and guilt and hear what Jesus said about them. Hard to believe the change it makes. Lots to ponder here.
We had our board meeting for "The Bible Project" and IÂ continue to be amazed how powerful these five minute videos of Bible and Bible themes are. There are three up now and a fourth coming in early October. Love getting to be a part of the team.
The whole Driscoll event is very distracting. With him on the front page of the New York Times in a celebrity gossip type role is not good. I am particularly upset that some tabloid type bloggers are getting enormous web presence by being centers of gossip. Christianity Today does a much better job of reporting the mess. I know several of the 21 former elders who are charging him to the full council of elders with bullying and such as well as some of the 9 current elders who sent their own charges to the full council of elders. They are trying to do it right but of course it is quickly leaked to the bloggers. Fortunately neither Western nor I are getting hit to any degree. We start our Seattle classes at Mars Hill Bellevue this week. I so appreciate the prayers of friends.
August 16, 2014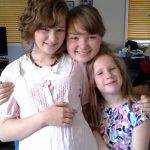 While we were in Alaska Elizabeth flew to Portland as a 6 1/2 year old unaccompanied minor — much to her big girl delight. Susan's parents met her and she spent time with them doing Seaside arcade and playing at the beach and such. Sam, Nicole and Joy came over Saturday evening and we picked Elizabeth for church Sunday morning. She had a blast — her first time in a regular church service, as it turned out. She was smiling big as she told us that since she loves Jesus she gets to go to heaven. We had other conversations around this report, of course. She enjoyed our bedtime prayers — but playing out ranked praying :). Sunday we went to Cannon Beach to hang with Cyndee since she was unable to join us. Serious sand castle building time followed by Mo's good food. Monday was OMSI. We had three adults for three children so we divided most of the time with me enjoying being with Elizabeth. There was good snuggle time with Joy and Nicole too. I was reluctant to return Elizabeth to the Nelsons, of course.
The two days following the family time was packed since I'd been out of the office for a week and a half. Web email gets much done but some things require presence. Advanced standing exams are major issues, but there's also some major counseling stuff including my new pre-marital with Dusty and Becca. Miracles  on both sides of that one.
The Mars Hill/Mark Driscoll stuff is taking a good bit of time. The Driscoll haters are piling on big time and getting a lot of attention which I find VERY frustrating. With our partnership in our Seattle teaching site, we get some of the attention. We'd get a lot more if we would play the blog gossip game. But there are some restrictions I feel — like Prov. 18:17 and Rom. 12:17-21. I have texted with Mark so I have some idea how hard this has been on him. I am also in conversation with some of the former elders who are very unhappy with him. Odd partnership.
This weekend I am in Sacramento for the Western graduation ceremonies. I have had a number of strangers come to thank me for powerful teaching. They have seen much of me via video classes but I have never seen them. Gary Thomas was the speaker. What a great guy and a friend. We had extended conversations which I am very pleased with. I'll preach Isaiah 6 at Creekside Rocklin tomorrow and then head home.
August 6, 2014
We have been in Alaska for nearly a week. I came up for the InterAct Ministries board meetings which I have chaired for the past three years. I am terming off the board as of this meeting and won't be renewing when I could rejoin in a year. It's nothing to do with the mission, but an attempt to get some control on my schedule. Ditto with Pregnancy Resource Centers of Greater Portland which I will term off of in September. No more boards for me. While I bring a lot to them, something has to give. My responsibilities at Western are growing as Rob hands down more things to me: chair of Bible and Theology through all three campuses instead of just Portland and partnering with him in the academic leadership in a lot of faculty and curricular areas. I like doing that, but it's a lot. I also teach extra classes regularly with the cohort. LOVE it, but it's growing with responsibilities for the  prior cohorts and 16 coming into the new cohort which begins in September. I am going to stop doing any counseling work with anyone outside the Western/Grace groups and fewer of them than I am currently doing (I hope!).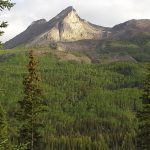 Alaska has been awesome. Vast vistas, good friends, speaking with the Changepoint staff a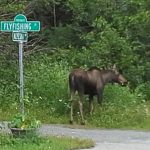 t their retreat, vacationing with Dan and Kathie Jarrell and their family has been excellent. Dan and I have had deep friend discussions including lots of practical theology and real life stuff. Lazy Mountain (Palmer), Victory Bible Camp and the tram at Asyeska were such beautiful places to be. We head home tomorrow and I'll do my final class with the current cohort, which is be a sad thing.
Sherry's toe keeps improving, but her foot is also swelling since she's up and walking on it more than she really should be. Frequent rests with elevated foot is good.
July 30, 2014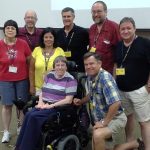 I spent the afternoon/evening at the Faith Academy "first generation" reunion. It was a kick to see people I'd not seen since 1972. These "kids," former secondary students were virtually the same age as I. That was true back when I was their math teacher, but the difference 23 or 24 and  18 seems a lot bigger. One student asked me quite seriously if I was nearing 80. He just couldn't get his head wrapped around the reality that I am only 6 years older than he! The folk in the picture are from the class of 1972. I had most of them as sophomores and got connected with them pretty deeply as I was with many of them for three years. The tall guy, Galen Carey, was a top math student, the chess champion (I sponsored the club), and now represents NAE in Washington DC after more than two decades touring the world with World Relief. The lady in yellow is Helen Eyestone Peterson. She is one the organizer. Her parents were close friends, in the same mission and her Mom a fellow teacher. The fellow in the plaid shirt, Ken DeVries, was the little kid who lost a lot of wrestling matches, but remembered happily that I referred the one match where he pinned his opponent. Happily his dad was there that day and has a picture of me slapping the mat. The bald guy is Tim Boettcher. After graduating from Western, he spent 25 years in France and Germany before returning to the US where he is a social worker with the state, placing foster children in permanent homes. Many stories!
I did a long conversation with a woman who loves Jesus, is committed to biblical authority, and is expecting to marry a wife in the not too far distant future. She came with a mutual friend and we talked very candidly. She completely agrees with Genesis 2:24-25 and Matt. 19:3ff and all those. We looked at 1 Cor. 6:9 and Rom. 1 but her take is that it is not nearly as specific as I read it.  It just doesn't describe her situation where her marriage would indeed be the publicly pledged, permanent, exclusive, covenantal union of two people in Christ. It was fascinating to work through. We finished with smiles, respectful but clear difference of perspective, hugs and expectation of further conversations.
July 25, 2014
I am speaking at the worship school (www.worshipschool.com) in Spokane. Today was one session with Tim Chaddick and Phil Wickham after me along with a evening event they just called "The Church" in a theater downtown. It was amazing to see the people pour in and pack the place. Very good to hear Tim speak so powerfully with Phil doing his super high energy music. I only got four hours sleep Thursday night with integrating ministry and theology class until 10:00 pm and a 7:10 am departure. I am too old for that sort of thing! Being in Spokane always brings memory of friends who went to school at Whitworth. I like walking in their footsteps but wish it were together. The week had me in Sacramento for Western work Monday and Tuesday and then in the cohort text and canon class all day Wednesday and Thursday and then up in Spokane Friday through Sunday. Of course there's all the other stuff that goes on mostly via email. I met with Nicolas Rinderknecht, a graduate who is pastoring very effectively in eastern suburbs of Paris. He is getting ready to plant a daughter church now. Amazingly effective fellow.
Linda Berg's wedding to Jerry Fast is Saturday. Sherry will be the second Mom there. She's in slow recovery from the hammer toe surgery, so it will be a long day for her, but a very fun one. I would like to be doing the wedding, but the long time commitment here made that impossible. So Cal Blom will read some words from me to her/them.
July 15, 2016
I took Sherry in for two follow ups. The bigger one was a change of dressing on her foot. It was  super to see the toe laying flat. But the nurse was quite blunt that she needs to stay off her foot more. With VBS this week, that's a challenge. But she was in the recliner all evening and is taking the "foot up" command seriously!
I have been playing admin. asst. to Tom Schreiner this week, especially with the web conferencing to students in Sacramento. It's going well and we are learning a lot about how to do this successfully. The two students are stoked to be able to participate fully as they see Tom, hear him and the students, and give their input and questions from their homes.
I taught SS and then preached at Laurelwood on "Living as Evangelicals in an Equal Marriage Environment." It's a very touchy sermon! But I think it went well. One couple with a gay son went out of their way to express their appreciation. On the other side a couple of really conservative folk were OK with what was said. Whew! Then I spent three hours in phone work with a marriage that's in serious trouble. The contrasts between one that's gone back together miraculously and another that just won't re-stick is frustrating. The two current pre-maritals end with a wedding I'll do this weekend and another next weekend which I'll have to miss. Sherry will be second Mom at that one.
David and Nicole will be  in Portland next week for a service project. Samantha and Cyndee are working out a great plan for Joy to come with them and then go on the Cannon Beach to hang with Cyndee. The only glitch is getting Joy back to Portland on the 27th. Sure hope it can happen. It will mean a couple of night with Cyndee and Joy here which is marvelous!
July 11, 2016
This week has been super packed! I taught the Exploring Justice class all week along with Ken Wytsma founder of the Justice Conference and pastor at Antioch Church in Bend. Anytime I teach a week intensive, it makes life full because there are many detail that fall out into the "free" spaces.
Sherry and I did the final pre-marital with Jerry and Linda on Tuesday. Usually she is not particularly involved but since Sherry and Linda are close she chose to join and that's been fun to do the investment together. The final pre-marital is "have a happy honeymoon." Since it is specific sexual stuff, it is usually a bit uncomfortable for the couple and this was no exception. But having Sherry there gave a very different dimension. I talk about some of our stuff and she added some comments too.
S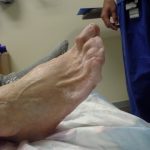 he had her hammer two surgery on Wednesday morning. As you can see, it was a necessary thing. The misplacement kept getting worse and surgery was the only solution. Options in the operating room ranged from amputation to major restructuring of three toes to major work on the toe and minor work on others. The latter is where they went and the doctor was very happy with the result. Her second post operative day was pretty painful, but then things settled down and she's doing a lot better with it.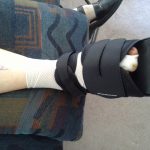 She'll have to be mostly off her foot for six weeks which is a hassle, especially with Vacation Bible School next week. Linda will be her driver" I am glad to say.
The after surgery view looking down as she laid on her recliner looks a lot different. 🙂
July 6, 2014
I preached John 18:28-40 yesterday at Grace. Going deep into to major themes: truth and kingdom as well as doing July 4 thoughts about Church and state made for a packed sermon. But mine always are, it seems. The day was made more challenging when I was awakened suddenly at 2:15 and wasn't able to get back to sleep. So I only got four hours of sleep. That combined with a tough sermon demanded an afternoon nap and early to bed. I got to talk with both Donn and David which is great. We will have a family get together in about month when Lizzie comes out unaccompanied for time with her grandparents, mostly with Dave and Karen. David, Sam, Nicole and Joy and Cyndee will join in for the party.
I sat in on Tim Mackie's text and canon class Wednesday and Thursday. It's the original cohort group, so great guys. John Mark is on sabbatical in Hawaii so he joined electronically. This week will be my intensive Justice class with Ken Wytsma. One student from Sacramento will join in so electronic classroom is having its effect.
Sherry has her hammer toe surgery on Wednesday so we are mentally preparing for that. Not a lot of actual prep other than getting a pedicure. She plans to be in a boot for six weeks which will make next week's Grace VBS a bit different.
July 1, 2014
Getting back into things in Oregon has been more difficult than I'd expected. Every time I travel overseas, it whacks me off my foundations. The richness and entitlement of America is always in my face but way more after I get back. The anger at not getting small comforts, the levels of violence in the media and society, the paganism in the civil religion are all things that I have to get used to.
On the other hand, I have seen God work in astounding ways. Two marriages which had gone totally into ruin are both back up and healing. One is past the miracle stage. Hard for me to believe it is really working, but it is. Finishing two pre-maritals which is always fun. I will not be able to do Linda's wedding since I'll be out of town. But another lady I have had a long term mentoring role may have met "the man!!" and we are talking. A student IÂ did some deep inside work with is now engaged and they have asked me to do the pre-marital so I'll meet them Wednesday evening. This is the season of weddings I have done and I remember them with deep joy. It is amazing to be special friend of the groom and bride.
My role at Western is growing as the academic administrative roles change. Ron Marrs will step out of ministry division chair to over see our 5 year combined BA/M.Div with Corban so Rob and I will work together on that. I am also Bible Theology chair for the whole of Western, not just Portland. It is a bit of a challenge overseeing faculty in other states! I continue to be pastor of pastors of course, with lots of investments there. It was a shock to hear that Ben Cross had a stroke after church last week. As of Monday he could not walk but by week's end, he was getting around the house without his cane. He was to preach once on Sunday and then he is off for his July study break. Close friends should not do things like that!
I am in all day classes Wednesday and Thursday and then all week next week. That makes life a bit complicated with Sherry's MRI on Thursday and then surgery for hammer toe next Wednesday.
June 16, 2014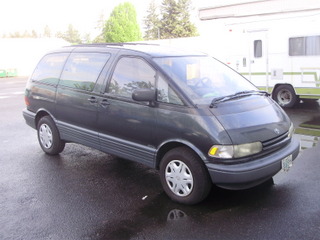 Wow. What an experience the Uganda trip was. Of course I journaled that on the main page.
The sad thing is that on Friday before we left on Sunday I started our long faithful Previa. It was a bit rough, but not biggie. As I backed it out of the garage, I saw a bunch of steam. I thought it must be more frosty morn than I'd expected.  But as I started to drive on the street, the cloud of steam was way much. So I pulled back into the garage and took Sherry's car, leaving her a note about the Previa. She called AAA and they towed it to our mechanic. He confirmed what I feared: it was major. Cracked head or block. He didn't even try to figure out just what it was. With 260,000 miles, it was not something to be repaired. After 8 years and more than 100,000 miles, it was not going  to transport us any longer. Losing this vehicle with all its memories was a big loss for me. So many things had happened with the Previa as a strong supporting character in the plot. Fortunately, Gary was able to get us a good vehicle, a  2002 Sienna, to update our transportation story. It was the second vehicle we purchased from him with Cyndee's purchase just a month earlier. No more now. Sherry really likes the Sienna and has adopted it, so I am driving the Olds now.
Today I am in Grand Rapids for a committee meeting and then I fly home. Commuting looks different these days!
May 6, 2014
Today was a quick commute to San Jose to do some work with our campus there. Seems odd to do the one day trip, arrive back in Portland and do show up elders' meeting just as if I'd been working on Mt. Tabor. But that's the nature of the expanded Center Chair job responsibilities. It was great to interview Adam for the Church History slot and hang with the SJC team and then spend some time with Rene Schlaepfer from Twin Lakes.
We are in final stages of prepping for Sunday's departure for Uganda. There's a lot of details, most of which Sherry is taking care of as I work hard to get Western stuff that I can only do in the office done. Getting the right insect repellent and clothes is as important as the things we are transporting for people there. It will be a fun three weeks, centered on Hope Alive! Africa and Catharine Coon.
We will meet today to work through prep for our visit from CACREP the big counseling accreditation society. There are many touchy points for  conservative evangelical seminary doing licensed counselor training. We do it really well and we need their "yes" to keep doing it. It is frustrating to everyone when words turn into question marks. But any connection helps. Kay Bruce gave us an article from the national magazine making it clear that client needs trump any religious convictions.
May 1, 2014
Graduation is history and my grades are in. That is a statement of a lot of stress with a lot of students, a lot of classes, and a lot of special cases. But there are also many marvelous stories as people walked across the stage to receive their diplomas. Dan Kimball was our commencement speaker. A key part of his talk was the Scary Mary video (if you haven't seen it, you MUST. It's here) His point is that the unchurched and dechurched folk have only heard the scary Mary version of Christianity and the church. His call was for everyone to speak clearly to them if we are going to take Jesus' commission seriously.
Sherry got back on Friday evening — but missed the graduation banquet, a highlight each year. She was pretty wiped and took Saturday off to catch up. Missing the commencement wasn't a huge sacrifice, but the World View party was harder to miss. They do wonderful food to celebrate the international students. Sunday we were in all three services at Grace to be prayed over for our trip to Uganda. Then I came home and went to grading papers.
Part of the push is the administrative stuff mostly related to Western's growth. We are hiring a person to over see our Kern Funded 5 year BA/M.Div. program. That's in partnership with Corban University so mixing the visions of the two schools is a bit of a challenge, close as we are. I am pushing a specific way forward and it looks like it will work. Leadership is seeing possibilities and then giving the message in ways that it captures the imaginations of key people.
And with it all is mentoring young leaders. One fun story is around the ReGeneration project (https://www.facebook.com/RGenProject). He has asked me to be the theologian in the group to reach twenty somethings. One of my friends messaged me to share the fun that an old guy like me is picked to reach people 40 years younger than me. It is absolutely amazing that I get to do that.
April 21, 2014
On Saturday I did a bunch of paper grading and then had two soul bending consultations. Of course I can't say what they were, much as I'd like to process them with a friend. It is so hard to see the impact of natural evil and the suffering it can bring. In the first I experienced the Spirit at work in very specific directing of the conversation, which is another reason I am so opposed to the cessationist position. What would that conversation looked like had I not heard and responded to His leading?
Easter was amazing at Grace. Packed services, great sermon, powerful response. We tried a seeker Q& A in the Great Room, down the hall from the auditorium with me leading. No responders, so I cancelled it for 3rd service and headed down to Cannon Beach for lunch and walk/talk with Cyndee. We ended up sitting in the afternoon sea air in front of the Chocolate Shop. Later we saw David, our long time friend who works powerfully from his powered wheel chair bound there by cerebral palsy. His helper of 16 years is retiring and he has to find another. What a challenging task.
I met with a graduate who is trying to work out a relationship with a strong man who is a Taoist. We did Jesus conversations. He admires Jesus but does not see Him as the Word become flesh or anything like that. I am very interested to see what comes of that.
Paper grading dominates my life! But Friday is coming with commencement banquet and Sherry's return from Arkansas. It's been a long separation. She keeps saying, "I'm ready to come home" to which I respond, "I'll be at the airport in 10 minutes!"
April 18, 2014
Dan and Dinah Sered came to Grace to lead a Passover Seder for about 300 people who celebrated that ancient ritual along with its fulfillment in Yeshua HaMeshach. I got to see the power come through as he launched into the Messianic fulfillment and then led us in Lord's Supper. Next year in Jerusalem!
The day began with the Good Friday Breakfast where I joined 1500 people at the Convention Center. As I came in I saw Brooke, a pediatrician friend who will soon be going on another Medical Teams International trip this time to Uganda, so she'll be there while we are. We compared notes and prayers. The breakfast began with an outstanding prayer by a priest from Marylhurst which delighted me. We broke the mold of what is typically a Protestant event and did it well. Unfortunately it went down from there. The rest of the morning was basically promotions for ministries. I felt like I was being advertised at when I wanted to follow up the prayer with focus on Jesus. That left me in a very bad space. I told a friend who is a former board member and knows all the players. He'll pass on the evaluation. We both agreed that having Dan there to do a Passover would be amazing.
Meeting Christopher at the airport when he got in from Afghanistan for his Mom's funeral was a delight even though his late arrival really messed up my sleep patterns. Does not do well for me in afternoon committee meetings when I am that off. But well worth it.
One my my guys sent his first big time sermon for comment to a bunch of us. There was a lot that I didn't like and told him so, trusting that he really wanted to know. Later in the week I listened to it and was super pleased with the sermon. I applauded him before the team and he replied that he'd gotten my comments about 10 pm Saturday and stayed up until 2 am reworking it. Glad for the transformation. This week I have made a plea to another preacher to transform his sermon. I'll be eager to see what happens.
April 13, 2014
It was one of those incredible Oregon spring days so I went down to Cannon Beach to hang out with Cyndee. We went to Hug Point and walked the beach including going over the old wagon road carved into the cliff face. I have been at Hug Point with Sherry or a friend, but I'd never been there at low tide before so had never walked it. Then we did supper at Bigfoot's in Seaside before coming home to do bills — normally Sherry's job these days. Beautiful day.
April 12, 2014
Sherry's trip to see her Mom has been extended — three times! First the funeral and all the family present disrupted the plans her Mom utilizing Sherry's help. So Sherry extended from Wednesday to the following Monday and then to Wednesday. Then a routine eye exam explained why her Mom was not seeing well: severe cataracts, requiring surgery. Other local family were not able to take her to Little Rock, so Sherry will stay for the first surgery on April 23, returning on April 25. It is the longest Sherry has been away from me — though definitely not the longest we have been apart. But it is different when she is home and I am gone. She likes home or being with me if it's long away. I am doing all the household stuff, which isn't too bad since I live a really simple life. But it is really alone. I rattle in this big house.
The normal busy is always around with a lot of teaching this week along with some pretty heavy administrative stuff at Western. We did the faculty teaching position review. Supposed to be done every 5 years, but it's been 10. Amazing how emotional raising doctrinal issues can be. It was interesting to see how listening carefully to all the parties, getting them to talk in a group to each other where possible, Â and proposing thought through compromise statements can settle things. We went from some really ruffled feathers to a unanimous vote with no discussion necessary. Of course I had had discussions with everyone on the way.
May 4 will be another tough sermon. I've been ignoring John 15:1-12 for a long time — some day I need to figure out what abide means, what cut off means, what fruit He is talking about, and such. Well with a change of Jay's schedule I went from a super simple Acts 2:22-47 sermon to this one. So I am asking everyone what it is about. Interesting Facebook conversations. Wish I knew who is seeing them. Really good discussion, but not a lot of insight for where I am at.
Did a priestly work today, helping confession happen. It was absolutely fascinating to come to stopping points in the exploration, asking Jesus what was there, and getting answers. The session ended with a powerful vision that I recognized as Ezekiel 47 and Revelation 22. Really exciting and I am totally curious what will happen in the next weeks. I will touch the words and wonder as I ponder John 15 tomorrow.
April 3, 2014
Seems impossible to believe it has been so long since I wrote. Anniversary was great. We went to Salty's on the Columbia on a beautiful evening, got a premier table, a wonderful meal and just talked and laughed. Toward the end of our meal, the server came up and said something I didn't catch. I asked for a repeat. "Your meal is taken care of," he said. I asked for clarification. A friend I had been helping through a tough situation had called in, given a credit card number and our meal was taken care of. First time I had ever had this happen. We laughed all over again . . . in part because another friend had given us a gift card for the restaurant in response to me helping him with a manuscript. Now we have to find another celebration occasion.
Cyndee was up here for spring break week, helping LeeAnn Lawson move. We got to hang out some, but mostly she worked hard to get the move done. In the process, we went with her to help her purchase a new vehicle. It was very fun to see her go from "I don't know" to "It's perfect!" She drove it home and has her old car sold. Now she can drive with confidence that it won't break down. In the meantime I still drive the Previa, with all it's memories.
Sherry left Wednesday for Arkansas to visit her Mom. Tuesday morning she found a phone message that her aunt had died, so there's a funeral to participate in on Saturday. It won't be hard. The aunt had been in poor health for a long time.
I preached John 14:1-14 on the 23rd, a difficult sermon because there are the verses 12-14 which say Jesus will give us anything we ask in His name. It sure doesn't seem that this bald promise is true. This Sunday I will do another gnarly sermon, a late addition to my list. 1 Cor. 15 talks about the resurrection being according to the Scriptures. Where is that in the OT? Another guy was going to do it, but had to give it up. Now I have to wrestle with Psalm 16 and show the two layers there. Actually hard to do in 35 minutes without just doing a teaching time. To get ready I will be at elders' retreat Friday and Saturday.
March 17, 2014
The weekend was super full and super fun. Friday was cohort. Still an amazing time with young leaders. We are missing Heather Thomas, pastor of women and spiritual formation at Imago Dei. She's headed to the Imago plant in Salt Lake City so will not be with us for the final five months of our two year journey. At the end of the day together, we gathered at Matt Bowen's home with spouses for dinner and lots of stories. It is such an amazing privilege to get to mentor such impacting young pastors. I have to pinch myself to be sure it's not a dream.
Saturday was Evangelical Theological Society at Corban this year. So I picked up Tom Schreiner, our plenary speaker, and we drove to Salem together. He was raised at Schreiner Gardens just north of Salem so it was memory lane for him. We talked at length about theology and teaching and family. He did his morning talks on Hebrews, the topic of his new commentary. One helpful idea is that typology is both intentional and extending. So in the current climate where everything is Christological (Goldsworthy and Keller for example), it is good to be reminded that the seeds in the OT have to be intended as types if we go that way. That puts guards on allegorizing type interpretation. In the afternoon, I presented my ponderings on Genesis 15:6, Abraham believed God and it was reckoned as righteousness. I argued  against the normal interpretation that his faith/trust (literally he amens God) is the nature of righteousness not a gift of righteousness give to faith. Tom is the best pauline guy in the world, so having him there wrestling with me around this foundational passage and it's use in Romans 4, Galatians 3 and James 2 was quite a challenge. After some friendly wrangling, he said he thought I was right. Very fun.
Sunday was preaching at Colossae — again to help friends. Chuck is at the 25th anniversary of Cornerstone, the church Francis Chan started and where Chuck served for quite a while before coming to plant in Tigard. Justin Peterson is one of my guys who would normally preach, but he and Katie are headed to Ghana Tuesday to begin the process of adopting and African baby. One big thing was seeing a woman I'd helped with some major demonic stuff coming out of her being raised in a home where witchcraft was the norm. I had not seen her since so having her come up and express how well she was doing with big smiles was super encouraging. After the three services, I headed down to Cannon Beach to hang with Cyndee. It was good to catch up with her. The Conference Center is full of memories of friends and ministries. I remember writing the words in the little Westwind apartment I used to stay in in Ecola days.
March 12, 2014
I am getting my new little guy up and running. I really like the 7.5 hour battery life and the speed of the solid state drive but getting Windows 8 figured out is a pain. It's coming but slowly. I have Office, Word Perfect (yes I still use it!), Bible Works and Power Desk installed and I am connected to the wireless at home and at school, so the essentials are there. The big question is how much room will be left on the 256 drive when I port all the files from my HP7 and will there be room for Logos which is a huge program. I can always get another SSD and plug it in, but that's more $$ and I am still super frugal.
We are working on reviewing Western's faculty teaching position. So we took four questions to the faculty to get a "sense of the faculty". They were supportive of specifying Adam and Eve are historic individuals, and their marriage is paradigmatic for marriage (but hesitant on one man one woman language since this would stick a finger in the eye of CACREP, the most important counseling accreditation agency), not supportive of adding elders are male and divided equally on whether to keep "future for Israel as a nation in fulfillment of OT prophecy" form of premillennialism. There was a good bit of emotion on the last since the is super important for Carl and not important for others. So now I have to lead the faculty into a final revision. I think I can do it, and avoid most of the ruffled feathers.
I had supper with one of my students and her boyfriend. She is one I have worked deeply inside with as she wrestled with some tough stuff. They are headed toward engagement so she brought him by for a look. I always feel sorry for the partner who is brought in to meet me. They are in such a vulnerable place. But I always try to be supportive even as I am doing some mild probing. I think it went well with them.
March 8, 2014
Michelle Bishop and I talked on Thursday. She and John founded Living Hope Church, Vancouver some 20 years ago and I have been involved from early on as friend, John's professor, and mentor at many levels. Their son, David, has a 10 year heroin addiction. John and David were in Mexico for two weeks, doing some sort of treatment that included a massive purge. Michelle updated me, told me she would be picking them up about midnight, and that John was exhausted by the ordeal. We talked about that and about her teaching at "Serious Coffee," their women's ministry. I told her to keep me updated and mentioned that if things were super bad, I might be able to fill in for the weekend. On Friday, about 6:30, I got the call. John was past exhausted. Could I preach on spiritual warfare? So I did tonight and will three more times tomorrow. Of course I will help my friend. Someone knocked our mail box loose so I had to fix that. Sherry bought a new box and the base board and mounting bolts while I was doing a pre-marital and a counseling appointment. Of course it began to rain while I was doing the sessions. I took the old box off, measured, and drilled the new base board with the largest drill I could fit in my drill motor, knowing they would not be straight. Fortunately three of the bolts worked so I mounted the base, and attached the box. Looked good. I pulled to mail box door down to discover that it wouldn't open because it hit the mounting board. So in the increasing rain, I took out all the screws, moved the box as far forward as possible, wondering if I would have to saw a half inch off the pressure treated 2 by 6 – which would be an arduous task with my hand saw (Where is Peter with all his tools and expertise when I need him??). I pulled the door open and it went to 90 degrees. With rain dripping off my hood, I declared it good and finished up. The mail man gave his approval by putting mail in the box. I got my new computer, a Lenovo IdeaPad, Flex 14 with 256 gb Solid State Drive and 8 gb ram. It is a serious computer but still weighs less than four pounds with a 7.5 hour battery life. Getting it all set up will take quite a while since I don't know Windows 8 at all and it is completely different. Fortunately, 4 1/2 year old HP machine is still quite functional even if it complains about the load I put on it when I run my GoToMeeting class sessions through it.
March 3, 2014
Friday night was one of the more amazing nights of my life. I was with a team of people working with a couple coming out of awful backgrounds. Friday was the fourth anniversary of her coming to Christ and special for other reasons. But they were both crunched down under the weight of horrible identity statements and some specifically demonic dark places. I led the team as all these things came down and they received new identity statements from Jesus. I wish I could say more about what happened because the beauty is in the specifics. Seeing the power of prophetic speech, speaking the Word of the LORD by the power of the Spirit to receptive hearts in His moment is super powerful. I got to see another example of this, though not as dramatic, this afternoon Sunday).
Saturday was a shopping day. Hardly my favorite thing, but doing it with my Pretty Wife is very good. We were looking for computer stuff. My almost 5 year old machine is up for replacement but I still hate to spend money since it works fine for most things. We started at Costco. No machines but some clothes for me. Then Microsoft store. Good stuff, but not the right stuff. Still the salesman was able to help me clarify what I was looking for. Then to Fry's. Right machine for me, it seemed. The salesman was eager, knowledgeable, and super busy. So I had a chance to ponder, make a couple of phone calls. I could get the same machine from Microsoft with a 10% educational discount. The salesman made a mighty effort to negotiate but simply didn't have room to match the price. I got home and did the EBay search. There I found the RIGHT machine and substantially less expensive. It's not quite the same one as at Fry's since it is a six month old model, refurbished, and not the super strong case. But with 14 inch display (vs. 12.5) it will actually work better for my big fingers. So the Lenovo brand is new as is the Solid State Drive vs. a hard drive. It is on the way.
I went to church at Grace and then at Pearl Church to hear Cody Schuman. I did her ordination sermon as a chaplain and then her pre-marital and wedding, so we have deep bond. She also has two totally active boys along with a strong ministry. The afternoon was with the elders at Door of Hope, helping them think through stuff on how elders function. Very fun group and a powerful church.
February 27, 2014
It was great being with Matt and Katie and the folk at Cross Life Church in Spartanburg. As it turned out they did an "open mic" for people to speak what God was doing. Amazing stuff including one woman who said quite tearfully that God was healing her marriage, making it clear that a big piece of the fault was hers. I felt a little odd that I was the only one saying, "Amen!" This is South Carolina, isn't it?? After the service she and her husband came over and we talked. Their issue was that he didn't talk and she did. God had rocked their world and conversation had opened up. So I drilled in a bit. Well quite a bit! We talked for a few minutes when I asked him to speak one thing he didn't like about his wife. I thought he would choke on his gum! And her eyes flashed intrigue. He manned up and said a real point and she received it well. I applauded him (literally) and his smile was genuine if a bit nervous. I wanted to be in the truck with them on the way home
The trip home included a layover in Detroit, land of ice and snow! The last leg to Portland was about 6 hours total and my legs were complaining. I kept thinking of the double 10 hour legs going to Uganda in May.
There is a ton of stuff backlogged after the super busy season so I steered into it but there's a lot to go. Tuesday is all day class with the afternoon class including 4 students via video conference. Getting all that set up takes time and that was doubled with my lap top cable got disconnected and the computer shut down. So it was close to start all over. It would have been nice to get some lunch, but connection is vital. Then as class started, they told me that the speakers weren't picking up. I did what I could but getting class going was vital. Got an iffy work around going and then found the fix at break: someone had pretty much taken the classroom computer microphones to zero. I imagined various forms of severe suffering for them!
Randy Alcorn is doing a book on sovereignty, taken from his "If God is good . . ." book so he took time to join the class to hear my view presented. Super fun to have him interact and critique. I found Todd unusually reactive to my stuff. Not sure why. Ironically I had an alum bring his college age son in with questions exactly as I address in the class. When I spoke my view, both father and son were much intrigued and asked if it was written up. I have my bullet point summary in the class notes which I sent to them.
Today was spent in a variety of pastoral type situation including the father son. There was a pastor who is wrestling with church growth and organizational things, Jim McGuire, my chaplain friend who is doing amazing work with the Beaverton Police. I get to disciple him. Then there are two marriage disasters, one of which is going very well. The other is very iffy. I am helping them both fight from grace. What a privilege.
February 21, 2014
I am in Greenville, SC, home of Bob Jones University, teaching at North Hills Community Church, a bastion of evangelicalism in THE Bible belt. It is very encouraging to hear Ben Arnold, the pastor I am spending most of the time with tell the redemption stories — including his own. His first marriage fell apart in part because of his own prideful, angry fundamentalistic spirit. His second wife has to be the nicest person in the world — but in part that is the result of her own fundamentalistic background where women cannot express desires of their own. Watching them as the worked together to prepare the supper for me and some other friends was quite fun.
My first morning here included a huge thunderstorm. I enjoy such things but when the lights started going up and down and actually groaning, I ran to unplug my computer. In a bit all went dark except for the lightening flashes. Then a police call with lights flashing pulled up in front of the house. After it went down the street a ways, a fire truck parked just down from the house with its lights going. No visible flames so I assumed a line down. Ben came to get me and we did three hours of breakfast and talk. I did a a couple of phone calls and still no power despite utility promise that it would be on three hours earlier. I shot a text to Ben suggesting that I walk to the church. As I pushed send, the lights came back on. No harm to my computer, I was glad to discover.
After I finished the class which was laced with interaction, an older gentlemen came up with tears in his eyes, saying I would never know how much I'd helped him. There was a line of people waiting with questions so I was unable to explore further, so he was right.
Tomorrow on a late invitation I will go to another church planted by North Hills and participate in their service followed by lunch with him and a couple of others. Then home and back to normal busy.
February 16, 2014
There is one more of the absurdly busy weeks of February. This one culminated with preaching John 12:12-43 at Grace. It was a double sermon because of the snow/ice cancellation last weekend. So I had to pick up some of Jay's sermon. I wanted to work through Jesus' agony in vv. 27-28 and drilled into that: He is agitated and very depressed which leads Him to cry to Father for relief which leads Him to remember who He is (Son of Man) which enables Him to recommit to His mission and then He hears the Father which is sensing His presence. It's a good cycle in principle. Doing it in the hard time like when I miss my friend or am wrestling with how to help a couple end a domestic violence cycle is a little harder (!!!).
Sherry and I purchased our tickets to Uganda so we'll leave May 11 and return May 30. I'm really looking forward to the teaching and experiencing as well as the time with Catharine Coon and Julius Twongyeirwe. Looks like we'll also take a couple of days for a safari in Murchison Falls National Park so a bit of "normal" vacation too.
I spent a day with the management team and then elders at FBC Eugene. They are working through conflict, step two of the Five Dysfunctions of a Team so Corey asked me to come and work them through some theological aspects which was fun. The remainder of the ice storm made it a bit more challenging but no biggie once I got out of Portland. I worked through my stuff on "spiritual stuff" from 1 Cor 12 making the argument that the gifts of v. 4 are abilities and not supernatural endowments given at or after conversion. that idea is so deeply ingrained that it is almost impossible to eradicate even through it's not in the text at all.
Friday, February 7, 2014
The snow was gotten a lot more serious with substantial new snow and horribly messed up traffic, especially in I-5 south of Portland. Nonetheless I drove up to Menucha with no problems at all. The view was stunning in the morning sun looking back toward Portland: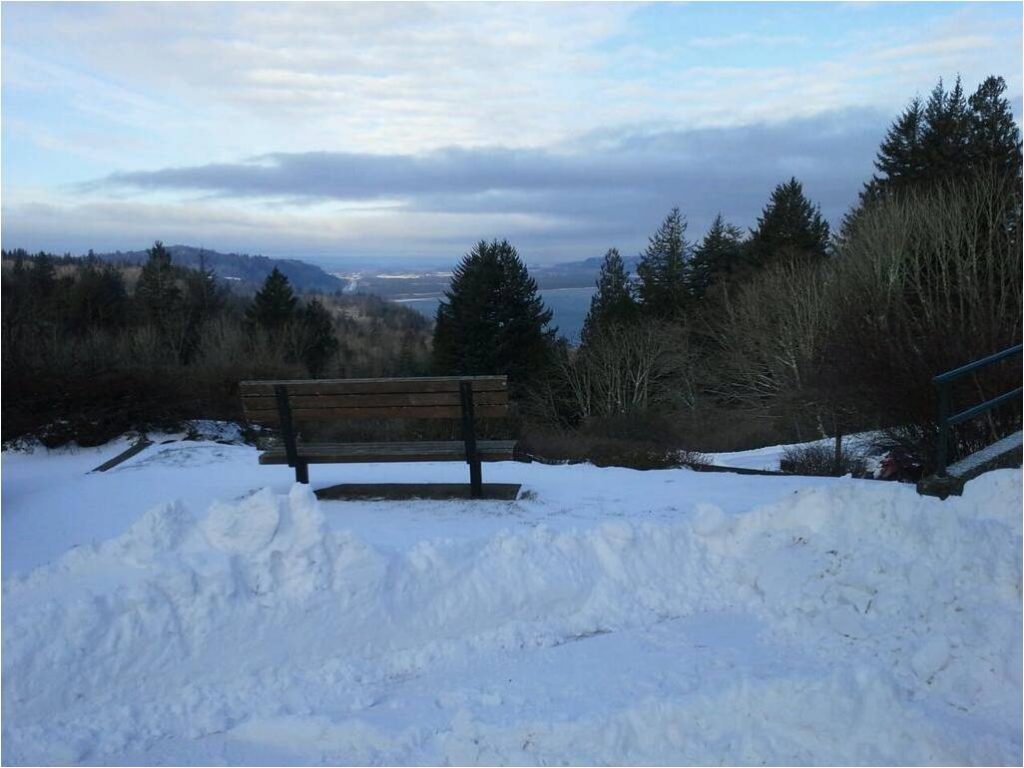 The meetings went well but as the snow started falling, my nervous about getting home increased. I have to go down a big hill no matter what. But when I left about 3:30, it was no problem driving home. The snow got heavier into the evening and tomorrow/Sunday is more snow and likely freezing rain on top. Mayor Bemis of Gresham asked if Grace would be an emergency warming shelter for homeless folk Saturday night. It is fitting since he is a part of our church, but it puts quite a load on the staff and volunteers. Who knows about church on Sunday or Western's afternoon event for our on line students who are doing their on campus week next week. The nice thing is that I'll get to watch more of the Olympics. I remember sunrise service at Menucha and the friend Olympics of 1988.
Twila Paris is one of my favorite Pandora channels which often plays as I work at home.  She has so many powerful songs that carry such special memories: The Warrior is a Child, Faithful Friend, How Beautiful, Cry for the Desert. She is still doing good work.
Thursday February 6, 2014
Today has become an unexpected snow day! What was initially forecast to be a dusting turned into a blizzard — by Portland standards — with constant snow, strong winds the blew the dry snow into clouds, temperatures around 20 degrees and fatal wrecks both south and north of Portland. I was supposed to go out to Menucha retreat in Corbett for the InterAct ministries board meeting but joined by phone instead. Doing things by phone just isn't the same but it's better than no participation, of course.
My final Perspectives class up at The Well in north Portland was unexpectedly fun. I ended up sitting with one of my students and his girl friend. I knew he was dating but didn't know who — but turns out I do know her, though not well. It was fun to catch up and rejoice with them.
Sherry's getting pretty serious about her conditioning class with Jamie and that's a glad thing. She is sleeping better and feeling better in some ways. Fun to watch her work to subdue her arthritic body.
Saturday February 1, 2014
The experiment with the student didn't work but it did get an angry IT head — who is a friend — in my office wanting to know what was going on. I'd been copying IT on my distressed emails all the time, but working on my own solutions was over the top. We worked through things but I hate doing that. Later that day they found a solution. Ironically it had been sitting on a desk in an office the whole time. Now students can hear. I think relational things are OK but I'm still checking. My non-intuitive self has a hard time figuring it out.
Perspectives in Roseburg was different because only 9 students enrolled so they could not come even close to meeting budget. The asked the speakers to forgo honorarium and I am sure we all said yes. The group was engaged and included a former student I'd not seen in years. Fun time and everyone hung around another half hour with talk and questions. Then I went to a pastor's home for the night. Slept super well, had a great conversation over breakfast and left my iPad on his bed! It will get mailed up. Gotta get a chain for that thing. I did four really different difficult sessions after leaving Roseburg.
Today Sherry and I did birthdays' lupper together. I will be teaching another Perspectives class on Monday, her birthday so today is our day. Afterward we worked together to prepare for our Super Bowl party with another couple who are great friends and moving toward engagement. I continue to delight in our strong marriage and the openness and trust between us. The hard stuff we do makes us both appreciate what we have. Sherry is doing a personal trainer type class for women at Grace with Jamie Messenger. She's working hard on it and seeing definite results after only two weeks. Super proud of her.
Chinese New Year is always a personal celebration. I used to change the blessing banners around my office door, but I don't have access to new ones so they speak of times of closeness and lead to prayers for that side of the world and friends there.
Thursday, January 23, 2014
The event of the week was my commute Denver to do an afternoon session on spiritual warfare for the World Venture Renewal Conference. On one hand it is really weird to commute to Denver as I will commute to Eugene. But other than getting on an airplane, it's really not that different. And TSA precheck makes the whole airport run far easier. The joy of the conference was seeing friends and former students, some of whom I'd not seen in decades. I got to meet Jeff Denlinger. Ironically he did his D.Miss. at Western but I never met him then since I don't teach in that program. Â I deeply missed not seeing some who were not in the US this year.
Tuesday night I did a Perspectives class in Beaverton in a church where I had a disastrous time in a Sunday School class. I had taken my cues from the fellow who invited me. He loves wrestling with things but it turned out the class wanted to be told what they already knew. So probing style was exactly the wrong thing for that class. The Perspectives class went very well, so I was greatly relieved.
One hassle is that we are doing two web conference classes with 4 students participating remotely via Go To Meeting. The problem is that the in class interactions with students isn't getting picked up by the microphones. I've been bringing this up with the Western folk for a long time with no results. So I made a nuisance of myself last week only to be told that they didn't have a solution and were working on it — just what I have heard for two years. So I went into competitive mode yesterday as students again could not hear. That is not a pretty place for me to be. The outcome is that one of the students and I will experiment with a system today. The down side is that I will again offend the folk who should have done this. Don't like the Catch 22
Saturday January 18, 2014
Missions ConneXion is always a fun time to connect, hear new folk, and be reminded of God's vision for the world. The plenary speaker I went for this time was Carl Medearis. He does a lot in the Muslim world as an explicitly Jesus guy. He specifically does not speak as a Christian but as a Jesus follower. Being quite the personality, he gets lots of invitations to do things including speaking to a Arab League conference on Palestinian issues in Baghdad — where he ended up chairing three major sessions! One of the cool things is that I saw him talking to Mike McDonald, the MC for the event and a friend, so I stopped to listen in. Melissa McDonald came up and she invited me to join them at lunch so I got to ask some questions about how things go in the "insider" movement. It didn't get as deep as I wanted, but it was a lot more than the conversations about Bronco football.
The day with the Reality guys was amazing. They are on mission so interactions were intense, practical and Bible centered, just as I love. Dave Lomas is a foodie, so he wanted to take me to a good place for supper. Getting parking in the Mission district is a challenge, but we made it only to find the restaurant not open — twice! So we ended up going to the airport without supper. Then my flight was delayed by an hour. Apparently someone forgot to put gas in the plane!
I did my first debate with an atheist at Oregon State on Wednesday. I was nervous that he'd be a militant guy but the opposite was the case: amiable, engaging, and completely apart from faith. He presented the case against an "evil excusing God" [his phrase] and I followed up by totally agreeing that we need to refute that God and presented the case for the evil overcoming God.
Tomorrow I go back to Corvallis to do three services at Grace City Church with my friend and student, Seth Trimmer. That will be very fun.
Sunday January 12, 2014
Preaching with the flu is a new challenge for me. In different circumstances, I might have called in sick, but Jay and Billy are both doing vacation. Billy is stiil in Texas and Jay was back but no prep time. So I did it, ironically speaking on work and rest. The biggest problem was getting a message. There is SO much to deal with. One of the most helpful resources was a sermon a friend had done, with the verses written in Chinese! The day was also marked with Ali's first time to lead in worship, working along with Natalie who is just back from Hillsong College in Australia. They were amazing. I was so pumped to work with them. By the end of the third sermon, I was exhausted, but fortunately had not gone into a coughing spell. The Wal Flu stuff did its job. I got home and crashed, sleeping very soundly for a couple of hours.
I made the trip to Phoenix Jan 2 through 6 for the Oikonomia Network faculty conference, doing session where I gave theological foundations for the economic principles — really I outlined the gospel from Acts 2. It was really engaging since the faculty were really high level folk. The other speakers were great, very provocative so I am glad I went through it put a big pack in the "holiday" break. Saturday evening through Sunday afternoon were with Liz and Tom, so I was sitting by their pool in the 72 degree afternoon sun.
As I started getting sick on Wednesday Jan 8, I was working with John Mark Comer on his new book. He had preached on the prior Sunday with flu. At one point he took a drink of water and watched it go all down his face, shirt, and onto his Bible. Kinda embarrassing! Then teaching all day Thursday and Friday. Crazy busy is the word!
Of to San Francisco tomorrow to spend the day with the folk at Reality SF. I've mentored Dave Lomas for a year or so, but we have never met.
Getting classes off at Western has been packed. There is just a lot to do with web classrooms, advanced standing, class advising, along with