July 1, 2018
Transitions are claiming the day at Western! Rob sent this email to the system:
From: Rob Wiggins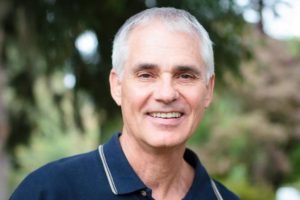 Sent: Thursday, June 28, 2018 5:34 PM
Subject: Transition Now Complete
Dear faculty and staff – I am very pleased to say the transition in Academic Affairs is complete. Chuck steps into the Academic Dean role now with great energy and passion. I am delighted that Western has such a quality individual in academic leadership.
It has been a wonderful season of service for me at Western – longer that I anticipated when I began serving Loren Fischer as a grad fellow in 1977 or supporting Bob Garfield in Admissions and Records in 1979, or returning full-time to student services in 1987. My children have grown up only knowing their father works at Western – a place that he loves. Thank you for your friendship and partnership. I transition now to part-time, teaching a few classes this coming year and being a resource to Chuck if needed. You remain in my heart and prayers.
With affection and gratitude,
Rob
It was strange to get an email from Chuck with the title "Vice President for Academics and Dean of the Faculty" at the bottom.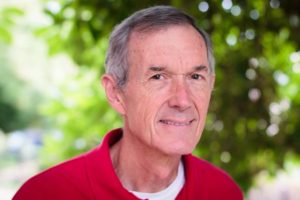 Carl is out of his office and Josh is moving into it this week. Hannah will be replaced by Bryan Warren as counseling prof. We have put enormous energy into the first stage of the change of the counseling curriculum for NorCal, transitioning from an MFT to a MAC nomenclature. The administrative team has seen enormous reshuffling in responsibilities. With large teaching and advising involvement along with significant administrative responsibilities as Center Chair and longest tenured employee I am pedaling hard!
I was at the Calvary Global Network pastors and leaders conference last week, doing a plenary, a theology panel and two packed workshops with constant conversations. Love it! That is part of my unofficial representative of Western in various tribes of evangelicalism.
Sherry picked me up at the airport immediately as I arrived at PDX from the CGN conference so we could scurry to Enumclaw for Cory and Megan's Thursday evening wedding rehearsal. We made it with 8 minutes to spare! Then she and I spent the day together on Friday before the wedding on Saturday. It was beautiful – except that the rain would not stop. So at the last minute we moved all the tables and brought the chairs under the tent and reconfigured everything. It went off without a hitch!
May 18, 2018
We did the Portland graduation with a huge class walking across the stage. So many amazing stories! I could hardly contain my joyful laughter. Some of the memories are in my Facebook account where I post lots of daily experience and pictures. With the recent disclosures about misuse of Facebook data, I wonder about it. But it is still a great way to share my life with friends of friends. But the things I put there and here are not the soul level things that I love to share. I miss both the give and receive of that level of sharing because of limits on the face to face conversations.
Sherry and I head to Tucson today to spend time with her siblings. That will be marvelous – but hot, something Sherry does not like at all. We plan to drive up to Phoenix to go to Trinity Church and have lunch with Mark Driscoll. First time I have been with him in over a year. I am eager to see what is happening in his new life after the disintegration of Mars Hill.
I got a comment on my blog from a lady who like my teachings – the fun thing is that she is not a Christian. I hope there will be more conversations out of that.
April 15, 2018
The school year is coming to a close and an era is ending at Western. We will have 150 years of experience walking out of the door with retirements.
Patricia Pritchard 45 years
Carl Laney 40 years
Rob Wiggins 33 years
Bob Krupp 31 years
Terry Burns 10 years
That is an enormous amount of change – all good – but a LOT of it. In addition, Hannah Acquaye, our counseling professor from Ghana, will be leaving because of visa issues and Jeff Louie in San Jose will head back into the pastoral world at Pennisula Bible Church. Julia Mayo, assistant dean, is out for 4 months maternity leave, another big hole – and a very good one!
Chuck Conniry, from Fox, will come in as our Academic VP/Dean. Great guy, but doesn't know us. Josh Matthews is already here replacing Carl. Matthew Thiessen is already here, replacing Bob Krupp.
As Chuck moves in, a lot of stuff is sliding down onto other desks, including mine. It is hard to imagine what my work load will look like. I often joke that at 71 I am pondering cutting back at Western, perhaps even as far back as a full time job. Doesn't look remotely possible.
I flew to Alaska Tuesday night, taught our cohort with Dan Jarrell all day Wednesday, flew to San Jose on Thursday, taught my cohort there Friday and then flew home. I'll be in Spokane on Wednesday doing the chapel at Moody Spokane – ironically with them closing the Bible school there at the end of the year.
There are some really long term things too. My soul remembers writing the words 30 years ago. I touch them often. The elder role at Grace is more than 20 years now. And of course Sherry and I are past 50 years now.
December 3, 2017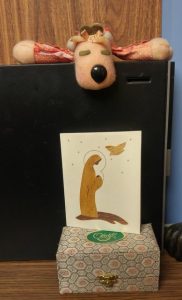 There are many things in my office and all of them have stories behind them – well not the telephone and the computers to be sure. As Advent comes around there are several seasonal items that come out. I have always appreciated manger scenes and annunciation images. A favorite is this card with wood cemented onto the paper in most artistic ways. It is right for the card to be on top of the Chinese bells under the care of the sleeping puppy. He is a bit worn, but still very present, faithful, caring, and loving.
Donating blood is something I have done since 1972. Sherry needed a unit of blood for her surgery on her broken femur. Because she is RH negative, there is no blood in the Philippine blood banks. We had to find our own. It gave me a deep appreciation for the specialness of blood. These days I do double reds – now called power reds – where they take two units of cells and put the fluids back in my veins which doesn't leave me as tired. I had to take a year off with cancer and another for my Uganda trip. So I wanted to get this one in before I head to Uganda in January.
The dermatologist gave me a close look last week. After looking at every square centimeter of my skin, she froze off a couple of pre-cancerous spots in my hair and pronounced me clean. I came home, did a ritual washing, and showed myself to the priest. She kissed me and smiled.
November 25, 2017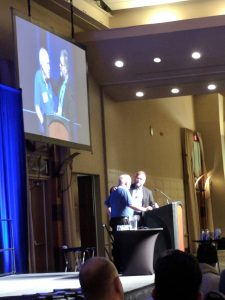 Evangelical Theological Society is always a very fun time for me. This was typical: four great plenary addresses, several excellent papers, one terrible paper, meeting many old friends and some new ones. This one had a unique aspect. I was given a distinguished service award for 30 years of working with study groups and chairing the Program Units committee along with two terms on the Executive Committee. Together this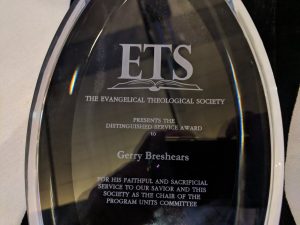 means I have been at every November Executive Committee meeting since 1991. That all came to an end this year . It only took ten years to get someone to accept the chair responsibilities. Mike Thigpen, the executive director and a great friend, called me up, interviewed me and gave me a very nice plaque. Most of the people at the banquet had no idea what I had done but I know the background work I have done with the society to help it become what it is today. It felt good to hand off.
The big news at Western is that Rob Wiggins announced his retirement as dean. That will leave a huge hole in part because of his competence and in part because we have no inside candidate to take over. The hole is worse in that Julia Mayo, Rob's super competent Administrative Assistant, is pregnant so will be on maternity leave when Rob steps down. Not having her there in the transition will complicate things a lot.Part of my time at ETS was spent asking friends to keep their eyes open someone who might be the right person.  With Rob leaving, my goal of trying to cut back to full time at Western in the coming academic year really does not look good!
I will celebrate my 71st birthday in Uganda, joining Steve and Celestia Tracy on an intense teaching trip with 15 denominational leaders from all over central Africa. One down side to this is that I will miss Mission Connexion, where I lead the prayer and spiritual warfare track. I suppose it is fitting that I will be on my way to the mission trip as the meetings start.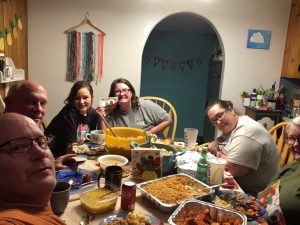 We spent Thanksgiving with David, Sam, Joy and Marianne, Sam's mother. Nicole exercised her opportunity to get a guaranteed elk tag as a youth hunter. She and Max were looking at empty land surrounded by elk, it seems. Smart elk! Stay on private land and away from the hunting zone. They will all be here tonight. Nicole will come with the band for Hermiston's state finals football game. The others will spend the night and head on to Cannon Beach to decorate the Conference Center under Cyndee's leadership. It will be beautiful!
October 28, 2017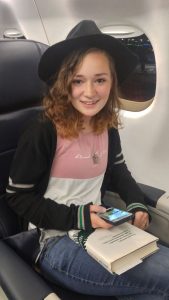 Joy made the trip to San Jose with me last weekend so we had a great Grandpa/Granddaughter adventure.  We flew down after class on Thursday. I got an upgrade to premium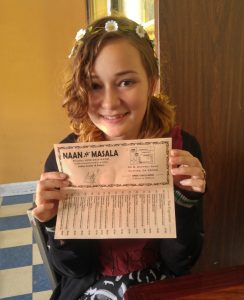 class which was a bit frustrating since I was flying with her. So I purchased an upgrade for her so we could be together, only to have my ticket upgraded to first class! So Joy got to be a first class lady, which was very fitting for sure. I taught my class on Friday morning and she joined our lunch which was her first time ever to eat Indian food. She really liked it as it turns out.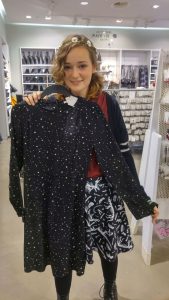 Friday night was shopping at Santana Row, an upscale place on the west side of San Jose. We wandered through sidewalk restaurants, one with a live band playing an Israeli dance tune is a Tequila bar! She bought a pencil at one store and I reminded her that she was an indulgent grandpa. But she wasn't finding any thing that gripped her until we saw the star dress at H & M. Immediately her eyes lit up and soon it was hers.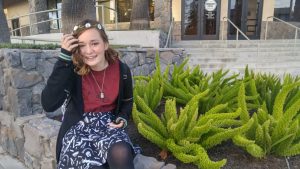 Saturday was spent at the ReGENERATION forum with The Bible Project guys as headliners I saw her creativity outside the coffee shop at the church when she described the plants as dinosaur tails. All in all it was a great adventure. Now Nicole and I want to find a time to do another adventure. Donn and family are in Italy where they will celebrate Lizzie's 10th birthday.
I am a speaker at an apologetics conference today and learning a lot from the other speakers. We will go to the Pregnancy Resource Center gala tonight. Sherry is the star there as a volunteer at the Gresham center.
My goal as I turn 71 is to cut back at Western, going down to a full time job. It does not look likely at this point!