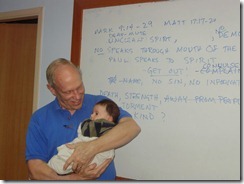 Class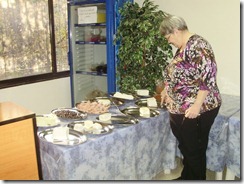 days are good days! Teaching spiritual warfare with Dr. Martin's 7 week old is wonderful. We are working through the biblical material with excursions onto side trials. But 12 class hours – excluding breaks and lates – limits severely the trails we can go down.
Mornings include breakfast where the choices are varied but quite different than the breakfast buffet in America as you can see. Sherry asked Ellie to identify the cheeses but it was not helpful. There are no western names for them. You just grab some pita, some cheese, yoghurt, Middle Eastern style olives (which I love), a cup of tea and enjoy!
Afternoon included an hour and a half with Alia who explained all the dimensions of the Lebanon Society for Educational & Social Development (LSESD), led by Nabil Costa, a most effective leader. ABTS is one of six arms and it was wonderful to hear stories of students, many of whom I got to know, doing church and evangelistic ministry all over the Arabic world. Ironically, the 2006 war was a stimulus to several of the ministries. 
One story that touched deeply comes from the Institute for Middle Eastern Studies, which focuses on Christian Muslim dialogue. When the Israeli bombs began to fall on south Beirut, a heavily Hezbollah area, one of the leaders here telephoned the Shi'a sheik there with whom he'd had dialogue and asked how he could help. That resulted in many homeless families living in facilities owned by LSESD. Later that highly influential sheik spoke publically of a Christianity he'd never experienced before. That's what happens when genuine Christian concern for friendship and understanding reaches out to a friend in need and offers service in the name of Jesus.
We spent a wonderful evening with Wes and Katy, Brittany and Kyle. They are ministering here with International Mission Board, working with Rudolphe and Rana at Faith Baptist, where we worshipped on Sunday. What a great family. The common commitment to serving Jesus  in culturally diverse places makes for instant friendship. That was made even easier by their wonderful friendliness and hospitality.
It is time for me to join the rush for breakfast so I will have strength for three hours of class, two hours teaching the faculty and staff and then dinner with Rosette and her family.