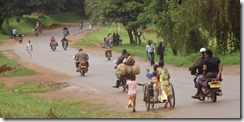 As we pulled out of Hotel Zebra I was struck by the fellow closest to us in the picture. As you look closely you'll see the local way of dealing with paraplegia: No wheel chairs or motorized scooters, but this hand cycle. In this case he has help from his children as he heads up the hill. The other traffic is quite common. The motorcycles are "Boda Boda," the most common form of public transportation.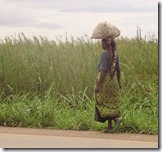 There are walkers on the side of the road everywhere. This woman with a large bag of something was in a rural area, with no houses anywhere in sight. Just before I snapped the picture, she raised her arms so that her forearms were relieving the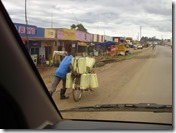 burden on her head and neck. I asked Bosco how far she might be walking with this heavy load: "15 or 20 kilometers," he said. My heart went out to her and many others with such loads. If is a blessing to have a bicycle to be your cart especially if you are transporting water containers.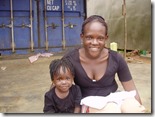 We had to stop at the Equator, of course. If nothing else they have public toilets, a rare thing here. I was more interested  in the local people than in shopping so I wandered down the road a bit to find Rachel and her Mom playing and hoping to make a sale. My reaction was to stay on the other side of the road and not interfere. She saw my camera and invited me to take pictures. So I came over and quickly made a new friend. She invited me to look at her wares but I had no money with me. "Looking is free," she laughed. I stayed to play with Rachel. If you look, their shop is a shipping container. As we left, I playfully asked Rachel if she wanted to go with me. She took my hand and was ready to get in the car!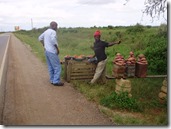 Bosco stopped at one of the many small stands along the way to pick up some tomatoes. I stepped out to do a picture and also made a new friend.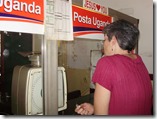 As we entered Kampala, Catharine stopped at the Post Office to check mail. The clerk was her friend (not surprisingly she has many friends in this very relational culture) so they chatted happily. Notice the thing here you would never see in a post office in the USA?
We arrived back mid afternoon with a couple of hours free, so I accepted Darrie Turner's offer to talk about things Ugandan, especially traditional religions and spiritual warfare. I really appreciated his kind offer especially since he and Debbie got caught in traffic that delayed them nearly an hour. Their stories and experience of people who have to keep the ancestral spirits and local demons happy made me want to preach the gospel of freedom in Christ to everyone. If you do not feed the spirits by spilling some of your food or drink on the ground or do sacrifices of chickens before building or planting, you will be in big trouble. Stories are common of children sacrificed and buried in the foundations of larger buildings. They live in fear of enemies going to a witch doctor to put a curse on you and ruining your life. Over 85% of Ugandans are Christian though many are nominal. They are very syncretistic combining Christian practices with African traditions. A 2010 Pew study showed that about 27% of Ugandans believe that sacrifices to ancestors or spirits can protect them from harm. One common saying is "you can't have too many gods here." The Gospel must be preached and lived here!
The evening ended with Mutungo Outdoor Theater. Catharine invites friends to gather to enjoy a movie on her lawn with popcorn and snacks, of course. This time Frozen was the feature. It was followed by a supper of butternut squash soup with lots of stores and laughter.