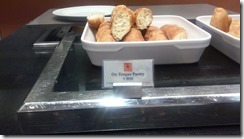 It kinda caught me by surprise that our four days in Hong Kong were over. Even before we got into a rhythm, the time was gone. The hotel breakfasts were sumptuous and as befits a truly international hotel, quite varied. I have never had watermelon juice as a possibility. Noodle soup is common in many cultures. I will admit that I thought about trying this pastry, but I couldn't quite work up the courage when there were so many other yummy possibilities.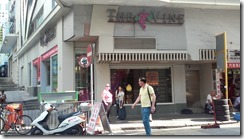 Kiki showed up at 8 in the morning to take us to the conference session at The Vine Church. She was an amazing host making sure all of our needs were fully satisfied including my need for coffee in the morning. My first interaction was with a developmentally delayed young man. At first I thought he was cerebral palsy, but as I tried to interact, it became clear that his thinking processes were not doing well. I found myself getting irritated that he was taking one of each of our limited supply of brochures. It was even worse when he showed up the next day and did it again. We really tried to communicate, but alas, it was not possible.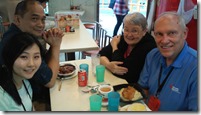 Kiki took us to the Hong Kong Cafe, a local "hole in the wall" where she said the food was really good. I could not pass up the opportunity to try the "Sichuan saliva chicken." And it was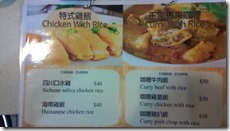 good! Dr. Cesar Punzalan was my partner. He is head of the Philippine Council of Evangelical Churches and a very good guy. We became friends very quickly as he regaled us with stories.
Andrew Gardner, the lead pastor of The Vine, hosted the sessions. He and I had a plenary session together. We played off each other as I argued that justice IS part of the gospel. I took them through Acts 2:22-47 in my question asking style, which was totally different than any other speaker.
Saturday, the final day turned into an ordeal as my allergies kicked in. I was  pretty miserable as the faucet would NOT turn off. I was really worried about my hour long workshop but fortunately the drips stopped about 5 minutes into the time. My interactive style fit the audience w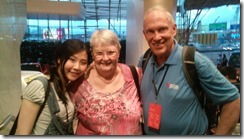 ell and the end of the time did not end the questions. But I was due as a speaker's reception so I was dragged out. Turned out it was a stand up, crowded, quick connection time with people I will never see again, the very thing I really don't like. So we left a bit early and Kiki delivered us to the hotel.
Sunday morning meant checking out, loading our things in a van and making the long trip to the airport. Once again, Sherry's wheelchair status got us special treatment. We'd never gone through the crew entrance before. The flight was uneventful until the end: my ears did not equalize. , I couldn't hear people trying to help me which is pretty frustrating. Cesar's daughter met us and he drove us through streets that used to be familiar but no more. We recognized nothing. He dropped us at the hotel where we soon got into our 43 floor room. The poor little air conditioner struggled hard over come the 95 degree, 80% humidity weather. It will be nice to live in this "home" for 10 days. Sherry is much intrigued with Asian Food Channel!