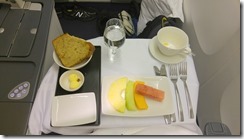 I will quickly admit that flying business class on 13 hour international flights is more than nice! Breakfast, my second meal began with fresh coffee, with real cups, silver, glass glasses, a big slice of banana bread, and a yummy fruit plate followed by a super adobo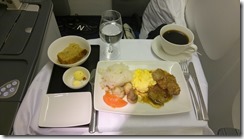 breakfast with more of that wonderful coffee. I did wonder what they were having back in economy where I have always flown until Dan so generously upgraded my life so I can arrive in the Philippines ready to do a three full days of teaching beginning the next day.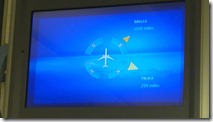 There were many other things that made me wonder. I understand why Muslim folk need to know the direction to Mecca. But don't Baptists need to know the direction to Louisville or Nashville? My seat mate was a CEO of calling centers with major operations in the Philippines where he lives full time. Turns out he was a Jesus follower and went to churches I work with so we had lots to talk about until I laid my chair back to full recline and slept solidly for 6 hours (yes, pure luxury!) until I pulled my PC out and worked on paper grading, an unfinished task that would occupy every free moment for the next three days.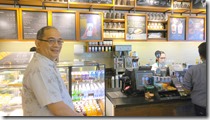 After my 5:30 am arrival (and being first to passport control and my bag was first to appear on the carousel – yes miracles do happen!) Bishop Cesar Punzalan, Nonon, picked me up, took me to Starbucks where he got some breakfast and we got some coffee before we went to meet Dan Chalmers at the headquarters of the power plant company he started. More that in a later post.
After a quick tour we were off to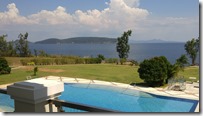 Mariveles, where the Bataan death march began. We arrived at Brother's Keeper Inn and I was shown to my room. As soon as I saw the view from the window of my second floor room, I knew this was going to be a marvelous trip! I enjoyed Tiffany and Jasmine adopted children of one of the guests. The setting is simply marvelous.
My room is second floor left side. Meals are in the sala between the two sides of the building. The Mariveles power plant is in the background. The food is outstanding, the company engaging and the service unbelievable as Tiffany and Jazzy's looks show.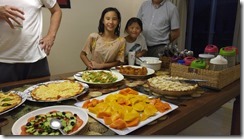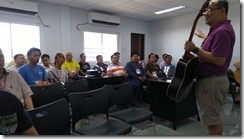 Pastor Nonon began the class with songs and some details and off we went for 3 1/2 days of wrestling with all sorts of things from 1 Peter. With a projector to get Bible in front of them and some of my famous (infamous?) ambiguous questions, we were off. It took them most of a day to get warmed up to my style and then they really got into it with extremely personal things and lots of wrestling the hard pastoral issues.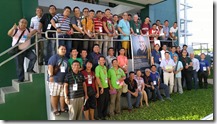 There is the inevitable class picture after class on Friday the next to the last day of the class. Several had to leave for a long journey to their churches.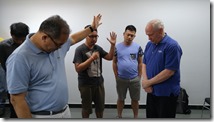 The class ended with me praying for them and then them praying for me. There were lots of pictures, hugs, laughter, and blessings.