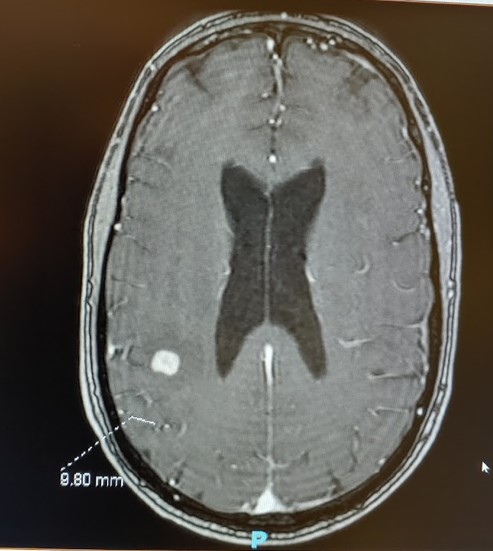 Sherry and I met with Dr. Frager this morning to review the treatment on the two BRAF-negative melanoma metastases in my brain (R parietal, R frontal). There is some exacting measurements to be done in preparation, then a single radiosurgery session to zap the two nodules which I hope will be done around December 15. Dr Frager reports that there is less than 10% chance of symptomatic impact (fatigue or seizure) which they will mitigate even further with prophylactic medication.
The picture is from the MRI they did a couple of weeks ago. It shows the larger nodule on the back right side of my brain (the picture is a mirror image with eyes at the top). It is just under 1 centimeter or about half an inch in diameter.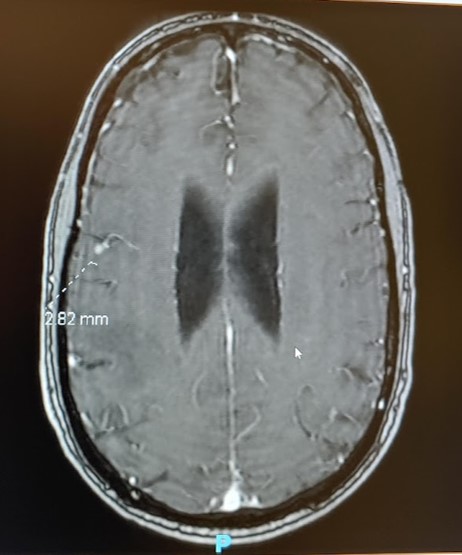 The smaller nodule is less than .3 centimeters or about 1/10 of an inch. It is so small that they considered doing nothing with it and waiting to see what the immunotherpy might accomplish. But Dr. Frager said the immunotherapy which is quite effective in the rest of the body hardly penetrates into the brain. So I affirmed doing the radiosurgery to both spots. Dr. Frager consulted with Dr. Mashru and it will be a "two-fer" in a single radiosurgery session.
If you want to see a larger version of the pictures click here.
The immunotherapy infusion will be Friday afternoon, beginning at 1:00. Dr Frager confirmed that most patients tolerate it well and the treatments are quite effective. Of course results vary by person and I would add by prayers of the saints on our behalf – and there are many for which we are extremely grateful.
I am in Boise where I co-teach my Leadership Cohort class (with Steve Walker) all day Tuesday. I would normally hang with Bethany (our non-legal daughter), Jesse and the three of their five who are not in school before I fly home. Unfortunately Jesse and Bethany are are not feeling well so I went directly to the airport with only a brief and distanced check in on Monday. I did get to tour the addition to their house which will finally give room for their family