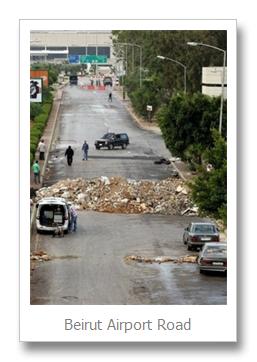 The Beirut trip isn't going to happen, at least not this week. The airport is still closed. Hezbollah has promised to remove the blockade on the airport road and "normalize" the country when the government reverses its decisions (1) to declare the Hezbollah private phone network illegal and (2) to reassign the director of security at the airport. He apparently is Hezbollah connected. The decisions were power shots against Hezbollah and an attempt to end the "civil disobedience" actions of Hezbollah that have paralyzed the government. Well, the government has reversed the decisions, mostly, but Hezbollah has not removed the road block. Who knows when or if it will happen.
The good news is that when I called Lufthansa, they offered a full refund of the airfare as their first option. The Seminary in Beirut cancelled the class as starting Monday, May 19. It's still an outside possibility that it could go as of May 26. But that would mean finding seats on flights that will be filled with Lebanese who could not get home as well as visitors who want to do their vacations. Ellie Haddad, the provost at the seminary in Beirut, was out of the country when this all happened. He will go to the Toronto airport today and depart for Beirut or Damascus (for a long, potentially dangerous car trip to Beirut), or Frankfurt (for a conference he's supposed to be at next week). I don't have that kind of flexibility!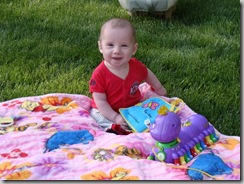 A good side of us not going (as I'm assuming at this point), is that we will be here when Donn, Susan, and Elizabeth come for their Memorial Day visit. David, Sam, Nicole and Joy will be in our home whether we are here or not. The idea of playing with grandgirls in the early morning hours is a strong draw to be here!
I have been without our Previa for a long time. The cylinder head cracked so the engine is toast. The mechanic found a low mileage engine for a reasonable price, so it is getting a complete change. It is expensive, but cheaper and much less hassle than getting a new vehicle. It has both excellent memories and a good future.
The time Sherry and I are not in Beirut will have some time for us as well as time dedicated to writing. I will finish the last bits of book three and begin doing the questions for book four. It will be good to get ahead of deadlines for a change!