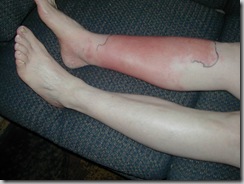 This is why I'm confined to home and mostly to the couch. The doctor described it as a wildfire infection that settles in somewhere and spreads. So in the first visit he used a Sharpie to outline the extent. You can see that four days later, it's not spread much. There is major pain when I go from laying down to putting my foot on the ground and especially when I stand up. The swelling from the inflammation impedes blood flow, so the blood can't get out of the lower leg. After a couple of hobbling steps, the pain begins subside. But if I stand still, it comes back quickly. Now imagine what getting up to go to the bathroom is like. And then think brushing my teeth.
As of this morning the fire red color appears to have quieted down some. Every step on encouraging.
I hate being sick!
Grandgirls appear tonight so stay tuned for some pictures!