I spent last weekend in Missouri visiting Elizabeth who is almost 11 months old now. Oh, yeah, we saw Donn, Susan too! But this quad miracle baby was the center of attention. She took some first steps while we were there as I had the video camera on her. Of course you'll want to see them.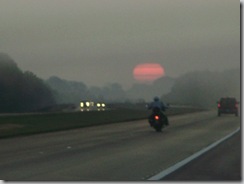 I also drove down to Spring Branch Church of the Brethren, near what used to be Avery Missouri to do my Uncle Richard Poulicek's memorial service. I grew up there and as I drove, I knew it would be my last time to go there for a long time if ever. So I was quite nostalgic in the early morning mists. I drove through Peculiar and headed toward Tightwad and Racket. I came round a bend and saw a marvelous sun rising to call me. It was just exquisitely beautiful. I stopped to marvel and take pictures before driving on. When I left Tightwad, I entered into the rolling hills, hardwood forests, and rocky crags of the Ozarks. It's so familiar, touching deep in my heart.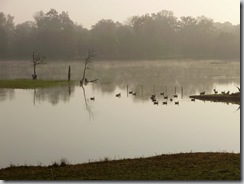 As I took the shortcut on the lake road toward Whitacerville, going down the steep hill, I saw another bucolic scene that gripped me. In the nook was a large pond, almost a small lake  with mists all round and geese settled quietly on the water. I drove by since the road was too narrow to stop safely on with visibility so limited by the hills. But I had to come back and take three or four pictures from different perspectives. I turned around and took a couple more . It was so incredibly peaceful.
But as I took the last picture, something moved. Then there were two loud pops. Hunters sprung out of the blind and fired at birds flying overhead. Double click on the picture above (the last one I took) so you can see it large, and you'll see the shotgun coming up. It was a graphic reminder that things can be so very different than they seem. The bucolic peace was actually frought with danger. And it was too late to do anything about it.
The memorial service was a small group gathered round the grave. We talked for an hour and then I put on my coat and tie to become Rev. Breshears and lead the service. As we began, a group of 5 or 6 white pelicans flew quietly over head. We looked and in the distance was another flight of 50 or 75 of the giant birds. As we proceeded, the flight moved toward us. As I read the final Scripture and prayed, they circled over us several times before continuing their divinely beautiful journey. It was God's way of placing the beauty of forgiveness on a live that had much sin in it. But Richard did turn to Jesus later in life and did his best to live a repentant life of faithfulness to his wife and LORD. As I drove by the places I lived as a boy, I gloried in the beauty of Jesus and healing, praying it for places where rifts are still real.
We took Elizabeth for her first outing away from Mom. Susan was glad but nervous as Sherry and I drove away with her child, her only child, her beloved child. Donn and I saw a marvelous football game and we celebrated family at Jack's Stack.
Cyndee and I will go to Phoenix this weekend to connect with her sister. A very long story of miraculous proportion there. And it will be a very good Poppa daughter time as she and I spend the weekend at the Grand Canyon. I'm so sorry. I thought you were off the list. This has been a lot of family time. David, Sam, Nicole and Joy came here Monday and Tuesday for the first celebration of Nicole's eighth birthday. Very fun to have family.
Things are not always as they seem. Sometimes they are dangerous, sometimes way better.