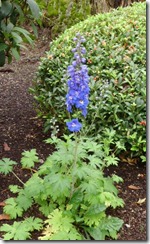 This is the picture of hope for me right now. Our yard was very overgrown, so we had some professional clean up people come by to bring it under control. They did such a great job that they took away five truck loads of vegetation! A lot of plants disappeared in opening up the areas. But soon "stuff" began to poke back up so I went at them with shovel or hoe lest the yard go green in a bad way!
One "offering" came up in front and didn't look like the normal weeds, so I didn't chop it out. Soon I was this little stalk coming up and beautiful flowers burst forth. It was proclaiming joy in its new life. Where there was nothing but dirt now there is exuberant beauty.
Hope is one of those topics that has so many different meanings. Back in March my plane was late getting away. As we came into Denver, my seat mate asked, "Do you think you'll make your flight?" Looking at my watch, I responded, "I hope so." That meant "It's not looking good!" In normal American hope refers to something in the future that is unlikely to happen.
In Bible it is a future certainty: Paul prays,"that the eyes of your heart may be enlightened in order that you may know the hope to which He has called you, the riches of His glorious inheritance in the saints and His incomparably great power for us who believe" (Eph. 1:18-19). Hope is a certainty because it rests on the character of God. It is life giving, life shaping certainty about the future resting in the surety of the One who is faithful.
So how does hope relate to life now, especially in a world where things wear out, where relationships rupture, and sin happens. Sherry and I both had surgeries this last week: mine was a bi-lateral laparoscopic hernia repair. Sherry's a right knee replacement. My hope is that I'll not hang out any longer. Sherry's is that the arthritis generated pain will recede to the point that she can enjoy walking again. Especially for her, there is serious pain to go through in order to achieve the hope. The hope is what sustains her when present pain is far worse than her arthritis pain ever was. You can see pictures here. Her hope in the competency of Dr. Goldsmith and the team at Kaiser gives her the courage to lay on their table. Our experience with Kaiser and our research showed that their procedure most always yielded positive results.
What about other places where experience and research don't provide confidence? Barak Obama was elected on the premise of hope, but did we really think his election would fix the broken economy? Will the broken relationship with my friend every be restored? In fact in many areas research moves us to despair!
How do we live hopefully and take the brokenness of ourselves and the world into account? Catharine Coon gave me a definition of hope I really like: Hope is the active, confident expectation of good based in the character of God. We are confident that He is at work in this messed up world so we look for that working even when we don't expect the basic nature of brokenness to change. We don't expect that disease will be healed or poverty erased or injustice stopped – until Jesus comes. Gary Haugen, head of International Justice Mission reminded us that "Christian hope is both possession and yearning, repose and activity, arrival and being on the way. Since God's victory is certain, believers can work both patiently and enthusiastically, blending careful planning with urgent obedience, motivated by the patient impatience of the Christian hope."