Let's see: Long good day. 4 hours of not so good sleep. Heading off at 1 am to catch our flight that will be 25 sleepless hours from gate to gate. Does that qualify as insanity?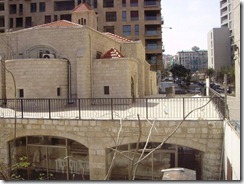 We went downtown with Daniel and Sarah Chetti to see the center of this religiously complex beautiful city. The historic Anglican church they area a part of is more than a century old. It is in the middle of the some of the most expensive real estate in the world, right next to the incredibly expensive new condo tower built by the Saudi princess, the Four Seasons Hotel within sight of the marina full of super fancy yachts. They faithfully speak and live the gospel to the people who live in that area. Sarah is involved in one of its central ministries is in the women's prisons where maids who are imported, shamefully used and abused, and then cast aside without papers or status end up under ground in the prison under the freeway. They do Bible studies and use their influence to shorten their torturous time.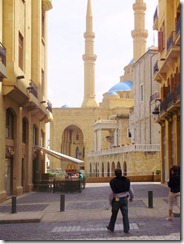 Look closely at this picture on the right with the beautiful blue mosque in the backdrop and see if you can find the deep irony. That mosque was built by the super wealthy businessman/prime minister who was murdered in a bomb blast that has become an international incident. The world court has been conducting the trial for years but because of political sensitivities, it cannot pronounce judgment.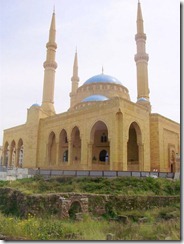 I found it fascinating that it is built on top of Roman ruins which you can see below the beautiful building.
We had prayer with the woman who fled persecution to Lebanon. She will go to Security Monday to see if her visa will be renewed. If not she will be taken to the airport. On Thursday when her case was postponed, they kept all her papers. She talked about how scary it was to walk around Beirut without papers. That's how you end up in the women's prison. We pray her visa will be extended and she will be able to get into ABTS for studies in the fall.
The stories of imprisoned foreigners without papers became more real Friday night. We were returning from dinner with Elie and Mirielle when traffic unexpectedly stopped to the slowest creep. Elie observed that there was probably a police check point ahead and casually said, "Of course you have your passports." They were securely in our room at ABTS. I had forgotten my wallet so I had no identification at all. I wondered what prison might look like!
I just couldn't help but laugh at this building. Makes me want to go to Stumptown!