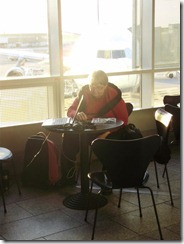 I am sitting in my family room after a very good sleep in our own bed but memory of the journey is still very fresh. It began with an on time taxi picking us up at 1 am at ABTS which relieved my untrusting self a lot (!!). We were initially quite confused because there was no obvious place to get our boarding passes so we could get through security. Turns out the check in desks are behind the first security screening. Our flight to Frankfurt was wonderful. Nice breakfast with real silverware (I like Luftanza!) on a half full airplane. We established our place at B28 for the seven hour layover. I did see a job I think I'd like to have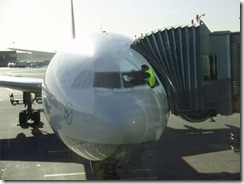 . It had nearby power outlets but there was no way to get a PIN for our free 30 minute wifi access since our phones don't work in Europe. I very much enjoyed reading about half of the draft of Mark Driscoll's new book on Ephesians. Of course I have a few suggestions!
I now have a good definition for true love: it is choosing to take a seat in the very middle of an A340 behind a lady who preferred her seat leaned all the way back for a 10 hour flight so Sherry can have an aisle. Fortunately my iPod Shuffle playing Strongholds music (FB here and Youtube here) is quite small. Every inch was precious!
The fellow next to me was from Addis Ababa. He is from a remote village and had surgery to straighten his spine and was now coming to visit the sponsors of that surgery and speak at a fund raising banquet to support the ministry. He was quite short because of the malady which made his normal length arms not fit in the seat. Actually they didn't fit in my ribs either though they spent a lot of time there. You can read his fascinating story here.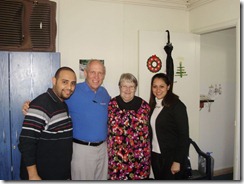 Let me finish with the story of one of our new ABTS friends. Mina and Christine are from Egypt. They both became Jesus followers as adults, which radically changed their lives. They decided to come to ABTS to study, bringing their daughter Joyce. They joined Faith Baptist Church, where they have been mentored by ABTS graduates, Pastor Rudolphe and Rana Hayak. Now they have heard God's call to go to Morocco to plant churches, something no Westerner could ever do. It was a great privilege to have tea with them join them in their tiny ABTS apartment and to pray God's blessing on them. During their final year of studies, they will be preparing for this very challenging missionary ministry to a completely non-Christian region supported and sent by a missions minded Lebanese church. That is part of why I so enjoy investing in the strategic ministry of Arab Baptist Theological Seminary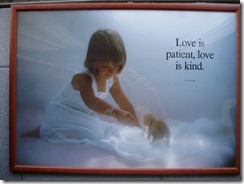 .