I've been working on the warning passages in Hebrews for quite a while. But when I got asked to preach them in our series at Grace, I  had to stop thinking and produce! The sermon actually worried me because most sermons are pretty encouraging even when they call people to action or change. But the warnings are very serious (6:4-6: it is impossible to be renewed to repentance) and severe (10:26-27: nothing remains but a fury of fire that consumes). Even if that comes in an encouraging context (6:8 in your case, beloved, we think better things), it is still a warning of hard things.
A key to understanding is to put things in context.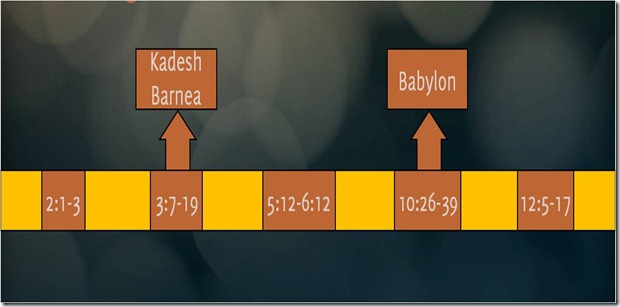 To understand Hebrews 6 go back to Numbers 13-14 and Deuteronomy 1. To understand Hebrews 10, go back to Babylon. Kadesh Barnea tells us  Israel had seen the hand of God but refused to believe His promise that He had given them the Land. They rebelled and refused to enter the Land after sending in spies. They believed "The LORD hates us; so he brought us out of Egypt to deliver us into the hands of the Amorites to destroy us. God forgave their sin, but in His anger swore they would never enter the Land. The people "repented," again ignoring God's promise, and arrogantly entered the Land but were defeated. No amount of weeping or religious ritual cancelled the consequence. God protected them from enemies, provided manna, water. Even their shoes did not wear out. But they die in the desert, not in the land.
Similarly if believers who shared in His enriching provision, His enabling Spirit, His incomparable Word, His strengthening power, then fall away, it is impossible for them to be brought back to repentance. While they are still His children with His acceptance and provision, they lose specific blessing of the LORD now and forever. Who knows exactly what that lost blessing might be. It might be the intimacy with God, or the sense of His presence and comfort.
The place went serious when I suggested we might lose a level of intimacy with God forever. Somehow everyone has the view that we may mess up now, but Jesus will make it all good when we see Him. He will renew us and we will all be be equal before Him. American egalitarianism runs deep. But His life here suggests differently. There were many disciples, but only 12 were chosen to be Apostles. Among the Apostles, there were 3 who were closer, who were there for special events like the transfiguration and the Garden. Among the three Peter was the closest. Similarly the rewards passages like Luke 19 suggest that those who return more get more in the kingdom. Ten minas means 10 cities and five means 5 cities, where ruling cities refers to opportunities to do more cool things with Jesus.
Chapter 10 shows us that those who deliberately defiantly sin may have God respond with severe punishment, like that of the Israelites being sent to Babylon. The widespread lie that God does not punish His children is partly true: He does not work out his anger on His children. He does not punish people who really trying nor ones who who make mistakes. But He does punish rebellion.
The out come is that the call to all to draw near and enjoy the lavish banquet He provides freely is a wonderful opportunity. Jesus will never reject the one who comes to Him (John 3:16; 6:37; Psa. 102:17; Isa. 1:18-19; Matt. Matt. 11:28-30) But something is seriously wrong with those who don't want His salvation, whether that's justification or the fullness of His intimacy. It's dangerous when we are OK with ignorance or immaturity. I think a lot of the fear of drawing near comes from Satan's story that God isn't trustworthy. He accuses, "what kind of God would make you lose your job?" When Satan reminds me of the trouble in my life and suggests God doesn't care, look at the Cross and remember how much He cares. That One is God Himself. There's no way a God who doesn't care would do that. So we draw near to the beauty of Jesus.
The sermon is here or go to gracecc.net and look at the Hebrews series.