We were able to sleep in this morning and catch up on some emails and work (yes, I am still professor Gerry) during the day today. I called Julius Twongyeirwe to check in. I will be preaching in his church a week from Sunday. He was quite surprised to hear my voice.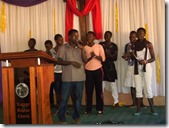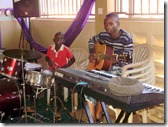 This evening, I did my first teaching at Lugogo Baptist Church. It was youth service. They were very good. The drummer looked like he was about seven. He clearly was enjoying himself. We experienced that worship in Africa is a whole body thing. I found that I was wondering how it would go at Grace if people really did this. Just don't know.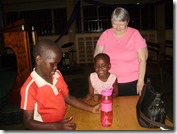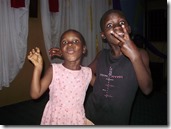 As I was answering questions Newton's (who lead the service) children found a natural grandmother figure. They turned Sherry's water bottle into a top, inventing whole new games with it. When I took their picture, the camera was the next object of delight. It was a great way to end the night.
Odd things that caught my attention: We were in a super market, akin to Safeway. As we stood in the checkout line, I suddenly heard what was on the store music: the Hillsong "I Surrender" song, followed by another from the same album. Not like America!
Every night there is a close by church that does LOUD services. For a half hour they chant Bible. Then they pray with the leader shouting at God and all the people joining in. Then the pastor screams at them for 45 minutes or so – which is happening as I write. Then they all join in as the service closes. Cannot figure out why loud and angry is more worshipful.
We  head to Masaka early tomorrow for teaching at the Hope Alive station there. We will visit some homes there and spend the night before coming back on Friday.