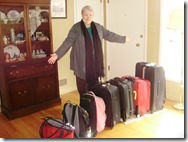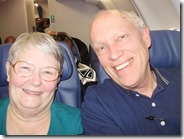 11:00 May 11 means departure time, so we loaded our suitcases and carryon bags into Jerry Fast's van and began the long trek. The 10 hour  Portland to Amsterdam leg. We love the A330 with two up seating so Sherry gets her aisle and I get my window to see the barrenness of the far north of Canada, Hudson's Bay, Greenland and the arrival in Amsterdam, and we can still snuggle.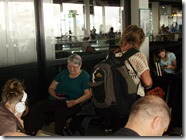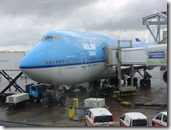 Amsterdam was a much quicker turn around than we expected with a full scan check in to the travel lounge but then if you look REALLY closely you might notice that the nose tire of our 747 is worn and needs to be replaced. Didn't see it? Well no one else did at the time. But it delayed our departure by 90 minutes making our turn around  in Nairobi very iffy, which set off my travel paranoia, of course. Sherry is much better at trusting God than I, as you can see.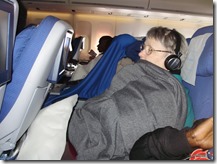 The flight over the Sahara was fascinating. I tried to take pictures, but alas none really showed the barren beauty. The lake behind the Aswan dam was amazing with irrigation coming out. Sherry and I both slept a bit and enjoyed full meals and snacks. Remember the days? You can see the fellow across the aisle who used his blanket to make a tent. He and the woman between us were athletes from one of the Gulf States going to Kenya to train track and field athletes there. Sadly, she was so soft spoken I could hardly hear her over the roar of the jet engines.
We did make the flight to Entebbe, but it was a great rush. Sherry had requested wheel chair assistance and the fellow earned his keep. We even went through diplomat queues only to be stopped by a locked door to the tarmac. A nice lady finally arrived and we rushed to the plane and completed our journey.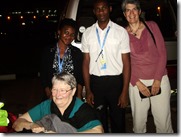 I had hoped to see Entebbe, but the midnight arrival made that impossible. The assistant made our journey through passport control very easy indeed and soon we were greeted by Catharine Coon with warm welcome and our drive to her home. Our beds in her "servant quarters" were most welcome.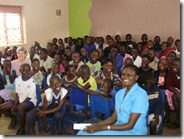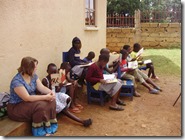 Tuesday morning was a chance to join the Hope Alive Africa (www.hopealiveafrica.org) Break Away session. It is school holiday here so they have a time for the students to gather, sing and do creative lessons, a feature notably lacking in the rote memory oriented schools. After a time of singing praise to Jesus, the group was eager to learn and quickly got into Catharine's "Math and Art" activity. Every classroom was filled, so Jesse, a short termer from Salem (can anyone say "small world"?) took her primary reading class outside for their lesson. The students are from poverty stricken homes and reading a real children's book is an unknown pleasure.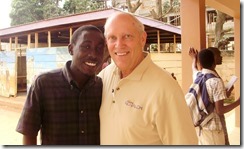 I asked several for their stories. Ambrose (pictured) and his brother, Dennis, were two of them. Both were orphans who had lost their hope when Hope Alive found them. They both worked really hard in school. Dennis is now in program to study electrical engineering. Ambrose just finished his secondary school and the exams. He passed them
but is not sure his score will qualify him for a government scholarship. There is not as much money available now. I listened to his faith in Jesus, his deep hope to serve, and his wondering what he will do if he does not get a scholarship. Tuition is far out of his ability. . Results will not be announced until after we are gone. So he prays and I join him. Will you?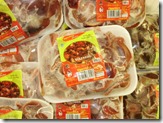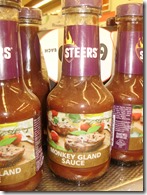 We stopped by the super market to pick up a few things before heading home. Who would expect a big display of chicken gizzards? And "monkey gland sauce??" Is it real or just a name? I decided not to try it.