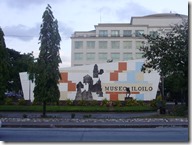 Saturday was for site seeing so Sherry visited the little travel agency next door to the hotel to see what they had. Too late for a tour but they gave us the itinerary which was perfect. It started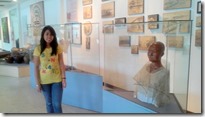 with a walk down to the old provincial capital (which was undergoing an extreme make over and uninhabited) and the Museo Iloilo. We paid our fifty peso entrance fee (about $1.25) and found that we got a guided tour from Shomai, who said she was a guide in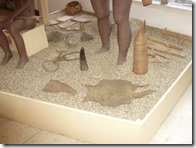 training. Sure sounded like an expert to me as she explained each of the displays. There was the "olden days" and the salamander skin diapers (which I wanted to touch to see if it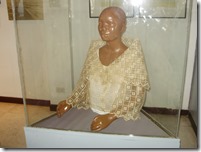 was soft), and the wrap (?) made from spider web (hard working spider to make something this large!) as well as many religious items and weapons from a millennium ago and from the Japanese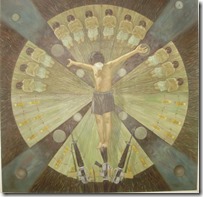 occupation in WWII.  There was a display of excellent pieces of fine art by Iloilo artists. This "prayer in the middle of war" riveted my attention and left me pondering all that was symbolized here. LORD grant us Your peace.
We hailed a taxi to go to the Molo (a suburb of Iloilo)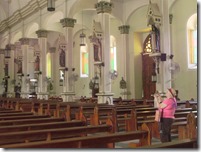 Church, St. Anne's, also known as the feminist church since all the saints in the church are female. I was pleased to see Sherry doing her devotions under the icons of the lady saints. The church was quiet with just a few people inside who were meditating in the beautiful church.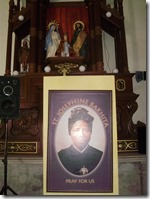 One altar had pictures of two women saints, one of Josephine Bakhita, a Sudanese who was enslaved as a child and subjected to horrible abuse over the next half dozen years until she was bought by a kind Italian who took her to Italy where she lived until the courts ended her slavery and she became a Canossian Sister serving until her death in 1947, and declared a saint in 2000. Quite an amazing story.
The plaza across from the church is called the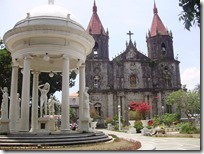 "Athens of Iloilo" because of its central display of Greek gods. The contrast between the Greek Pantheon and the Feminist Roman Catholic Church could not be greater! I went to buy some water as Sherry sat in the shade. A beggar began asking her lots of questions, making her a little uncomfortable, until a student came to rescue her. As we talked, it turned out his mother works in the embassy in Washington, DC and he'd done a year of studies for his foreign service degree in Florida.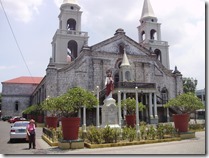 As we arrived at our next stop, the Jaro Cathedral, we joined in a baptismal service for three babies, with lots of proud family members. It was fun to see the celebration even if we could understand nothing of the Visayan service. The saints in this church were all male. Shomai had told us this was a good place to pray for a boyfriend. Sherry said she had hers, so we prayed for Cyndee's tall, dark and cute one!
We asked the taxi driver to take us the the Cafe Panay, the final stop on the itinerary, but he had no idea where it was and neither did we, so we went back to the hotel instead where we had a great lunch followed by mango shakes at our favorite little stand down the street from the hotel. They know us now and our favorite kind of shake. Friendly people everywhere.
My student, Chester came to fetch Sherry and Dave and me for church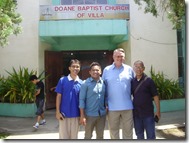 on Sunday. Zion, another student, is one of the pastors there. Since he is the only close by pastor, I decided we'd visit and see what is going on. They insisted that I preach, so I put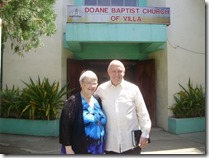 on my barong in the very warm day and joined the celebration. With open walls and several fans, it was quite comfortable oth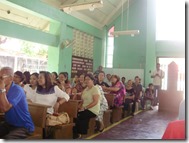 er than being very much the oddity in the full sanctuary! After the sermon, they asked us to stay for Sunday School reports. I wondered what that might be until I saw the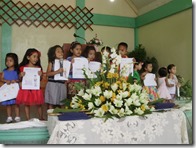 children being guided onto the stage to recite their memory verse and their lesson. It was super fun as they went from primary to junior high. The primary group had a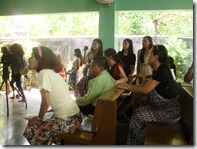 whole group of eager coaches! Everyone wanted to greet us and shake our hands after the service was over and I got to hear a number of stories of service. Finally we gathered the four students, the pastor and his wife and another pastor to go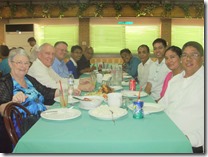 to Tatoy's Manokan Seafood, the local sea side restaurant for a feast! Along with chicken (the whole chicken!) and other dishes, we had oysters baked in a delicious cheese sauce. No one left hungry! As we finished the pastor's wife came over to sit beside Sherry and quietly told her about her battle with breast cancer. Sherry's pastoral heart came out big time and she listened and prayed with her.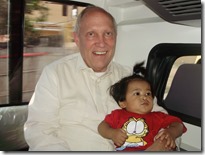 The van took some back to the church where we picked up several women who were going to the downtown church for a women's fellowship. Happily that crew included a very cute little guy whom I grabbed quickly! He was pretty eager to drive the van.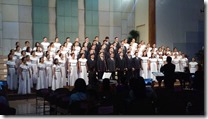 Dave and I went to the 88th anniversary concert at Doane Baptist Church. It was one of the first churches in the area and now has a Bible institute and a seminary as well as a large sanctuary and not a single anglo face other than Dave and me, I'm glad to say. The choir was great!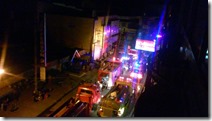 As I slept in the quiet of our room, I was awakened at 2:00 am by sirens which stopped. I looked out the window to see fire trucks in front of the hotel. I saw that they were rushing into the Camp Jefferson bar across the street. Soon the street was filled with trucks and I saw flames coming out of the roof of the building which caused me some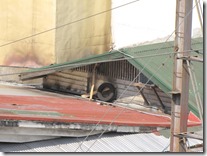 great concern: could they see what was happening from the street or inside the building? The flames soon disappeared, I was relieved to see. I don't know how long the activity went on as I crawled back in bed and went to sleep. The fire damage was apparent on Monday morning. Glad the fire crews were able to stop it before it spread to surrounding buildings.