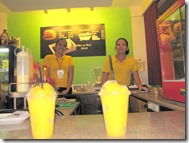 Things are quite familiar as the days continue. When I go down for breakfast, the ladies at the front desk greet me warmly and hand me my order form with names filled in already. The lady in front of the seafood restaurant across the street now greets us instead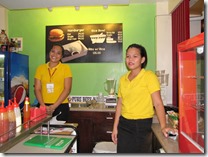 of trying to persuade us to take a copy of the menu. That's a benefit of being one of the very few anglo faces in this town that's off the tourist trail. The stand just down the street where we get our mango shakes just ask if we want our favorites. The ladies tell us stories and give us suggestions on places to go. If you click on the lower picture, you'll see why their menu makes us smile!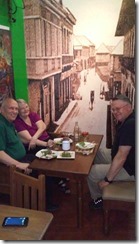 On Wednesday evening we made the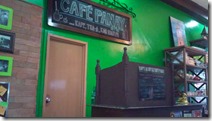 trek to the Cafe Panay. It meant walking through the center of the old city which reminded us of how our section of Manila looked when we lived there in 1969-1972. Lots of crowds and "down home" shops and street dealers selling all sorts of useful things. Our table was in front of a fuzzy picture which becomes quite a marvelous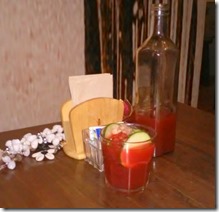 picture of old Panay in a photograph. The Cafe specializes in local items and foods, so we asked the server who told us what would be best. And indeed she was right. Instead of calamunsi, she suggested Red Taho iced tea. Just enough zing to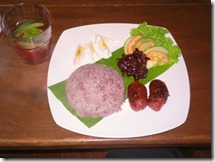 make it interesting. I chose chorizo Ilonggo with purple rice (yes, purple!), Itlog na Maalat (a pickled flower) and salted egg all on a traditional banana leaf. Super tasty, especially when followed up with Cafe Panay Turon in Muscuvado Carmel Sauce (and Tablea Dip)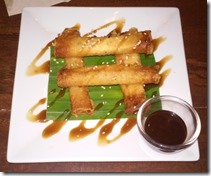 which being translated means banana in lumpia wrap with caramel and chocolate. Yum!! I loved hearing traditional Filipino folk music in the background as we ate. The owner showed us around the shop while telling us stories of the history of Panay and the items for sale in the shelves of the shop. We took a different route home and were soon in the area of the middle class folk with large malls and noisy music.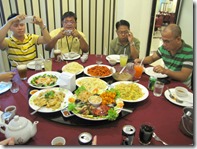 We treated the students to lunch in the hotel restaurant. It was not lunch, but a feast!The food just kept coming including century eggs and drunken shrimp and Crab Morcon and Sharksfin Guisado and a whole fish in sweet and sour sauce as well as a great soup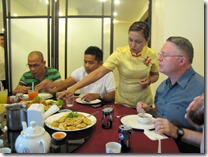 and a beef brisket hot pot all ending up with Filipino fruit cocktail. Even the students couldn't identify some of the dishes. The servers (a whole crowd of them) were glad to explain.
Fortunately the discussions during my afternoon class were active enough to ward off the spirit of drowsiness which threatened to attack the students with all that marvelous food in them.