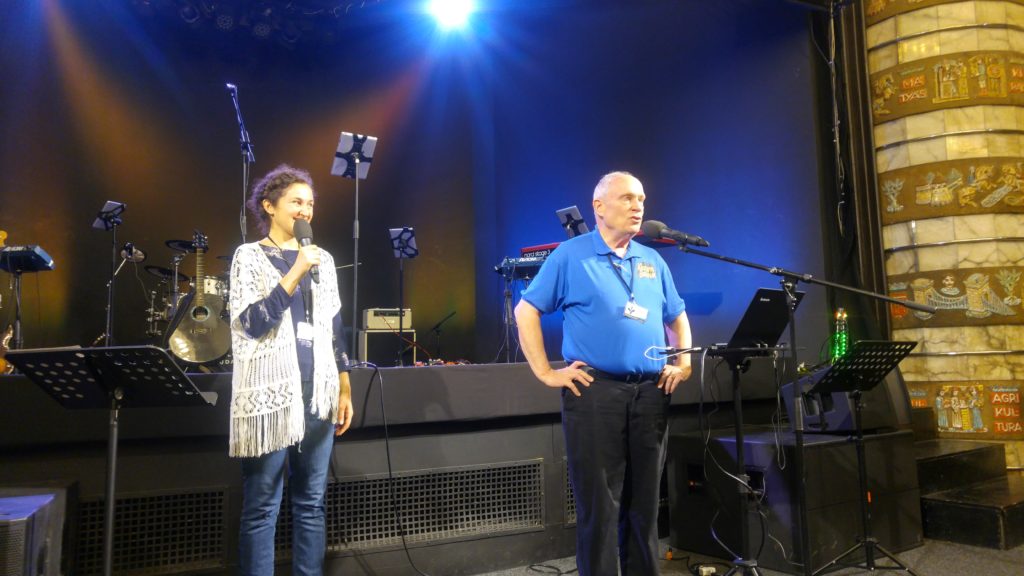 Today was my LONG day: double session starting at 9:00, ending at 20:00 with full involvement in conversations and sessions all day. I was wiped when I got back to our flat and slept long.
The morning started with a session on LGTBQI issues I shared with Phil Metzger. It is not yet a super hot topic here since Hungary is a very conservative country. But there is a large LBGTQ community in Budapest and Calvary has always had a heart for hurting people so thinking this through biblically and pastorally was helpful. Typical of the many questions was "what do we do if a gay couple with kids receives Jesus and comes to our church?" Tough but very real questions. They want to do things well. Questions did not stop just because the Q & A was dismissed for lunch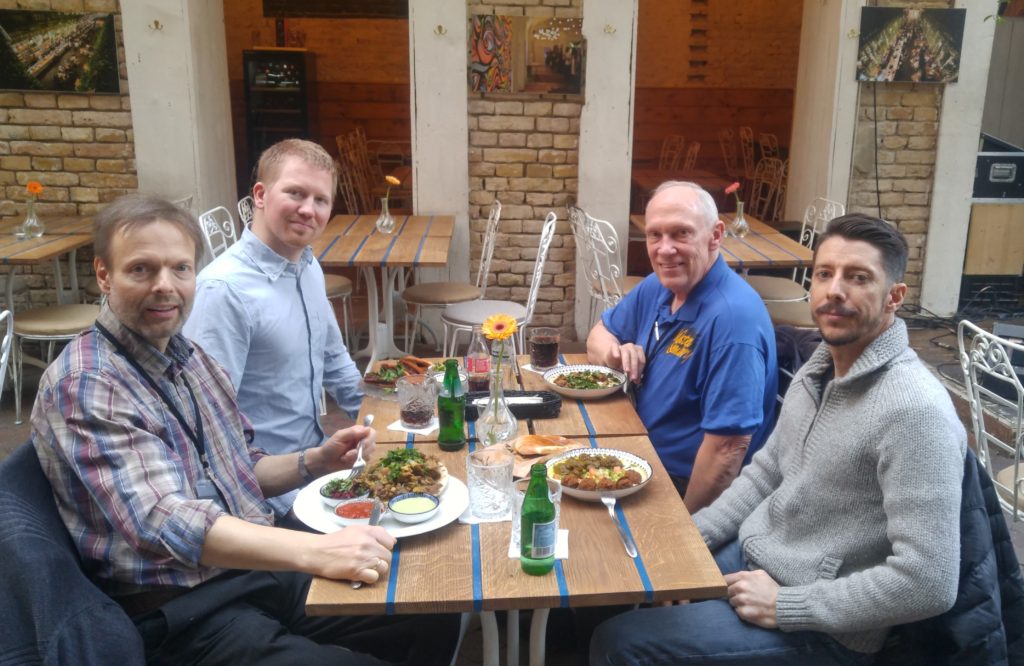 A German, a Finn, a Texan, and a Theology Professor went into Mazel Tov for lunch . . . Sounds like a bad joke but in fact it was a great time to share cultures and what Jesus is doing in each of them while enjoying Jewish food in an enclosed section of street between ancient buildings. I handed my phone to the server, telling him I was a tourist and needed a picture. He laughed, took the phone, snapped the picture and handed it back to me for approval. It was my turn to laugh – he had done a selfie so I had a great picture of him!
Calvary Budapest has just opened an outstanding coffee shop, fully comparable to the finest in the city. The coffee is at Stumptown level, the service excellent and the prices competitive with the other high end shops. This business helps fund the church while serving the downtown community. I now stop for a "filter coffee" each morning.
The evening session was titled "Gospel Challenges" which left a LOT of room for topics. I finally decided to do "Where is God in Suffering?" a topic very relevant to Hungary with its revolutionary past. This is a very intense presentation so doing it in short time with translation had me a little anxious. Fortunately with Ildi translating so well, it went well.
I present three views, Meticulous Providence (God ordains evil for His greater glory and our ultimate good); Active Providence (God is at war with evil using good as His primary weapon); and Free Will Providence (God allows us to choose evil for the sake of true loving relationship). I told them they are all held by good and godly people and that I would would ask them to vote on which one I held after I presented the three. Interestingly, I was voted Free Will by about a 50% majority. When I said is was Active Providence (God is at war with evil using good as His primary weapon) they were surprised and there was cheering from the "winners"! I then explored how to respond to the Serpent's charge that God either does not really care or can't do anything by pointing to Emanuel, the God of the universe going through horrible suffering. There is no way He does not care if He does this – and He is doing things, though it's often not obvious what He is doing.
It took a long time to get the discussions wound down after session ended