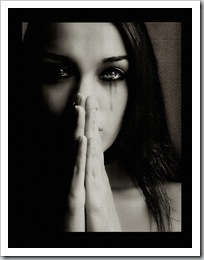 Sadness is because of a loss or separation. It's a painful thing to lose someone or something that you care about. Sadness is associated with feelings of loss, loneliness, disappointment or especially with helplessness. It is the feeling when you've lost something important or when something bad happens to me or to someone else, something like illness or accident. There is nothing that can be done to restore the relationship or heal the wound.
When sad, people often become quiet, less energetic, and withdrawn. It can be a short term down or a persistent and intense lowered mood when the pain that brought the sadness doesn't go away.
Sometimes it is hard to think straight because you cannot get your mind off your loss. Sometimes when your mood is sad, you just feel like being alone for a little while. Or you might want someone to comfort you or just keep you company while you go through the sad feeling.
Sadness is something that happens often in Bible. One example is Psalm 31:
9 Be merciful to me, O LORD, for I am in distress; my eyes grow weak with sorrow, my soul and my body with grief.
10 My life is consumed by anguish and my years by groaning; my strength fails because of my affliction, and my bones grow weak.
11 Because of all my enemies, I am the utter contempt of my neighbors; I am a dread to my friends– those who see me on the street flee from me.
12 I am forgotten by them as though I were dead; I have become like broken pottery.
13 For I hear the slander of many; there is terror on every side; they conspire against me and plot to take my life.
14 But I trust in you, O LORD; I say, "You are my God."
The best thing is sharing the innermost soul with my friend, with whom I can talk without editing. When that's not possible, I may deal with sadness by puttering, doing very routine things, like washing the stove top or folding clothes. I may look at interestingness images on Flickr.com. Sitting quietly with Sherry is always good. There is the walk to the top of Mt. Tabor or silent prayer. These have happened many times since the great sadness of two years ago and so many times before and since as I join in the suffering of hurting people.
When is the sadness going to end? Never, I think. Not so long as Jesus is in heaven and I am here. What happens until then? Praise be to the God and Father of our Lord Jesus Christ, the Father of compassion and the God of all comfort, who comforts us in all our troubles, so that we can comfort those in any trouble with the comfort we ourselves have received from God. 2 Corinthians 1:3-4
There is much comforting to do, but only as as comforted from the LORD.