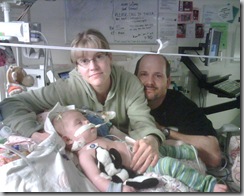 I had the privilege of entering into a prayer battle this afternoon. At the suggestion of McKenzie Tompkins, I went to visit Makiya Van Buren and her parents, Dan and La Donna. Makiya was born with a large hole in her diaphragm so her stomach, intestines and such pushed into her chest, interfering with her heart and lungs. The doctors predicted death within an hour but the prophetic word LaDonna had been given that Makiya would be healed prevailed.
Makiya is now six months old. She's in Pediatric Intensive Care Unit at Emanuel Children's Hospital. Neither her lungs nor the blood vessels serving them have developed as they should. LaDonna has found that there are some powerful atheists on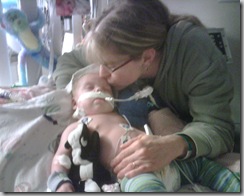 the medical staff who remind her that she has the right to pull Makiya's ventilator and let her "go in peace." But watching this beautiful little girl do pretty normal six month old things before she slid off to the peaceful sleep in this picture made fighting the prayer battle for healing and life a privilege.
Another of their children had six strokes in his upper brain also lead to a "he's going to die or be a vegetable" prognosis. Prayers lead to him waking up fully alert and the life of a very normal, healthy boy. His brain is completely free of all marks of the strokes in his brain.
Join with me in praying for Makiya's healing, for courage and peace for Dan and LaDonna. We talked about Revelation 12:11 "They overcame him by the blood of the Lamb and by the word of their testimony; they did not love their lives so much as to shrink from death." They want His testimony to be powerful in the whole situation.
I thought of other prayer battles I'd been in, as I drove through the gorge headed for the CBNW meetings (see below). There was the fight with the spirit of death above the needles, praise prayers at Multnomah Falls, the deep cleansing prayers above Bonneville Dam with the children delighting in butterflies and tiny waterfalls. There were strong battles after The Passion of the Christ and the ones where the affirmations of what Abba did according to Colossians 2:13-15 lead to great victory. There were far too many to count, events of the soul too personal to recount here.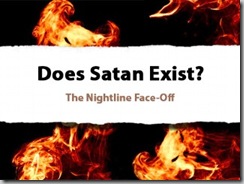 An up coming event is the 'Nightline' Face-Off: Does Satan Exist?. (link here). Deepak Chopra and Bishop Carlton Pearson will argue he does not. Mark Driscoll, my co-author, pastor of Mars Hill Church and Annie Lobert, founder of "Hookers for Jesus" will argue he does and that he's impacted their lives. The debate will be Friday March 20. The "Nightline Face-Off" will be televised on Thursday, March 26, 2009, on ABCNews.com and at 11:35 p.m. on "Nightline".
I wonder if the devil will tune in?