Today was tourist day. Jason came by to take me to the street vendor area to buy breakfast burritos. It was a couple behind a cart with a frying surface a little like a Mongolian Grill cooker. They did remarkable teamwork. As he spread the batter, she cracked and egg and threw it onto the surface. As he spread it, she tossed on some greens, he began to loosen it from the cooking surface, folding it a couple of times. As she put some sauce on it, he put a deep fried crispy, completed the folding, hit it with a knife and it was done, all in a minute perhaps. While they do their complex dance, you put your 2.50 RMB (about 35 cents) into the money box, making your own change if necessary. They do this steadily for three or four hours to serve their customers.
After breakfast we went to the SMIC (Semiconductor Manufacturing International Corporation) plant to meet with Richard Chang, the founder and CEO. He was with Texas Instruments for a couple of decades and decided to start this company in order to take advantage of an opportunity to do ministry in China. He's a strong Christian who wants to do good for people, but also to use his company as a chance to promote Christianity. He has built huge modern plants, family friendly housing areas, schools, rec centers, all of top quality with low prices. He hires highly qualified Christians who want to see the Word change people in key roles. Most of the operators for the extremely high tech machines are young women from rural areas who otherwise would be in grinding poverty or prostitution. Part of his building plan is a large Three Self(government approved) church with Evangelical pastors and an English service, which is the group I'm working with. The government is completely aware of what he's doing, but trust him deeply that he's doing nothing to harm China.
Richard was to meet with me immediately after the quarterly stock holder's meeting. No stress!! I asked Jason what the protocol was for the meeting. He didn't know. So I autographed a Vintage Jesus book to give Richard, half expecting we would have a three minute polite introduction time. It turned into almost an hour of Richard telling us stories of how Christianity is pervading some of the highest levels of the Chinese government officials. They can't be repeated openly, of course. One was a Catholic seminary that was demolished, and the property confiscated, during the cultural revolution. The Christians there politely inquired from time to time about getting it back. No chance. Someone heard about Richard and sent him a letter. He talked to a highly placed Christian who said something to someone. In a while he got another letter. Seems they returned the property, rebuilt the building, installed sewers and such. Now there's an active fellowship, all provided by the government. Friendship and trust at work.
I was still marveling with the stories of Richard as we went to Matthew's office. He's the vice president of corporate relations. Turns out he was a very highly placed Washington D.C. attorney who became the China connector, arranging for visits of top politicians to and from China. He knows everyone and has been everywhere! As we got to talking about things, he pointed out that close to 90% of Chinese have a positive view of the American people, but know little about their own country since most don't travel out of their immediate area. I was fascinated by his vision of what could happen with American – Chinese relationships if there were more open contact.
Since we are not staying at a hotel, we had to register at the local police station. Jason told us of a bad experience in the past with a police officer yelling at people. That raised some significant stress in me as a person who just wants to stay legal and avoid all conflict with local authorities. We got there before the translator arrived, but decided to get started. I fidgeted as I listened to two men on the other side of the entry way in a shouting match with two officers. We slid the papers and passports into the lady and she passed back more forms. She had some English and a helpful spirit. In about fifteen minutes, before the translator was able to arrive, all was done and we walked away with the official papers. It's possible that the presence of a very cute six year old Elizabeth helped!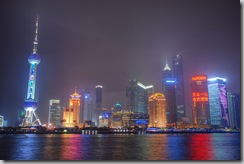 We headed down to the subway to go to Pudong, on the east side of the Huangpu River which bisects the city to see the Shanghai World Financial Center, the building with the notch at the top. Details here. It is the latest entry in the competition for the highest building in the world. Finished about nine months ago, it has the world's highest roof, highest occupied floor, and the world's highest public observation deck at 474.2 m (1,556 ft). The records will last until late 2009, when Burj Dubai will break the height record other than highest pubic observation deck. But construction has already begun on Pudong's higher reply. The amazing thing is that this skyline amazing collection of skyscrapers has all been built in the past decade. If you compare this picture with the one two posts ago you'll see that in the two year old picture, the Financial Center building isn't there.
The view from the walkway at the top of the notch, looking down onto all Shanghai, was spectacular. So was the Coldstone ice cream.
Krista came down to join us for dinner in a very American mall. We ate in an Italian restaurant overlooking the river. The striking things was the background music: Classic rock like Hey Jude, Sounds of Silence. We laughed and watched as the buildings lighted up and dirty cargo ships competed for space on the river with the beautifully decorated dinner yachts.