Friday, May 1, 2009
Conference day started with breakfast at Jason and Krista. Yesterday Elizabeth, 6, had been the delicate princess, doing ballet to sleeping beauty in her princess dress and veil on her headband. Today she was quite entranced as she sang with Maria in Sound of Music. She had eaten her breakfast already, delighting in the flavored instant oatmeal we had brought for her. Amazing what things one craves when you live in a foreign country.
Sherry, Krista and I rode with Eva in her minivan. I was in the back with Brandon, Eva's nine month old in the seat between me and Eva. Brandon didn't like the arrangement at all and let us know it. Distressed babies touch me deeply of course. Sherry and I both tried to comfort him, but seeing us just reminded him of who he wasn't seeing! So I hid behind the headrest until he finally went to sleep.
We circled Pudong, the east side of Shanghai, headed toward Jiaxing, southwest of Shanghai. We never really got away from endless apartment buildings. The Shanghai region has some 30 million people and they take up a lot of space, both wide and high. It seems the totem bird of the city is the construction crane. Their wings are spread over buildings and freeways everywhere. The global downturn in Shanghai means only 9% growth this year. But we past pockets of the old China, in decrepit row houses scattered among piles of debris with vegetables growing in well tended patches of ground.
I was surprised at the relative lack of traffic on the freeway. They explained that Shanghai tries to limit automobiles by making both the car and the licenses expensive (did I understand $5000 for a license right??), and then giving licenses out in a lottery system. That doesn't stop traffic jams of course. Construction and unpredictable drivers are universal. We saw a bus that had pushed a semi up against the concrete barrier. The passengers from the bus were getting onto another. The passengers in the semi were sitting it out quite unhappily: they were huge pigs.
We were ushered into the Parkyard Hotel, a very nice five star hotel in the commercial district of Jiaxing, next door to a very large stadium built for the Olympics. Company logos were on many of the high rise buildings in the area separated by wide streets with beautiful gardened medians. We had our lunch in a private dining room off the main lobby, five of us attended by two very observant servers. Supper was from a very well stocked buffet with tables spread around the balcony of the lobby looking out the multi-storied windows.
We celebrated May Day, the fourth of July type celebration in the communist world, in this rather ornate atmosphere. What made it even more ironic is that this fancy place is very near the place where Chinese communism was founded by Mao and his workers.
I laughed that we all wore our Vintage Jesus T-shirts and name badges and did our Bible study together all just down the street from park commemorating the birth of Chinese communism. Despite their attempts to stamp out religion, the study was animated and the questions went on well into the night
Saturday, May 2, 2009
We finally got to our room to find that the temperature was at 27 centigrade, which is way warm for Portlanders. Of course a five star hotel has a rather complicated electronic temperature control. After a few minutes of messing with it (why isn't there just a dial??), I finally got the setting reduced to 20. But I didn't feel any change. I tried several things. No change. So we slept anyway. I mentioned this only to discover that everyone had the same problem. It turns out that by law the hotel is not yet allowed to turn on their air-conditioning in the rooms. I wondered why the heat still had to be on. So we opened the window instead.
I restarted my computer for the morning session and went to do something. When I came back, the screen was still dark. Hmmm?? So I did a hard power down, which I hate to do, and restarted. I got some odd message about windows not starting, would I like to have it attempt repairs. NOT what I wanted to see. Of course I said yes and watched it think. And think. And think. The singing started . . . still thinking. I began to think back up plans. Finally after a restore and a restart, it decided to go. I was GREATLY relieved. I depend so heavily on my computer. If it were to tank, I could still do my thing, but it would be a major hindrance.
After the session, I was in a discussion group of men after my morning session when one of the men came and got Jason for something. After a few minutes, Jason came back to fetch me. The general manager of the Parkyard hotels was in the building. Would I greet him?
There's a story behind this. The retreat committee had leased a retreat center from a large company for 600 RMB, about $100 US, per person. But as they saw conference materials, they began asking questions, perhaps under government pressure. Are you doing religious activities? That is not permitted except in religious buildings. If you are religious, you can't rent our center. With "Vintage Jesus" as the theme, it was hard to say we are doing religious activity! Normally it wouldn't matter too much, but there is a push back on activities, akin to that before the Olympics, with the International Exposition coming to Shanghai next year.
So there was no place for the retreat. Friendships were explored and the Christian owner and Christian general manager of the Parkland allowed us to use their very nice hotel at the same price we would have paid for the much more prosaic retreat center. One night in the hotel would cost as much as the three day, two night retreat – and they threw in all our meals!
We were very grateful.
Tony Azaias greeted us very warmly, shrugging off our expressions of gratitude. I presented him a copy of the book and Jason gave him his own Vintage Jesus T-shirt and name badge. I realized my cultural gaffe when he reached into his jacket pocket to give me his business card. Mine were upstairs in my fanny pack. I received his card with two hands and a bow (I didn't forget everything!), apologizing for forgetting card. Later we saw him doing his business in his T-shirt!
We gathered the group for our picture. Almost everyone had their Vintage Jesus shirts. It made me laugh. I'm quite sure no one at Crossway thought about this eventuality! Wait till they see the picture.
Sherry decided to go see the silk museum while I worked in the room. Unfortunately it was closed, but the taxi driver took them to a very nice park. As they were leaving, Sherry saw a picturesque bridge. She got out of the taxi and as she started to take the picture, her foot hit something.
Face plant!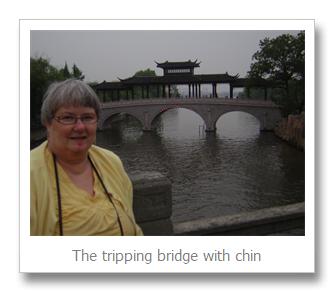 No warning, no chance to brace herself. Just face first into the dirt. Stunned, she laid there for a moment. She realized there was pain in her mouth. As she raised her head, blood dripped. The others were there quickly, very concerned. Turned out she'd split the inside of her chin, scraped the outside, bloodied her nose, but no other injuries. Camera and glasses survived. When she walked into the room, she was still shaky. I wanted to help, but there was nothing to do. She was glad to lay down and put a wash cloth filled with ice on it. We were very grateful that there was no damage. She was able to enjoy the sit down Chinese feast. She even stayed for evening session, though not the discussion time after.
As I came back up to the room, a group of Chinese people were getting on the elevator, carrying some boxes of stuff. They greeted me and I did the best I could back. They were talking animatedly about something as the door began to close. A boy stopped it and then let it go. The lady was yelling. I wondered what it was. Suddenly I realized she was yelling at me. But I had no idea what she wanted. I felt the moment of total loss.
Sunday, May 3, 2009
Every meal was a Q & A time. They had many, many questions. The final session was on the spirit world. I wondered what the response would be. The traditional Chinese religions were as powerfully suppressed as the Christians during the cultural revolution. Buddhist temples were destroyed, the priests imprisoned or killed. People had to worship Mao only. But such things die hard. Would the people have remnants? They are English speakers and many are internationals, but not all. As I worked through passages on the other gods and asked questions, I found a lot of interest. The session that was to finish at 11:15 went until almost 11:30 because I couldn't get them to stop asking. Angelia and Andrea told Sherry later that what I'd explained gave them categories for some strange experiences they'd had. Others told me that for the first time they had tools to deal with stuff.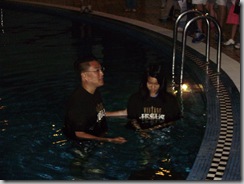 The end of the conference was a baptism of four children. Hearing their testimonies and seeing Jason baptize them in their Vintage Jesus T-shirts was a kick!
I felt good though unfinished as we finished the conference. There were so many loose ends. I felt drained from all the talking. This is when it's clear that I'm not a very good extrovert. So the ride home was long, and longer yet with heavy traffic with so many coming back into the city after the holiday weekend. I did enjoy seeing another district of Shanghai.
I also felt a little strange leaving internet connection. It's odd that in a very high tech area of a high tech city I don't have internet access. We'd thought we could use Jason's connection. But alas, he'd lost his password for the wireless router.
Angelia, Andrea, and Molly came by to fetch Sherry along for some dinner, shopping, and a lot of giggling. They are well experienced and knew where to go and how to bargain. Sherry got some really cute things for the grandgirls and some marvelous shawls. She came home happy and laughing even through it was late. The ladies said they like my wife!
I went to the goodbye party for Matt & Rene. They were headed back to the US with mixed feelings after three years here. They'll not miss being stared at as they walk on the street. But they will miss the close fellowship of the Thanksgiving English Fellowship community. They wondered what their friendships would after three years of apartness and deep changes. It was a little like us when we came back from the Philippines. We never did get the old friendships restarted.