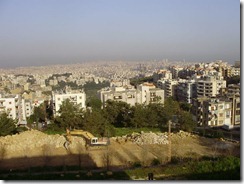 Saturday started with work highlighted by a most beautiful view of the city: preparing an exam for my Portland students, doing a bunch of email (still trying to get used to doing this off line as much as possible) but mostly working on final prep for my sermon for Sunday. I asked Rudolphe what I should preach on and he jokingly told me to preach that Christians should come to church! But that dropped me into Acts 4, Peter and John's encounter with the officials and prayer and the response of the church: They praised and prayed, praying specifically for (#1) boldness to speak the Word with boldness and (#2) to do great miracles. I realized that we don't pray either of these. God's answer was to shake the place – as Mt. Sinai and Isaiah's Temple were shaken – such that they were filled with the Spirit, spoke boldly (#1) and shared everything so that there was no need among them (#2). Interesting answer to #2. The healings come but the immediate result was the sharing. Our individualism and self-protection makes this a most unlikely outcome in the modern church. I wonder what would happen if we really prayed these prayers.
After a good nap, we went to fellowship with some long time workers in this area. He came in the taxi to fetch us and later to return us. Like the taxi driver we were deeply touched by his hospitality. The afternoon and evening was spent sharing stories and talking theology/life. While I can't share specifics because of security, some lessons had me spending a lot of prayer time in the night.
In the Middle East, self is a corporate concept. One never thinks of himself other than as part of a family/clan. So when Jesus told his disciples to change families (Matt. 12:48-50) He was going to the core. When He called us to hate father, mother, wife, children, brothers, sisters, even our own life to be His disciple (Luke 14:26), it feels like hyperbole. But is it? It made me think of the number of American missionaries who leave the field to take care of family and are usually congratulated by me and the church when they do it.
He showed us that prayer is typically done with eyes open, looking at the others, and speaking blessing on them in the name of Jesus. The others respond with unison "Amen" pronounced in the Arabic way, "Omeen." And it goes on for a long time. It made sense of many of the biblical prayers so that will become a part of my life.
I continue to be troubled by the richness of the American church in light of the radical call of Jesus and the example of these folk who live with the poorest of the poor to bring blessing to them. Jesus is a most uncomfortable figure. . . . but He is the LORD of glory come to live among us to show us the Father, how to live a blessed life and bring us all the family blessings of that life.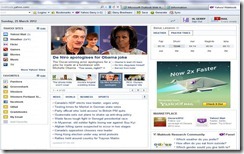 The internet keeps showing me interesting stuff. Click on the picture to enlarge it and note the right side of the Yahoo home page. Would that ever happen in the USA?