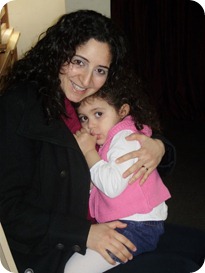 S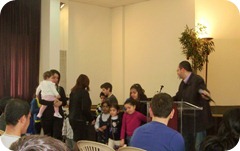 unday is for preaching which I got to do at Faith Baptist Church. We greeted some old friends and met many new ones. Alexy picked us up and and her fiancé, Joe wired me for sound. Rola showed her Mother's love, Elie introduced us to his parents and grandmother, and many others came to greet us. Rudolphe prayed for the children before he introduced me. Elie was my translator. He was kind enough to ask if I wanted him to translate the nice things Rudolphe was saying about me. The sermon from Acts 3-4 seemed to go well. The audience was responsive and there were a number of nice comments after.
A woman I'd seen around ABTS came up to introduce herself. She is a Muslim from another country who decided to follow Jesus. When she told her family, they tried to persuade her to return. When she wouldn't, her brother began to beat her, but she stayed firm in her commitment to Jesus. Finally they sent her to stay with a Sheik who locked her up and tried to persuade her. Finally she was able to escape. Though she is a very careful person, she immediately found a way to get to Lebanon. She arrived with no visa, knowing not one soul, a hotel reservation for one night, and no options. God got her connected with someone from ABTS who took her to their home. Now 25 days later, she is full of joy, hoping that somehow she will be able to live openly as a Christian.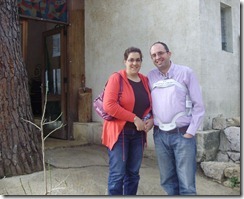 After service Rudolphe and Rana took us for an exquisite Lebanese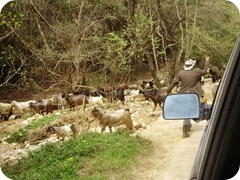 meal in a restaurant operated by Alexy's aunt and her husband. There is no better place in all Lebanon. The shepherd herding the goats off the road added to the rustic feel. We ate for more than two hours, talking about the LORD's work and the attacks on Rudolphe and his family. Within an hour of the time he was voted into the pastorate of the church, he had a horrible pain in his back. Over a very long time and assurances that it was fine, they discovered a fast growing tumor on his vertebrae. He had surgery to remove the vertebrae and replace it with a rib. The doctors still cannot explain the speed of his recovery. Then there was a blood infection that nearly killed him before his prayer healed it just before the doctor came in for a last ditch effort to stop it. The story goes on. Through it all, Rudolphe pastored the church with diligence and vulnerability. Even with all the troubles, it has grown from a dying church of 40 to a positive church of 120 in the 18 months since his pastorate began.
We drove up into the mountains where the snow was at near record levels. There was so much beauty that could not fit into any camera. The natural stone bridge intrigued me. It also intrigues me that this is a color picture.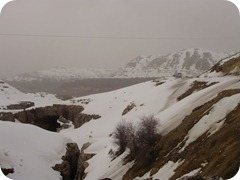 One point of our conversation was relations between Christians and Muslims. He told us how the war time Israeli bombing drove many Hezbollah people out of their homes in south Beirut. They found that Christians welcomed them into their homes, served them, fed them and asked for nothing. Since then there has been a deepened partnership between the peoples despite deep differences in culture and religion. It is a wonderful example of the result of Romans 12:17-21. He also told of the huge difficulties it causes them when American pastors are reported as deliberately defiling the Quran or insulting the Prophet or pronouncing "railing accusation" (2 Pet. 2:11; Jude 1:9) on Muslims. It is a mark of a Christian to treat all people with love and respect. I need to be sure I do that.
Finally, why is it that American is the ultimate draw in place of the world with amazing culture of their own?