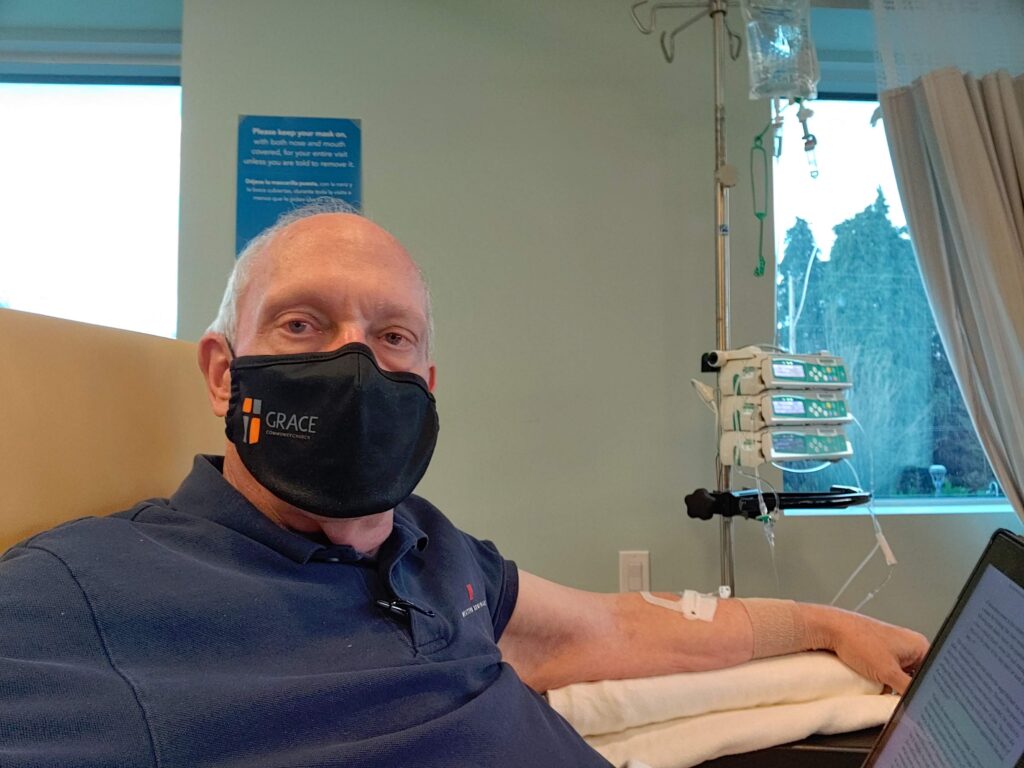 Today's infusion #2 meant another 30 minutes of Opdivo drip followed by 90 minutes of Yervoy drip mixed with about half a bag of saline. Kayla, my nurse this time, used a very warm blanket to prepare my arm for insertion of the IV port and then turned it into an arm pad. Thank you again, Kayla!! The IV pole, AKA my dancing partner, follows me everywhere! I took my Kindle to read a theology text while I was being dripped into. Angie dropped in again for conversation and blessed us with a marvelous apple crisp. She is my hero!
At the end of the time I felt just the same as when I started the process, which is good so long as it also attacks the Melanoma nodules in my lungs and liver. The only side effect so far is a mild skin rash over much of my arms and torso.
The windows look out at the cold Portland weather which is threatening to bring snow to the valley floor Sunday. As I finished my sermon outline before going in for my infusion, I wondered if I were wasting my time and the time of the team that will prepare the fill in the blanks notes for our people.
The miraculously relieving catheter (below) became a problem as the bladder infection succumbed to the antibiotics. I contacted the urology department repeatedly asking about getting it removed. Their earliest appointment was December 30 (!!!!). So I asked Sean Roley, a neo-natal intensive care nurse who is also a member of our elder and preaching teams at Grace, if he could do me a great service. He did and I am deeply grateful.
My next infusion is January 14 followed by assessment before round two.
I continue to marvel at my continuing strength and energy and Sherry's support as we celebrate our Advent as a cancer patient.