I went from strong old man to a weak old man in a couple of days.
Bullet Points: (1) my nasty rash went away; (2) Muscle weakness in my neck and back made me a stooped man; (3) Doctors and scans found no cause for this debilitating reality; (4) I have tape holding up both eyelids and walk with a walker to reinforce my weak back.
The Story: It began when I noticed a drooping right eyelid as I was combing my hair on Thursday Jan. 20. I enjoyed teaching my all day Leadership Cohort class but the droopy persisted. As I walked to my office at break i noticed that I was looking at the floor while I was walking. It was quite difficult to straighten up. This precipitated conversations with the advice nurse at Kaiser. As I described the continuing droopy eyelid and head along with blurred vision, she decided to check with the doctor. She soon called back and asked "can you come in for a CT scan tomorrow (Saturday)?" I told her that I had a cancelable trip to Southern California scheduled. She counted asking , "Can come in this evening (Friday)?" I accepted, ended class an hour early and drove to Kaiseer Interstate. The doctor did a variety of tests and noted "You don't have Bell's Palsy." I said "That's good." She gave me a very sobering reply: "Maybe not – that points to a stoke" and sent me off to get the CT scan. I soon got the results: No stroke or brain bleed and released me.
To celebrate that, I went to So Cal and did a ministry weekend at Collective LA and my classes Tuesday – Friday in Costa Mesa which went very well and flew home Saturday. .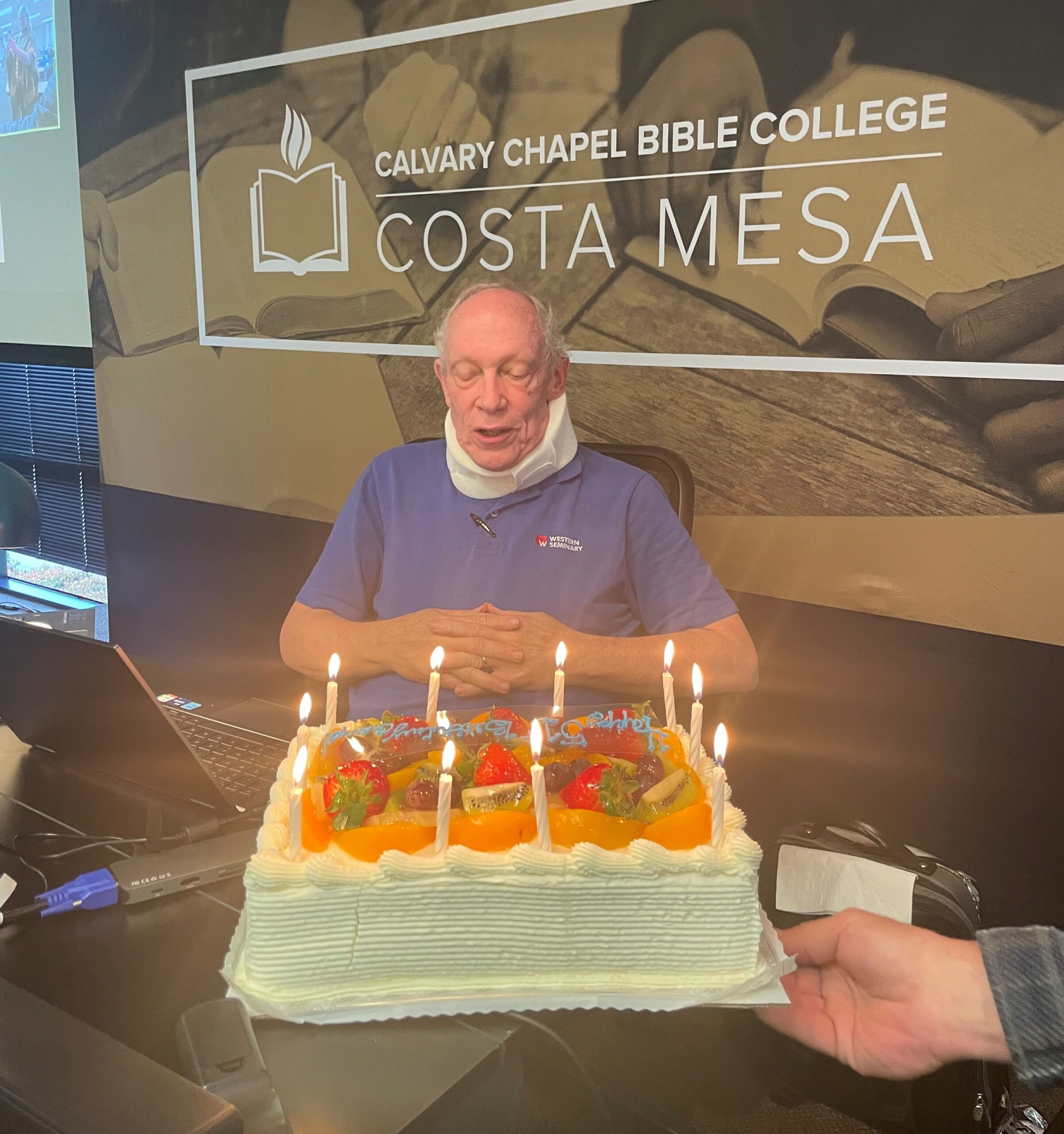 The students were wonderfully supportive in my weakness. They brought me lunch each day since my usual practive of going with them was not possible. They wrestled with difficult topics and took me down most valuable bunny trails. Both clsses gathered around me and prayied for me as their two day session ended. On Friday, the day I officially reached my 3/4 century mark, Criag brought me a delicious birthday cake to center the celebration.
Walking with my upper body stooped over is exhausting so I got a foam neck brace and a walker which eases difficulty a lot. You know it's bothering me when I tell you I got wheel chair assist to the gate to deal with the difficulty of walking more than a short distance
Monday's full ophthalmology work up found nothing. The follow up MRI of my brain, like the CT scan, was "unremarkable" which has become a favorite word! That left no answers for the cause of the muscle weakness other than some sort of a side effect of immunotherapy.
The Nurse Practitioner in today's (Wednesday) pre-infusion appointment was baffled when I explained my droopy eyelid and fally down head. All she could say was when you turn the immune system on, you just don't know what might happen.
She reported the symptoms and the highly elevanted aspartate aminotransferase (AST) and Alanine Aminotransferease (ALT) (liver damage indicators) to Dr. Mashru who suggested that I have hepatitis because the immunotherapy drugs have had negative impact on my liver. That was a shocking word to me to say the least.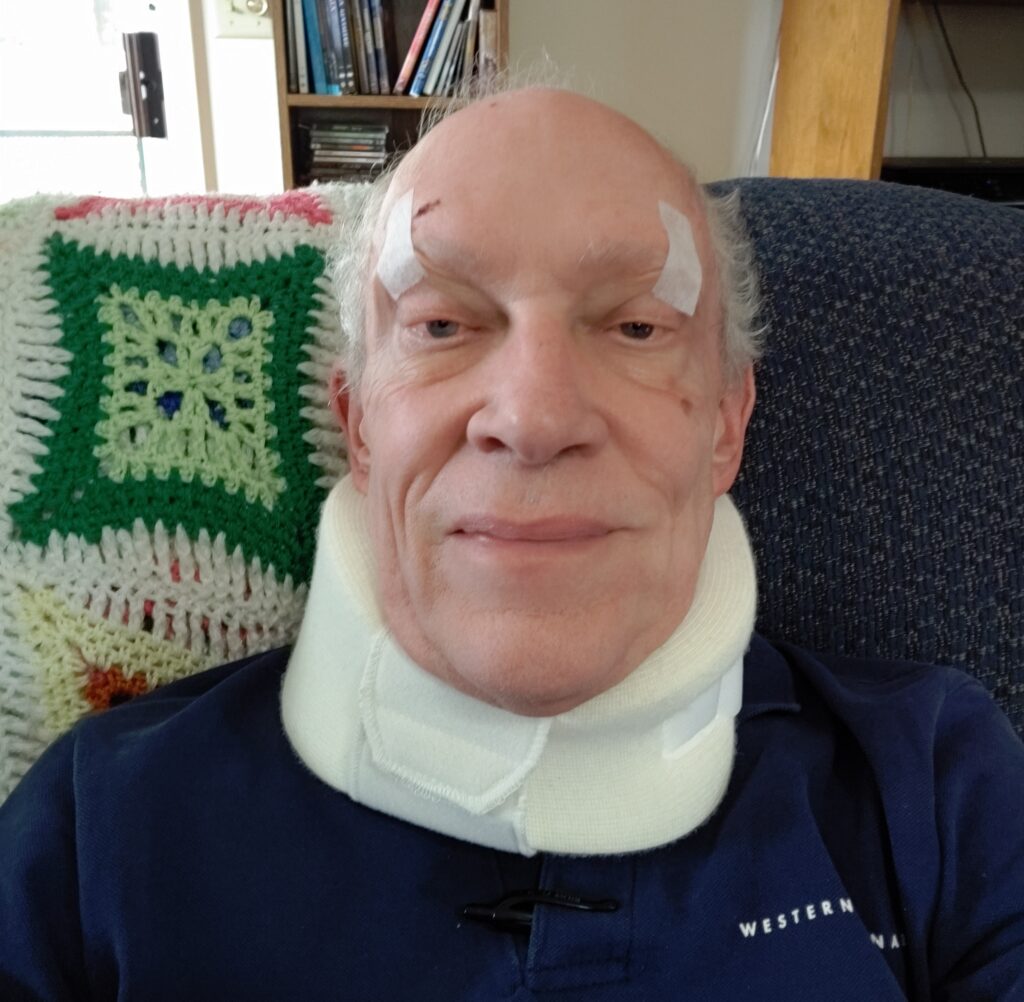 Conclusion: The cancer focused treatments are on hold while the focus turns to my immunotherapy damaged liver. Thursday morning I will start taking 80 mg of Prednisone each morning (that's a lot!). I still walk with the walker and wear the neck brace not knowing what is causing the muscle weakness. My eyelid droops so I am following my niece's example: she used tape to hold her eyes open. Sherry is adamant that she will take care of me and is doing that in very concrete ways. I am laying aside my "Of course I can do it" conviction . . . to a degree.
Finally, Thursday is my Pretty Wife's birhtday which we will celebrate in a different way this year.