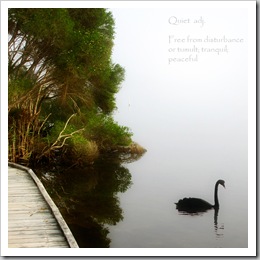 I am thinking a lot about quiet today. Why? I don't really know. It's been a very busy week and more to come. I've been doing more teaching this term than ever, I think. I did a workshop with the staff at First Baptist Eugene. My friend, Ben Cross, is the new pastor there. He opened his sermon series on Acts by calling the church to ten days of prayer. The church got into it fervently and it stirred up a bunch of spiritual kickback. So they asked me to come do a three hour session on spiritual warfare. Ben said about 25 would be there. Corey said 35. I brought 50 handouts. Not enough. There were more like 75 people there. It was a lot of fun to show them the biblical patterns for warfare and see the light come on. I'm preaching at Clackamas Bible Church tomorrow, followed by two sessions at the Multnomah Missions Conference, being plenary speaker at the CBNW Enrichment conference and a spiritual warfare class in Sacramento. That along with a lot of church consulting makes me think of quiet.
Sherry and I went to Ya Hala's restaurant for our Valentine's lunch. We love Lebanese food. It reminds us of time together in Beirut. Thinking about nearly 41 years of marriage makes me smile. I reflected on what makes our marriage work and keep coming back to deep trust. There has never been and never will be secrets between us. We do confidentiality, not sharing things entrusted to us by people we pastor. But never secrets. There's nothing I don't want Sherry to see or hear. So we can talk openly about anything. What a joy to live in trust and smiles. When I'm quiet, I smile.
Perhaps quiet is because I'm avoiding writing. The time frame for Doctrine: What the Church Should Believe is approaching. I should be writing. The lock is still on. It must change, but I don't know how to get it going.
Pastoral ministry continues to be hugely demanding. I can't put details here, of course. But I consistently realize the impact of sin to break people and ruin relationships. Trying to help them move to grace when fears overwhelm is so challenging. It's particularly hard when the fear is about me breaking boundaries. Sometimes I get to see amazing growth by the power of the Spirit, and life returns to the place of deadness. But the challenge is patience when there is no apparent change or when hard won growth is shattered by the evil one. That's what wakes me up at 1:30 in the morning. I often end up my little study upstairs wondering about the little girl and praying quietly.
Quiet is a wonderful place.
P.S., This is a totally cute ad