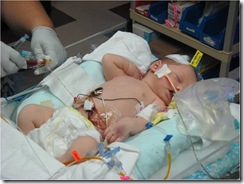 Sherry and I did our annual football weekend in Kansas City. It used to be a guys weekend, but since Elizabeth came along, Sherry has horned in on the fun. Two years ago Susan had just learned why she was so sick: she was 39 weeks pregnant! A week later, during a routine sonogram, they discovered severe fetal distress so they performed an emergency C-Section only to have Elizabeth aspirate myconium. After three days of wondering if she would live and a month in NICU, she came home.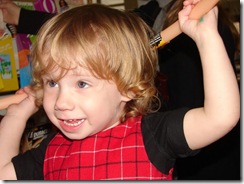 Now she's a very normal, totally cute two year old. This picture is as we took her to Toys R Us to pick out her very own baby doll for her second birthday present. She also found a hula hoop and it delighted her, as you can see. Hannah, their German exchange student, also had fun in the store, but no presents. There are more pictures here.
Donn is a faithful Chiefs fan which you have to be this year. They are such a bad team that the Washington coach was demoted when they lost to the Chiefs! Rain was predicted for the game with San Diego, so we took poncho's. Sure enough SD was romping and stomping as the first sprinkles started toward the end of the first half. The second half opened with a very well executed KC touchdown. But hope was soon dashed with a dumb interception. The rain was pretty steady, and Donn decided it was time for Jack's Stack ribs!
Cyndee has been up from Cannon Beach, actually taking some vacation. As I went to get her from LeAnn's place to join us for Halloween weekend, I stopped by friendship park and remembered. So much has changed but the memories are very real. Unfortunately, we had only a tick or treater's. Our one block dead end street doesn't draw like our Mt. Tabor neighborhood.
Sunday was preaching Genesis one at FBC Eugene. I presented the interpretation that Moses is describing the preparation of the land, Eden, Israel for human habitation in 6 literal 24 hour days after a beginning in which He created the sun, moon, stars, plants, and animals other than humans. But that will be another post.