Today is birthday #70. It's been a bit weird coming to today since I have this mental picture of my grandfather in pretty bad shape at his 70th and the ingrained cultural idea that this is when you leave your office keys on the desk and head out to the "rest of your life." Psalm 90 says "The days of our years are threescore years and ten" and any more are "by reason of strength." But I am more involved than ever in high level responsibilities at Western, in the church world as pastor of pastors, and at Grace. I stopped serving on ministry boards but then picked up The Bible Project board and it's been a blast to see that ministry with its huge impact for biblical literacy.
Today is also Chinese New Year which makes me smile with my soul connection to that world. The Chinese blessing banner around my office door is 10 years old. It still proclaims family as the place God works and that always takes priority. Some old favorite songs have to be listened to. A lot of Michael Card and Twila "Thanks for Keeping Your Hand on Me" and "How Beautiful."
Later this morning I will go help a pastor friend with a woman who is in a very bad spot. It appears she is oppressed by a demon so the immediate message is "go call Gerry!" I feel the need to teach a biblical theology of spiritual warfare along with some techniques given the explosion of demonic films, songs, games, etc. in our society but it also means I get a lot of calls like this from pastors I've trained who need some extra help.
Salty's on the Columbia is a very favorite restaurant so Sherry and I will watch the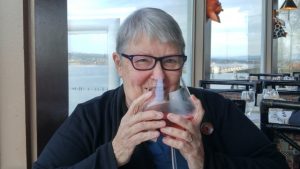 sunset from a river front table to celebrate.