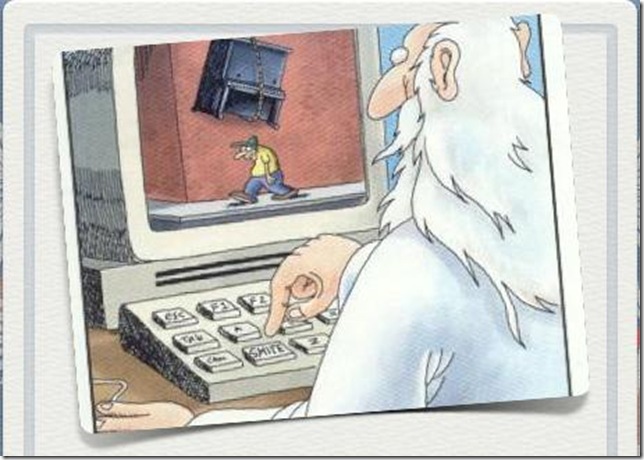 Terry Roberts, one of my In Ministry students, who is also a pastor in Spokane, sent me this picture. It's typical of his great sense of humor, but still thought provoking. He knows tragedy with the seemingly senseless death of his wife a couple of years ago. I heard John Piper illustrate his sermon on Romans 8:32 (He who did not spare his own Son but gave him up for us all, how will he not also with him give us all things?) by telling of a troubled young mother. As she drove down a Minneapolis freeway she tried to solve her problems by throwing her baby out the window of the speeding automobile. According to Piper, this horrific act is one of the "all things" given as a grace from the Lord. One way to summarize it is that God uses what He hates to accomplish what He loves. Yesterday I was talking with Josh White, a local church planter (Door of Hope). While he was touring with his band, he heard Piper preach at Bethlehem Church. Piper was presenting his view that God does not allow evil but ordains it. This includes moral evil rapes and child abuse. He wondered at the deadness in people's faces as they nodded assent.
My own "ship" theory is that God is in overall control, but there is a genuine freedom of the creature both in good and bad things. So things happen that are not the will of God, but nothing happens outside the control of God. God is loving enough and powerful enough to do good in the worst situation. While not everything is from God's purposed will, nothing is beyond His purpose to do good. Mystery: how can God control the big picture and not the details? What good is God going to do in this evil?
A key biblical point is that God is super angry at moral evil. See Deuteronomy 29:24ff or Isaiah 1 for example. There are times when He uses evil to judge evil as in raising the Babylonians to destroy sinful Jerusalem (Habakkuk 1), or in the crucifixion of Jesus, but mostly sin is against His will (though not out of His control) resulting in His wrath.
Another point is the meaning of the word "sovereign." Many simply assume this term means that God controls everything that happens so that no act occurs without God having a specific purpose for it. Many who take this view think God allows evil rather than actively ordaining it as Piper asserts. But they agree that God is in control of all that happens.
But the Bible never actually says it this way, I think. Rather sovereign means that God does not give account to anyone (Psa. 33:11). No one can stop Him when He decides to act. He does whatever pleases Him (Psa. 115:3), but not everything that happens pleases Him.
One outcome of this is that evil is against the will of God, but not out of His control. When I want to press my point, I assert that there are genuine accidents such as the combination of genes that results in Down syndrome.
This can be very troubling. One student had been pretty comfortable believing that God controlled everything so life would be good based on Jeremiah 29:11: For I know the plans I have for you," declares the LORD, "plans to prosper you and not to harm you, plans to give you hope and a future. But as he realized that the very people who received this promise suffered horribly in Babylonian captivity, it rocked his confidence that life would be good. When he added in my view that there are events that are against or apart from God's will, he was visibly distressed. "How can I trust," he wondered.
I affirmed God's powerful promise that we need fear no evil because He will be with us in the valley of the shadow of death. He will prepare a table of goodness but it may be in the presence of enemies (Psa. 23:4-5).
I am feeling really connected with the disaster of Typhoon Morakot in Taiwan. It killed hundreds and caused billions of dollars of damages in very poor areas of the island, areas near where Sherry and I have been. People prayed for relief (video here). Do they pray to the God who "smote" them? This is what the New American Standard translation of Romans 8:28 says: we know that God causes all things to work together for good.
Or do they pray to the God who is with them doing good even in disaster He did not will? This is what the NIV translation of Romans 8:28 says: we know that in all things God works for the good.
It is one of those foundational questions that we all answer thoughtfully or reactively. Our answers are only partial because the mystery of evil can never be anything but irrational. The greater mystery of the LORD remains. But He tells us He is compassionate and gracious, slow to anger, faithful, loving, forgiving and just in that the guilty never go unpunished (Exodus 34:6-7).
I'm standing there.