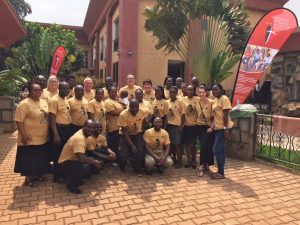 The Summit is finished and most of the participants have left. Those going to Congo have a very dangerous journey home so when I saw their team gathered to begin their journey, I spent some time praying with them.
Sunday was at a local church founded by Jumah Patrick, the MTS Africa director and Pastor Cosmos, one of the miracle stories of the MTS program. He had been hurt badly in pastoral ministry, going back into a fully sinful life for many years and got AIDS as a consequence. But Jesus reached him through a gospel message. He joined an MTS trauma healing session. Today has found the wife he abandoned, restored their marriage and is now part of the pastoral team of a church largely made up of people with stories like his. We got to hear some after the four hour church service.
Monday and Tuesday we will be doing a trauma healing training with the staff at the National Rehabilitation Center, which translates into the facility where all juvenile offenders go. It is not a Christian organization, but they have begged MTS to help their staff.
Internet is spotty here and time is very limited. There are more updates here. When I get back to the USA, I will fix the non-functional links in the other posts.